This article, ShonenChicoBoy, is property of ShonenChicoBoy.
| | |
| --- | --- |
| | ShonenChicoBoy is a Divine General (神将, Shinshō) of Bleach Fan Fiction Wiki, serving as an official Administrator, as noted on the official page for this wiki's Royal Guard Administration. |
"Freeze! It's the mob!"


Yeah, okay... Whatever.
Ciaossu! I'm ShonenChicoBoy, and welcome to my profile page. This is the part where I try and say something interesting about myself, and where you find me non-interesting and go to do something better with your time. But it's all good. Leave me a message or check out some of my articles. If you happen to be searching for a certain pair of droids, these are not the ones you are looking for.
About Me
I started watching Bleach when I was 13. I came across this site while trying to keep tabs on consistency for my own fanfiction project, and I obviously got distracted (in a good way). Now my goals are to finish my personal fanfiction projects/articles and to collaborate with others in RPs. But I'm really just a guy who's here because he loves Bleach.
Trivia
My hobbies include soccer, language-learning, writing, drawing, and cooking.
Bleach was the very first anime I ever saw, and my introduction to the world of manga and anime.
Languages I know/have studied include English, Spanish, Japanese, Chinese, and French. Next on the list is likely Korean.
Projects
Fiction
Role Plays
For Your Entertainment
Favorite Bleach Characters
Favorite Bleach Quotes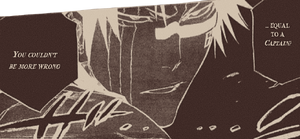 "Unless I hold this sword I cannot protect you… while I'm holding this sword I cannot embrace you."

— Ichigo Kurosaki
"We must never shed tears. That is living form of defeat and if we give in to the emotions then it only becomes proof of our inability to control it."

— Rukia Kuchiki
"Tell me Ichigo, what is the difference between a king and his horse? And I don't mean some stupid kid's answer like "one has two legs and one has four" or "one's an animal." If their form, ability, and power are exactly the same, then why is it that one becomes the king and controls the battle, while the other becomes the horse and carries the king? The answer is— Instinct… They thirst for battle, and live to mercilessly, crush, shred, and slice their enemies! Deep, deep within our body lies the honed instinct to kill… But you don't have that. You lack those pure, base instincts… That's why you're weaker than me, Ichigo."

— Hollow Ichigo
"Every time you and I connect with each other a little bit of heart is born between us. Heart isn't something inside you. But whenever you think, whenever you remember someone, that's when a heart is born. If you were the only one alive in the whole world, your heart wouldn't exist, now would it? There's no reason to worry. If you truly want to be here from the bottom of your heart, then you are here… When we die, our bodies will disintegrate and become part of the Reishi that forms the Soul Society. And when that time comes, where will your heart go? Your heart will be passed on to your friends. If you pass it on to your friends, then your heart will always live on within them. That is why you must never, ever die alone."

— Kaien Shiba
"Heart, you say? You Humans are always so quick to speak of such a thing. As though you carry your heart in the very palm of your hand. But this eye of mine perceives all. There is nothing that it overlooks. If this eye cannot see a thing, then it does not exist. That is the assumption under which I have always fought. What is this "heart"? If I tore a hole in your chest, would it be there? If I split open your skull, would I see it? ...I see. So this is it. It lies here within this palm. The heart."

— Ulquiorra Cifer
"Do not seek out virtue in death, Do not think of your life as your own, If you desire to protect that which must be protected, then cut down your foe from behind."

— Sōsuke Aizen"
Favorite Anime
Favorite Manga
Recommended BFF Pages
Longest character name on the wiki
Sei's Guide to Power Levels: These rules are no longer enforced, as they have been absorbed by new regulation, but they provide an excellent guide in defining what everyone means by "power levels."
The Nanami Principle: If you have trouble putting together a cohesive, detailed, and logical skill-set for your character, this blog is for you.
Guide to Combat: This is mostly for when you run into trouble or get frustrated when trying to write battles in an RP, but is also good advice for writing fight scenes in general.
Zanjutsu (LordGalvatron): Possibly the most solidly conceptualized and in-depth glossary of Zanjutsu and Zanpakutō on the wiki.
Reiatsu Colors: A helpful guide that helps you pick a Reiatsu color that better fits your character's personality, as opposed to just randomly pulling one out of the hat. Includes examples from Bleach canon.
Beauty of Kidō: It's so bee-autiful! Yet another Njalm blog. For people who suck at using kidō, like me. Or for anyone who uses kidō, actually.
Character Infoboxes: You can create your own character infobox or use whichever one you find here that best suits your own needs.
| | |
| --- | --- |
| | Este usuario es un traductor español (no oficialmente). |