This article, Teruo Akui, is part of this site's Fanon Canon project. Use of this page's contents is determined by the author of this page unless otherwise specified.
"From what I have learnt in the history class, and my own experience, idleness is hardly ever the best course of action."

—
Teruo Akui

Teruo Akui (悪意輝男, "Sinister Bright Man") is a male Shinigami. He serves as the Lieutenant of the Third Division under Captain Rōjūrō Ōtoribashi.
Appearance
Teruo is a tall, fairly lean-built young man with a toned physique and an oval face. While he has a naturally medium complexion he seems to suffer from vitiligo, with a number of severely depigmented patches on the left side of his face and his left arm. The loss of pigment affects other parts of his body as well. A portion of his relatively short, spiky black hair is grey on the left side. Furthermore, whilst his right eye is hazel, the other one is a peculiar pale blue in colour.
He wears a rather form-fitting variant of the regular Shihakushō with its left sleeve completely removed. His Lieutenant's badge is usually strapped on his right arm.
Personality
Dutiful and driven, Teruo is a lawful man of nigh unwavering resolve. He treats his obligations as a Shinigami in an extremely serious manner. Respectful to his peers and superiors, strict but understanding to his subordinates, polite to everyone. He remains calm under most circumstances, peaceful and focussed in the event he is drawn into a heated discussion so that his disposition might help moderate those possesed of a shorter temper. Truly, an exemplary young Shinigami.
However, there is a darker side to his person. His usual demeanour in public is merely the surface. Not a façade, but the tip of an iceberg. The rigid adherence to rules he prides himself in, as well as his determination to protect the Soul Society, stem from his past experiences. Upon closer inspection he is revealed to be sombre, brooding, self-deprecating. Deeply insecure. Unsure whether he is worthy of ever being a Captain of the Gotei 13, whether he is strong enough to keep peace. So that he toils for hours, days on end, meditates, studies, trains. He pushes himself to the breaking point, with nary a moment of respite.
Yet, whenever what he cherishes is threatened, whenever he enters battle with an enemy of the Soul Society, his composure and amicability inevitably wear off. He does not falter, however. He does not give up. Instead, the fear that constantly consumes him from within serves as fuel to his pent-up fury. Cold, tranquil fury. He does not rampage like an infernal blaze. Rather, he burns bright and focussed, like an incadescent beam of a plasma torch, and cuts through, pierces through, burns through the enemy. As long as he can stand, they shall fall.
History
Teruo Akui was born to the head of a low-ranking noble family loosely associated with the Kuchiki Clan. He is the eldest son and has one younger brother, Yuji Akui.
He was the Fourth Seat Officer of the Third Division at the time of the Quincy Blood War. He survived the first major incursion relatively unscathed and for a short while remained the highest-ranking officer actively serving under Captain Rōjūrō Ōtoribashi. He fought during the following battle a couple of days later. Ultimately, he proved unable to protect the estate of his family. Severely wounded by Sternritter "H", Bazz-B, he witnessed the death of his parents at the hands of a group of Quincy Soldat shortly afterward.
Following the Gotei 13's pyrrhic victory and his recuperation, Teruo was appointed as the Third Seat Officer to replace the late Rikū Togakushi. He spent the following years strenuously honing his combat skills. Eventually, he secretly attained Bankai. He was promoted to the rank of Lieutenant after Izuru Kira's retirement.
Plot
Powers and Abilities
Zankensoki Skills
Master Swordsman: In general, regardless of their personal preferences, high-ranking members of the Gotei 13 are required to become highly proficient in the art of spiritual swordsmanship. That is not just a matter of tradition or prejudice, of course, but the natural consequence of a Shinigami developing a bond with one's Zanpakutō. The archetypal spiritual weapon, a shard of the wielder's very soul made manifest in the physical world. As a predominantly attack-oriented skill zanjutsu is of great interest to Teruo, who maintains the view that the best defence is offence. There is more to that, though. The Zanpakutō is as much a weapon as it is a symbol, the executioner's blade, the instrument of justice. With such a magnificent tool at his disposal Akui becomes the ultimate warrior of order.
Owing to countless hours of arduous practice, spent on honing moves to the point of perfection as he has grasped the flexible templates that they are, executing kata after kata, polishing transitions for a swift, highly fluent performance, Teruo is adept enough to consider himself comparable to the average Captain of the Gotei 13. In spite of his young age and the ensuant relative lack of experience, he compensates for those shortcomings with not only high skill but also extreme ferocity. To that effect, he employs the erratic, versatile bladework of the azamukidō in conjunction with the relentless acrobatic onslaught of kōseidō. The result is a vicious storm of sharp steel which threatens to destroy anyone who dares stand in his way, through either debilitating force or sheer abruptness. Crushing swings, rapid sallies, and somersaults interspersed with heavy physical blows, elbow strikes, or side kicks, with many a feint or abrupt shift to confuse the opponent. And, every now and then, a broad slash circles past the enemy defences to leave a shallow yet irritating wound, or a crippling thrust pierces right through them to perhaps end the battle there and then.
To the exclusion of Kidō his zanjutsu prowess serves as an integral part of his combat style. The valuable supplement to his Hakuda. Habitually, Teruo enters the battle wielding his wakizashi in one hand, the other free to deliver an unexpected blow in the midst of an intense sword-fight, both of them more than strong enough to exert great force, time and again. In that, he is not limited merely to the reach of his blade, however. Skilful application of spiritual pressure allows Akui to extend his swings and thrusts for dozens of metres, expanding a veritable dome of death across the perimeter. The opponent might attempt to evade his blows, to maintain distance, or to withdraw from battle altogether – to no avail. For all that, this is only the beginning. After all, despite the undeniable importance of zanjutsu, Teruo's main asset is his skill in Hakuda.
Shunpo Expert: Hohō is a fundamental aspect of the comprehensive combat system that is Zankensoki. One that revolves around preternatural mobility which befits powerful spiritual beings. Highly useful, not to say essential skillset, popular even among devoted specialists of the other fields. Teruo, who relies primarily on martial arts, and as a result has got little to no means of long-ranged combat at his disposal, naturally does not neglect to hone his footwork and agility. To the exclusion of advanced techniques, which he can emulate with the use of his Zanpakutō anyway, he has trained arduously to match the graceful speed of some of the Captains of the Gotei 13. Should the enemy attempt to gain some distance, outmanoeuvre him, or flee, Teruo always follows: fast, and unyielding.
Hakuda Master: Despite the fact he hails from a noble family Teruo was never destined to live the relatively peaceful life of an aristocrat. Possessed of enormous spiritual potential, as well as enthralled by the intricacies of the spiritual realms and the concept of Shinigami, supernatural warriors who maintain the balance of Souls in the name of the magnificent Soul King he has inevitably become one of them. The guardian. A living weapon. He had no interest in the complicated arcane arts of Kidō or the evasive skills of Hohō that he deemed superfluous. Rather, he focused primarily on close combat. As such, undecided between swordsmanship or unarmed combat, he chose both. During his early days as a Shinigami he already developed a brutal approach which combined swings of the sword and physical blows in a swift, devastating fighting style. For a time he trained them both almost equally, although instictively veering toward Hakuda. Until one day, the achievement of Shikai clarified that that was indeed the skill he ought to focus upon.
The traumatic events of the Quincy invasion only reinforced his devotion to the noble cause. Encouraged him to increase the intensity of training severalfold. To overcome his weaknesses. To avenge the fallen. To ensure that Soul Society would not see such widespread ruination for as long as he lives, never again. Many hours of studying ancient scrolls and tomes for forgotten techniques. Strenuous physical conditioning that strained his body, mind and soul to the very limit and beyond. Perfecting moves, honing kata, establishing full conscious control of his physical vessel. Lifting, tossing, smashing giant boulders. Learning to perceive the world for what it is, the pristine core beneath the veil of lies. Expanding the influence of his indomitable will well beyond the confines of his mortal body. Uniting all aspects of his existence toward a singular goal – ultimate power. In the span of just several years he has improved leaps and bounds as he methodically harnesses his recently awoken, tremendous latent potential.
In battle he is not as much a martial artist as he is a veritable force of nature. When the enemy proves formidable or he wishes to finish things quickly, Akui releases his Zanpakutō to receive the invaluable boon its form of the armoured gauntlet provides in addition to its special abilities. Weapons, shields and armour are shattered, magical wards rent asunder as he showers the opponent with barrage after barrage of relentless strikes. A highly proficient user of tegatana (手刀, "hand-sword") he can easily sunder whatever he strikes with remarkable application of condensed spiritual pressure, or clash repeatedly with experienced swordsmen. Furthermore, with only an index finger outstretched he can bust through durable obstacles or strike vital points to cripple the enemy outright. During combat he pounces, hops, somersaults and ducks, twists like a man devoid of skeleton, a disturbingly flexible contortionist-warrior. In the end, he has become the living weapon he strove to be for a long time. When his strikes connect the ground trembles, windows shatter, the ensuant shockwaves uproot nearby trees. He endures blow after blow in retaliation, unyielding. Covered in dust, bruised, singed, bloodied, yet ready to continue. Or side-steps and manoeuvres about the enemy, circles about them elusive like a gust of wind. Minute after minute, hour after hour. Determined, ruthless, one could say unstoppable. Sometimes feral. Undoubtedly skilled and powerful, however, a masterful martial artist through and through. A rising star already so brilliant.
Shingan (心眼, "Mind's Eye"): Many are the ways to affect perception, be it deprivation or overload of senses, clever avoidance of detection, or convincing illusions to misguide the opponent. Feints and tricks deployed so that they end up fighting little more than simulacra. However, simple afterimages or mirages seldom fool a perceptive martial artist. Teruo perceives not with just his mundane senses, but his very soul. Observes attentively, hears, and listens to. Experiences the opponent as he interacts with their techniques, weapons, body, their intent as expressed through spiritual pressure. Instinctively attuned to nature and every single being in accordance to the fundamental principles of combat philosophy, Teruo is capable of discerning the surroundings with insight that misses no flaw, no imperfection. The faintest sign of trickery he can easily see, more than that, he might catch a fleeting glimpse at the opponent's very heart, albeit the way he interprets that additional information and his subsequent reaction remain dependent on his own judgement.
Shunkō (瞬閧, "Flash War Cry"): A sophisticated Hakuda technique that is a testament to the strength of Teruo's resolve and the ability to control his spiritual pressure, not to mention his exceptional talent. His determination to overcome the enemy manifests in the real world as a tangible force that asserts dominance over the ambient Reishi particles which saturate the atmosphere. As a result, he forms a quietly humming aura composed of twisting and coiling tendrils of smoke-like spiritual energy imbued with his own spiritual pressure. The shroud envelops his whole body to augment his performance in combat significantly. As he readily directs the flow of energy his strikes increase in magnitude severalfold. Not only that, but the shroud acts as excellent means of defence as well, lashing out at opponents who attempt to approach him or dissecting ranged attacks that target him. More than that, Akui's Shunkō exhibits the nightmarish properties of his innate special ability. Every sentient being exposed to the influence of the malicious aura is gradually overcome with fear even when direct physical blows might fail to inflict meaningful damage. Unavoidably, they succumb to terror, sooner or later, reduced to whimpering wrecks. Nevertheless, Teruo has yet to fully master this technique. As such, currently he is not capable of maintaining it for an extended period of time.
Natural Abilities
Great Strength: Teruo boasts a considerable degree of physical strength. So high, in fact, that one might be excused for thinking that his every strike is enhanced with spiritual pressure even though he frequently manages with the power of his remarkably honed muscles alone. This renders him a particularly destructive force in combat when considered in conjunction with his ferocity. With each manoeuvre he busts through walls or cracks the ground beneath his feet, casually, inadvertently. More than that, he might level a whole city block with a single earnest strike to the ground in an exertion of just his pure physical strength.
Great Durability: Furthermore, his body is very tough as a result of strenuous physical conditioning. An essential prerequisite to high-level combat. Not only to withstand the stresses of exerting such forces whilst he attacks, of course. Akui can weather a substantial amount of punishment without sustaining any serious wounds, or any wounds at all. He remains virtually unscathed when blasted directly by a low-level hadō or a Shikai technique with no specific defence set up to block them. Which, typically, allows him to focus on maintaining a vicious assault to the point of simply ignoring some of the enemy blows in retaliation, instead of forfeiting initiative for the sake of appropriate defence.
Great Endurance: Teruo has a tendency to purposefully prolong his fights. This is due to the fact that the special ability of his Zanpakutō exarcebates the damage done to an opponent over time. Thus, he has trained arduously in order to augment his stamina and resilience, so that he might continue fighting whilst at the same time his enemy is gradually worn down. In spite of the intensity of his combat style he can carry on and on, for hours, before finally displaying the first signs of fatigue. In addition, this valuable trait allows him to maintain his immature-yet-supercharged Bankai for longer periods of time as well.
Great Speed & Reflexes: High strength and toughness do not amount to much without sufficient agility to complement them. Owing to a combination of spiritually enhanced perception as well as fine control of the body obtained through intense physical conditioning, Teruo is a highly nimble combatant. This is especially important given his dynamic, high-mobility fighting style, and a focus on close combat. All reactions and manoeuvres are his own, impressive in their swiftness, as well as natural efficiency. Whether a point-blank strike or a volley of blasts, he can evade, side-step, meander his way through in order to relentlessly pursue the enemy all the while showering them with heavy, fast blows, time and again. So fast, so abrupt, that even a master of Shunpo might be caught by surprise, the briskness of his movement undeniably remarkable.
High Intellect: What he lacks in terms of experience, Teruo can compensate for to a high degree owing to his remarkable intelligence. Insightful, quick-thinking, for one that lacks advanced knowledge he is quite skilled at analysing the opponent's modus operandi to arrive at correct conclusions and adapt accordingly. Moreover, he deliberately confuses his opponents with his unpredictable approach to combat. As such, he often employs feints and might come up with creative tactics to overcome an enemy who is too strong to overpower in a direct battle. Provided that his impulsive disposition does not get in the way, however.
Strong Resolve: One of Teruo's most defining traits by far. Because of his serious approach toward his duties as a Shinigami as well as the steely determination to never fail again, he is highly resistant to intimidation. In fact, he is so unnaturally dauntless that his behaviour may more or less inadvertently intimidate others. Such strong will is a vital aspect for any warrior, a martial artist in particular. It enables him to mentally endure blow after blow, to persist no matter the odds, to rise whenever he falls and strike the enemy one more time, and again, and again.
Accelerated Growth Rate: As a testament to his heritage, Akui is capable of harnessing his vast latent potential significantly faster than most well-trained Souls. At any given time there are normally a few thousand Shinigami in the Gotei 13. Among them, only about a dozen ever obtain Bankai. Merely a Fourth Seat Officer at the time of the Quincy Blood War, Teruo was subsequently able to achieve his Bankai after just a few years of arduous training, and spent the following time enhancing its power to an extraordinary degree. Provided he maintains focus and despite the few opportunities he has had so far, he may improve noticeably with each battle or intense sparring session. Nevertheless, his impetuousness and determination to grow stronger might sometimes surpass his otherwise remarkable ability to do so, causing considerable strain and damage to his very being.
Great Spiritual Power: In spite of his relatively young age for a Shinigami, Akui already boasts a very large amount of spiritual power. In fact, it is noticeably above the average even for a Captain-class fighter when fully realised, an achievement in equal parts impressive and disconcerting. When visible, his spiritual pressure appears as wisps of smoke of atomic tangerine colour. The emanations of the aura are rather unpleasant to others as they induce a vague sense of anxiety in the affected individuals.
Expert Reiatsu Control: As expected of a highly skilled Shinigami, Teruo is proficient at controlling the manifestation of his spiritual energy as a force in the physical realm. This ability allows him to conceal his presence, as well as easily augment his physical strikes with condensed spiritual pressure, so that their attack power is increased severalfold. Nevertheless, owing to his relative lack of experience, such complex techniques as Shunkō prove somewhat difficult to wield.
Zanpakutō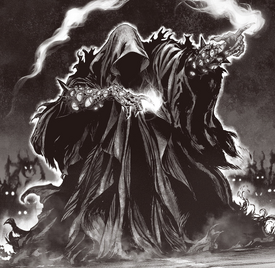 Shūrei (秋冷, "Autumn Chill"): The sealed form of the Zanpakutō appears as an ordinary wakizashi with a pentagonal tsuba and a teal hilt. Typically, Teruo wears the sheath it is stored in strapped at his right hip.
Shikai: Activated by the command "Fade Away" (消える, kieru). Akui holds the weapon in the left hand and performs a motion as if to stab someone in the gut. Subsequently, wisps of smoke-like spiritual pressure rise from the Zanpakutō, which transforms into an armoured gauntlet and vambrace. There are four small, sharp spikes that protrude forward from the knuckles, and a further three increasingly large, curved spikes that emerge from the forearm.
Shikai Special Ability: Although ostensibly a melee weapon, Teruo's Shikai is in fact a sinister Illusion-type based on the concept of nightmare. The first effect of this ability manifests immediately following the release. Constant erratic ripples propagate through his spiritual pressure, so that the way the enemy perceives him is substantially distorted. Like a wraith straight from a bad dream, his body seemingly becomes indistinct, contorted, all the while the distance and his position are notably difficult to determine. This alone provides a significant boon considering his highly mobile and frenzied fighting style. Both sight and Reikaku are deceived, although a perceptive enough fighter can rely on other senses to determine Teruo's whereabouts more accurately[1].
Nevertheless, the nightmare intensifies with each passing second, gradually, slowly but surely, circle after circle down the spiral of madness. Every blow that connects is slightly stronger, more effective than the one that has preceded it. Each block more successful, nonchalant, effortless, so that Akui might eventually shrug off attacks that used to be threatening just a couple of minutes ago. More than that, as he continues to evade retaliation he progressively turns into a living shadow, as elusive as a billow of smoke. The unfortunate opponent wonders what is the meaning of this as one's resolve wavers. And that is precisely the reason. Throughout the whole feverish dream the Shikai remains strong but unchanged. That is the effect of its illusion that with each moment of hesitation, every little doubt that accumulates in its eerie presence, causes the enemy to falter. They might struggle to wake up in vain because for as long as they stay within the field of its influence, the only release from the nightmare is through mercy, or death.
Bankai: Shinshūrei (深秋冷, "Deep Autumn Chill"): So far, select few people have seen Teruo's Bankai. Generally, he is unwilling to reveal it to his allies and deems it highly unfit for sparring. Should he decide to employ it however, he slams the Shikai-clad fist into the ground. Numerous cracks spread from the point of impact with a ghostly glow emanating from within. The world around him seems to be peeled off, patch after patch, layer after layer, only for its vestiges to be blown away like autumn leaves in the wind. What manifests in its place is a sombre, ominous nightmare realm. The only physical change that the weapon form of the Zanpakutō undergoes is the appearance of a peculiar eye upon the back of its armoured gauntlet. With an orange iris and a slit-like pupil, it seems to observe Akui's opponent of its own accord. This is important; anyone who the eye has had the chance to glance upon is drawn into Teruo's Bankai.
Bankai Special Ability: Normally, the difference between the initial and final release is like that between earth and heaven. Especially so in the case of the young Teruo Akui. Strong, talented, he has been pushing himself to the breaking point in addition, striving arduously to achieve the power required to protect peace and stability in the Soul Society. Shinshūrei is the frightening fruit of his labour. Lucid nightmare that consumes everyone who has got the misfortune of incurring his wrath. The Bankai appears as an eerie pocket dimension. Whatever the surroundings were at the time of release matters not, for Shinshūrei manifests Teruo's own world. A vast, foggy world saturated with hues of yellow and orange, with a featureless sky of the same colour above. Within the fog multiple rock formations of bone-like shape and texture form a landscape evocative of a graveyard where unknown behemoths come to draw their final breath and die. Said realm belongs to and is under control of the central figure of this nightmare - Teruo Akui.
Many of the phenomena commonly associated with bad dreams become a harsh, phantasmagoric reality according to his whim. He might suddenly turn giant to magnify his blows, extend and bend his limbs in ways that simply should not be possible to reach his foe, slide away from a would-be point-blank strike in a single disturbingly fluid motion. The mist swirls around the enemy, nigh impossible to blow away, Teruo's voice reverbates across the area, the stone bones seem to close upon the foe and shadows reach toward their feet in an attempt to plunge them into bottomless void. And there appears to be no escape from this lucid nightmare, for every route of escape away from Akui inexplicably curves back straight toward him.
Nevertheless, there is a price to be paid for that awesome power. For a man of his age and amount of experience, for a man who has been recognised as a Lieutenant, to become a Captain-class fighter and wield such a Bankai is as impressive as it is daunting. The strain of wielding Shinshūrei is severe indeed, virtually impossible to withstand for more than a few minutes. With time, the eyeball embedded in its gauntlet becomes bloodshot. Later on, blood begins to flow from it, and faintly glowing lines extend from the Zanpakutō upon Teruo's arm. The final release becomes more and more taxing, causing veins to bulge out, muscles to stiffen with tension, and eventually blood begins to flow from Akui's own eyes. That signifies the end of this surreal experience. Whether the enemy has perished beforehand remains to be seen.
Statistics
| | | |
| --- | --- | --- |
| Offence | | 90/100 |
| Defence | | 80/100 |
| Mobility | | 90/100 |
| Kidō | | 40/100 |
| Intelligence | | 90/100 |
| Strength | | 90/100 |
| Total | | 480/600 |
Trivia
Appearances
Battles
References
Community content is available under
CC-BY-SA
unless otherwise noted.