This article, Tōsō, is part of this site's Fanon Canon project. Use of this page's contents is determined by the author of this page unless otherwise specified.
"I am a shadow of all the good and evil that befalls this miserable world. "

—
Tōsō
.

Tōsō (闘争, "Strife"), also known as "Nomad" (遊牧民, yūbokumin), real name Kentarō Akiyama (秋山拳太郎, "Big Fist Son of the Autumn Hill"), is a male Soul. The Founding Captain of the Third Division, once renowned as one of the greatest Hakuda masters in the history of Soul Society, he has since become a nigh-forgotten mythical figure.
Appearance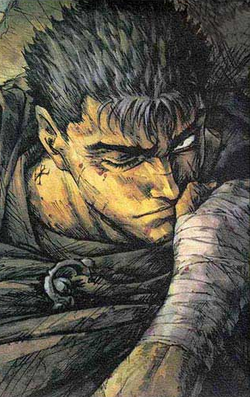 Tall and broad-shouldered, Tōsō is a mature man possessed of a supremely honed physique. His complexion is medium dark. He has a square-shaped face with sharp, solemn-looking features and a straight nose. His fairly short, straight black hair are upright, unkempt with some strands hanging upon his forehead and interspersed with some streaks of grey. Moreover, he displays the beginnings of a widow's peak. Usually, he is clean-shaven. There is a vertical scar that cuts through his right eye and eyebrow ridge, surrounded with old burnt tissue. His remaining eye is blue-grey.
The usual attire consists of a simple kimono not unlike the shihakushō of the Shinigami, if rather worn. To conceal his features, Tōsō habitually wears a dark grey cloak with a hood on top. Normally, he tends to wrap pieces of cloth around his hands. In addition, he wears ordinary white tabi and waraji.
Personality
The current disposition and worldview of Tōsō is a monument to the person he used to be; a gravestone.
He was a naive idealist, believing he could instigate change for the better. He hoped he could make the world a better place, to combat millennia of poverty, persecution, avarice and war, drive them into a corner and extinguish them to create a utopia. An inherently unavailing struggle, the futility of which he was discovering slowly but surely, in small and overwhelming doses, ever eroding his innate benevolence and geniality. He used to be sanguine, enchanted by the lofty and noble ideals of royalty and wise sages. He was patient, understanding and trustful, finding strength in the company of others and always striving to lend them his strength in return. He was astonishingly merciful, seeking a modicum of good in the hearts of the most vile of villains.
But he experienced disappointment. Profound disillusionment and betrayal. His hopes were vanquished, his dreams broken, his bonds tampered with or severed. He realised the folly of his goals. So he turned away from the embarrassment of his early life and committed himself to serve what he had previously perceived as forces of evil. Deceived once more with half-truths, twisted facts and blatant lies to the cause of somebody else, believing it was his own. He became ruthless and arrogant, believing himself superior to the people he used to serve. Methodical and uncompromising. With his moral restraints undone he believed he could change the world himself, by force, that he could remove the tumour of nobility festering with corruption and bring common people the freedom they wanted. And to achieve that he slaughtered hundreds, cutting a bloody swath through many a battlefield and ravaging many a city with no hesitation. A vigilante and an unfettered punisher, so he thought, in fact the pawn of a different party that time around.
Be that as it may, with every sacrifice he made and each paroxysm of pain that contorted his body in physical, mental and spiritual agony, he gradually realised he was still being used. In the end, inevitably, there came the day of epiphany that shaped him into the person he had been ever since. A shadow. From that day onward he had no ties and no restraints. He was alone, a single person against the entirety of existence. After enduring so many hardships, so many defeats and disappointments, he cast away every single ideal he once held. He was no longer good nor evil, but what perhaps he had been destined to become from the very beginning - a force of chaos. He had endured the suffering and woes of the entire world. Thus, the only salvation was to drown the world in primordial chaos, unite everyone and everything in a tempest of eternal madness.
Nevertheless, Tōsō still had honour. He still had some values. Composure and politeness determined his conduct, even if his cynical outlook led him to frequently point out inherent flaws and deconstruct others and their achievements to their most base constituents. He did not torment the innocent, or the wicked, he did not attack unprovoked. Instead, he roamed the Soul Society, attempting to enlighten others to its profound flaws, the depravity and injustice they led to. To convince them that the world was beyond saving, that no change but the utter devastation and a new beginning was enough to bring forth eternal bliss. If he found people he had deemed misguided, he granted them the chance to deliberate upon his revelation. If he found people who decided to strike him down, him, the herald of a new age, he removed them as obstacles on the way of progress. People might have observed him from a distance, walked alongside him or crossed his path, the only path. Whatever happened, he proceeded ever onward, unabated, a juggernaut. He did not trip, he did not sway, he did not take turns or shortcuts. To him, the world as we know it was but an illusion, a disgusting and decaying façade that concealed the true world, in all its unadulterated glory, with skewed notions of right and wrong.
However, deep within him, the fragments of his past selves remained. Eventually, he confronted his peers from the days of yore about his vision. And then, not only he has been proven to be nihilistic to the extreme, a slave rather than master of chaos, but also not to be as invincible as he used to think. The ensuant deliberation caused him to reconsider everything. He reflected upon the total of his experience, as well as the wisdom shared and gained from the confrontations. Ultimately, he has liberated himself from the grasp of primordial chaos to once again become Kentarō Akiyama. Hope cast light on the mind long clouded by despair and fury. Once more optimistic, a genuinely passionate saviour, yet level-headed, tempered after millennia of arduous struggle. At last, he has seen the light at the end of the tunnel and that is his singular destination. A free world, a world of balance between order and chaos. And even though that destination might remain forever unreachable, he shall travel toward it through the greatest of hardships, never to stray again into the darkness that surrounds him, until he the day he draws his final breath.
History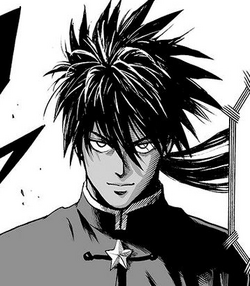 In the time before there was the Gotei 13, so they legends say, lived a particular boy. An amiable child who waded through the blood and stench of outermost Rukongai districts, a nameless commoner unaffected by abuse and poverty. For the boy knew there was good in the world, and so he sought it. He had power, fearsome power, one he wished to employ in the service of law and order. A self-proclaimed hero, he would use his preternatural strength to slay stray Hollows and vile criminals alike. Stop the tide of evil with his bare hands. Eventually, perhaps inevitably, rumours of his extraordinary feats spread far and wide. One day he was approached by the agents of a noble family. With promises they convinced him to follow them, so that he would enter the Soul Society proper and thus realise his dream on a far greater scale. So they said.
He had power, and House Akiyama craved that power for themselves. They adopted the boy and gave him a name: Kentarō Akiyama. They fed him, gave him clothes, taught him how to write and read, explained the intricacies of etiquette. And, in order to cultivate his talent, they had him join the Genji School. Many years he spent on training. Possessed of truly peculiar qualities he had to overcome, or circumvent, many inherent limitations in order to fully harness his tremendous might. But he had wise and experienced teachers, Master Senpū chief among them, who told him of the very ideology and values he sought: nobility, stability, happiness. He made friends and acquaintances, surrounded by like-minded people who strove to accomplish similar goals. He was praised and scolded, encouraged and criticised. With labour and meditation he conquered numerous challenges imposed upon him. In the end, he became a warrior ready to fight for the better world he dreamt of.
But he was only a warrior, a vassal and servant to a noble family. One of the many, his remarkable gift notwithstanding. He participated in countless wars and battles on their behalf, fought criminals, invaders, and monsters, defended cities and palaces. He was the clenched fist and the risen guard of the Soul Society, the bastion of benevolence and hope. That was what he was led to believe, at least. For his foster family had primarily power and wealth in mind. His companions wanted glory, status, or each other. Friends were rivals, nobility were tyrants, the people were cattle. Villages and cities were hives of scum and villainy, palaces – monuments to greed and vanity, lofty sayings and philosophies a thin disguise for hypocrisy. There was only so much dissonance he was willing to tolerate or ignore as he struggled with the shackles of responsibility imposed upon him, entangled in the eternal feud between warring noble houses. However, it was during that time he met the most important person in his life. He found love. Pure, innocent love. Hitomi Akui, a noble woman of similar disposition. Nevertheless, it was during that time he first encountered the monster who would become the Scourge of Soul Society: Sakaala, the other pivotal figure. He grew intimately close and discussed many things with the former, all the while he fought with and witnessed the atrocities of the latter. Eventually, encouraged by Hitomi, he decided to abandon House Akiyama in order to join the Thirteen Divisions of Genryūsai Shigekuni Yamamoto and, as the Founding Captain of the Third Division, finally become the protector he had always striven to be.
And that was the momentous decision which set him on a downward slope.
For the Shinigami, so-called "Defenders", were "Defenders" in name only. Unlike the noble families they did not fight each other for personal gain, and did indeed fend off enemies of the Soul Society – at least, those whom they deemed to be such foes. Throughout the war with the Quincies and numerous other conflicts Captain Akiyama witnessed wanton slaughter on both sides, taken aback by the callousness and cruelty of his own comrades. Limited not by the whims of his lord but the orders of his superior and the constraints inherent to his duty as a military officer, he grew distant from his former friends, including Hitomi. He felt he had been deceived again, merely swapped one delusion for another. He felt stifled. Eventually, he would encounter Sakaala again, and again. No longer was the Arrancar's depravity so outstanding in comparison, all the while his lack of restraint would become ever more alluring. Conflicted, Captain Akiyama sought to consult Hitomi once more, only to find her engaged with his foster brother, Daiki Akiyama. The revelation left him devastated. Unable to continue in his current role nor to return to his previous life, he opted to burn his bridges instead. So that he left the Gotei 13 to approach his former enemy.
Sakaala was no simple brute. Intrigued by Kentarō's tenacity and enormous power, he spoke. And his words were electrifying. For he claimed to be a propagator of absolute freedom, the sole man willing and able to stand against the corruption of those who ruled the mockery of Heaven with an iron fist. Desperate to find a way to fulfil his dream, the sole important thing to him that remained, Kentarō believed – because he wanted to believe. No more lies to fool him, no more rules to restrict him, no more politics or orders to steer him. Finally, he could do as he pleased, unbridled. So he did. Kentarō waged war upon Soul Society. Not the concept of it, no, not the people of it, but the foul demons at its reins and the vicious hounds who defended them. He did not hesitate and he did not relent. Mansions and palaces were ruined, their guardians slaughtered, their owners murdered. Billows of smoke rose to the sky, the clamour of brutal war resounded across plains, villages and cities, the flames of his revenge cast a crimson aura upon the ones who had wronged him. With the power of his Hakuda, the only aspect of his previous life that did not as much remain unchanged but changed with him, he strove to remove the tumour of falsity once and for all to uncover the pristine world beneath. But he had been deceived, once again.
He destroyed outposts of the twisted order, but the people were not rejoicing. His new comrades were not warriors but savages. They raped, pillaged, and burnt; nobody was safe from their animalistic rage. In the process of removing the corruption Sakaala displayed ample corruption himself as he took the wealth, servants, and daughters of fallen nobles and their subjects for himself. And, in the end, one day Kentarō slew his foster brother in a duel that cost him one of his eyes. Victory that brought no satisfaction but confusion, shock, and a feeling of emptiness. Because for all his flaws and hypocrisy his brother did fight for the sake of good until the bitter end. While Kentarō vanquished him, he felt wrong. Inevitably he realised that in his quest to cleanse the world with force he had indeed become the very thing he sought to combat in the past – a ferocious, uncompromising villain. Once again he was used, ignorant of the manipulation until he had been too far gone to escape from the clutches of despair. But there was always more despair to dispense in that olden world.
Broken, Kentarō withdrew from the Soul Society altogether for a time. On the precipice of madness, he eventually sought guidance from his old master. Set on a course toward the light within an overwhelming darkness, he resolved to approach Hitomi, apologise for everything he had done in his misguided attempts to become a defender of the weak. He returned to her, spoke with her, was with her. Then, blessed by her forgiveness, he embarked on one last journey. Visited places, talked with the common people. Accepted the world for what it was and decided to mould it into a better place, slowly but surely, with the woman whom he loved at his side. No longer would he let his lofty goals overshadow what was truly important to him. So he came back. But what he found was ruins, ashes, and the body of his beloved. Hitomi Akui was dead, killed by none other than Sakaala in a monstrous display of spite.
Everything that had ever been dear to him was gone. His foster family, his friends, his master were all dead, most of them because of his own fault. Because in his indecision and foolishness he dragged them all down the spiral of madness that was his life, an incessant cycle of violence spun up more or less directly by the wicked Arrancar. With Hitomi's death the last thing that anchored Kentarō to reality was gone as well. His sanity was shattered. On that fateful day he changed for the final time. It was a profound change, one that redefined his very existence in a sudden revelation. For what he gazed upon was pure, incomprehensible chaos. A notion well-known to him. He had been experiencing it, witnessing it, suffering and wielding it for as long as he could remember. Ultimately he realised there was no order, no certainty, no sense to be found in a world like that. He perceived the ultimate lie present before his eyes – that the world he thought of as real was a mere illusion, a façade, an artificial abomination. A gestalt of supposed truths and concealed lies created for the semblance of order in a world of chaos. And he saw that chaos in all its glory. Beneath the veil there it was, sublime, inviting, devoid of the enforced hardships and hypocrisy of the simulacrum.
Ultimately, Kentarō clashed with Sakaala for the last time. While he had never been able to best the Arrancar before, in spite of his own combat prowess, empowered by boundless rage he held the advantage. Initially. His enemy had always had some power to spare, a trick up his sleeve, and that time proved no different. Gradually, Sakaala gained the upper hand. Pushed so far but in the end still stronger, the Arrancar methodically battered the martial artist, strike after strike, all the while the world around them was undone by the cataclysmic ferocity of their battle. Eventually, Kentarō found himself on the precipice of utter defeat. But that was not the end. As his fury abated an unusual clarity befell his mind. In that moment he was no longer conflicted. In his burning desire to avenge the death of his one true love he at last achieved a perfect unity of body, mind, and soul. Reborn, he stood up and confronted Sakaala again. Blow after blow he pummelled his nemesis, relentless, unstoppable. Driven into a corner, virtually helpless, Sakaala attempted to destroy him with one last desparate attack. Although Kentarō prevailed, and won. However, with his revenge taken, Kentarō Akiyama was no more. All that was left was an empty shell, a shadow of the man he used to be, led by little more than the pure chaos he had given himself up to. Then, just like that, he vanished without a trace.
And while his accomplishments, status, crimes and even name have been lost to the oblivion of time or excised altogether owing to the severity of what he had done, he may well be more than myth. His tale perseveres amongst the external districts of the Rukongai, the very place he allegedly hailed from. The only accounts of his existence, both of his rise and downfall as well as continued up to recent memory. People speak that he still roams the world, seeking to convince others to his worldview and to smite those that offer resistance to the emergence of chaos. And in those accounts, not privy to the full knowledge of his life, he is habitually referred to with a moniker, one that reflects what he came to be the epitome of – "Tōsō", that is strife.
Plot
Powers and Abilities
Hakuda Grandmaster
Hakuda Grandmaster: Prodigious skill, unprecedented talent, unequalled prowess - those were terms associated with Tōsō at his peak and beyond, up until the time he was lost to the oblivion of a self-imposed exile. But his beginnings were humble, merely one of the many prospective gifted Souls found within the dirt and poverty of Rukongai. The nature of his talent itself was unique, not necessarily in magnitude but property, however. The weight of unbelievable spiritual power he had to shoulder combined with its innately disruptive qualities meant he was limited. The arcane spells of Kidō were doomed to fizzle out or detonate in violent outbursts, forever unable to reach their expected shape and form. The same held true for the intricacies of Hohō, with the inability to finely bolster mobility manifesting itself in many a sudden crash and a bruised limb. Tōsō could wield a blade, but specifically chose not to, preferring to shape the world into a better place with his own hands, figuratively and literally. Yet all was not lost - the young pupil could hope to hone and perfect his body in pursuit of the core tenets of Hakuda, the spiritual martial art.
So he did. With such tremendous power at his disposal and such insurmountable restraints being placed upon him, he had no choice but to seek absolute perfection through the only outlet available to him and find ways to compensate for his inherent shortcomings. High expectations and harsh criticism served to fuel his motivation while his friends offered succour. He devoted his entire life to that undertaking to the abandon of all else - tragically so, but with undeniable results as far his goal was concerned. Through tutelage, meditation and, first and foremost, herculean effort, Tōsō proceeded to methodically circumvent his limitations. His prowess in unarmed combat rose to outstrip many a respectable master, his technique honed to pinpoint precision and artful grace, his body forged in a crucible of war and labour into a vessel as powerful, durable and swift as one could expect from a first-rate weapon. A versatile, almost boundless weapon as he perfected countless fighting styles from across all of the Soul Society, many of them now lost to time and forgotten by the modern Gotei 13. More than that, he learnt to perceive the world through means insusceptible to manipulation, to mend his broken body with sheer willpower, draw enormous strength from unwavering resolve, emulate the preternatural nimbleness of Hohō masters through physical and mental effort, and match the spectacular magical might of Kidō with simple kicks and punches. In the end, he became one of the greatest Hakuda masters in the history, a Grandmaster.
Grandmaster of Hakuda. Perfect unity of body, mind, and soul. A force of nature in the shape of man. A living weapon. He may not create, but he does not have to destroy and distort. If need be, he may shape and mould, carefully and with unexpected finesse. He is neither the foundation nor the summit. For he is the mountain. To face him, is to be a mortal facing a mountain. The earthshaking weight of his spiritual power channelled through pinpoint strikes, the perseverance in the midst of devastation that shakes foundations of the world, the ability to keep up with the fastest in a display of colossal willpower - those are his traits. Those are his achievements. Not the result of an innate gift nor something obtained through artificial means, but the crowning achievement of millennia of toil, sacrifice, and warfare. To fight Tōsō in a contest of strength is to attempt to bear the entire world upon one's shoulders, to damage him is to try to shatter the globe, to outlast him is to wait until the end of days. To confront him with the arcane and supernatural is to bear witness to physical and mental exertion that defies reason, one that warps reality itself to procure an appropriate medium for his astronomical might. Lesser beings warrant a gentle tap, one that leaves them instantly incapacitated but otherwise unharmed. Nuisances are smitten with a singular strike for daring to cross his path, swiftly eradicated. But those few extraordinary warriors, swordsmen, and mages who clash with him trigger a veritable pandemonium that threatens the integrity of the world. Tōsō is a vessel of Hakuda. Tōsō is Hakuda. There are virtually no extraordinary feats he cannot achieve through this outlet. To battle him is to battle the concept of martial arts. For he has studied and honed every single aspect of Hakuda, developed his own personal fighting style to elaborate upon and focus that skill and knowledge through the prism of his curse turned strength. Ultimately, Hakuda ceased to be the only medium for his fighting prowess - instead, he has become a medium for Hakuda.
Hakaiken (破壊拳, "Destruction Fist"): Ostensibly, martial arts are the most inherently mundane aspect of the Zankensoki. However, advanced Hakudaka perform no shortage of feats to impress even a Kidō master. This, of course, encompasses their abilitity to deal damage. Strenuous physical conditioning can elevate the martial artist far above what a meagre Human could ever dream of. But a single strike is sufficient to demolish a building, level a whole city block, or rupture the world in a veritable earthquake, obliterate the enemy no matter their size. And that is not the end. Tōsō was born with preternatural strength which would quickly become something more. In fact, his first notable achievement as a young disciple of Hakuda was to single-handedly defeat a cruel Vasto Lorde – with a single earnest blow, no less. After decades and centuries of not just intense training but high-level combat he has achieved much, much more than simply increase that innate strength. The unity of body, mind, and soul characteristic of a seasoned martial artist allows him to put the weight of his entire being behind every single strike. Spiritual energy reinforces his extremely well-honed muscles whilst spiritual pressure, the tangible expression of his fighting spirit, augments and magnifies them beyond reason. All it takes is the desire to hit stronger, a natural action devoid of extraneous effort. So that he may shatter a mountain, reshape the very landscape, block, grasp, and smash a Bankai, or tear apart high-level Kidō spells with little more than his bare hands. Whether it be a finger thrust, knifehand strike, a punch or a kick, he can attack with piercing precision or world-shattering might at a moment's notice. More than that, as the reach of his spiritual pressure extends far beyond that of his physical vessel, so do his very strikes, channelled and amplified over frightening distances[1]. Range is irrelevant; a flurry of strikes becomes a volley of projectiles, ethereal appendages of truly gigantic proportions manifest to properly convey his astronomical power. Where seasoned masters of magic call forth the forces of nature to assist them, Tōsō is a man-shaped force of nature himself. Durable, endurant, fast, he is all that but, first and foremost, he is strong. Notably, Hakaiken is neither a technique nor requires a strenuous transformation. Rather, it is a trait; an achievement. Under normal circumstances Tōsō consciously chooses to suppress himself, so that he may safely interact with the world and its fragile inhabitants. Nonetheless, his power rivals that of a Bankai unleashed by a Captain-class fighter still, even in that deliberately enfeebled state[2]. Typically, only in the rare event he encounters a formidable foe is his true power unveiled[3]. Phenomenal, frightening power that, in comparison, evokes the magnitude and facility of a mastered Bankai of his own, accomplished solely on his own. Virtually invincible, an exemplar of the martial arts.
Mutekitai (無敵体, "Invincible Body"): No warrior is genuinely tireless. No warrior may continue fighting once their body is completely broken. No ordinary warrior, that is. The physical is but a part of an advanced Hakuda specialist. Arguably, not even the most important one, even if the element that under normal circumstances is the one to interact directly with the opponent, and one that is the most easily accessible to hostility. The most immediately vulnerable to damage and being tampered with. Nevertheless, in the end, the body is but an interface and the avatar for the mental and metaphysical aspects of the martial artist. Owing to the perfect unity between all three aspects of his existence, the physical vessel of Tōsō is additionally reinforced to an incredible degree. Spiritual energy hardens his muscles into blocks of adamantium all the while spiritual pressure envelops him with a nigh-impenetrable force field. Naturally, without a conscious effort, so that he boasts the durability of not a man but a landmass. However, of course there exist some beings and techniques of such immense power or insidious properties that even such a perdurable bulwark might falter. After all, skin may be cut and burnt, flesh bruised and torn, the bones shattered. In the rare event that Tōsō sustains damage he can further consolidate his existence, reflect the indomitability of his will and the wealth of spiritual power upon his physical vessel. With but a thought wounds are healed, bones are knit, toxins are cleansed. Even a limb lost might be simply re-attached. If struck down, he shall rise, and rise again. To attempt to cripple or incapacitate a Hakuda Grandmaster is to postpone one's own certain death. Grave damage is superficial damage, transient damage, no damage, for in order to defeat Tōsō one has to not inflict a severe wound, but exhaust his martial spirit – a monumental task, no doubt.
Seiryokuken (勢力圏, "Sphere of Power"): The influence of a Hakuda Grandmaster extends far beyond the physical: the dome of dominance that is his spiritual pressure, his so-called absolute territory. Not just the ambiance of his tremendous spiritual power, a mere aura, but the medium for his will. Peculiar buffer zone between the martial artist and the rest of the world, an ethereal layer placed upon the battlefield. Whatever opponent encroaches upon this territory is locked in a contest of more than pure power or skill, but resolve as well. Lesser enemies are crushed or incapacitated with but an exertion of Tōsō's will[4]. Those of a higher calibre struggle with its overwhelming weight. Fight a complex battle as their techniques seem to spontaneously fizzle out or somehow miss their mark, all the while their very environment is twisted and warped beyond recognition[5]. Their every motion, even if swift or subtle, betrayed by distinct ripples they cause within the sphere. Few can prevail long in that small portion of the world that does, for all intents and purposes, belong to Tōsō.
Shingan (心眼, "Mind's Eye"): Many are the ways to affect perception, be it deprivation or overload of senses, clever avoidance of detection, or convincing illusions to misguide the opponent. Feints and tricks deployed so that they end up fighting little more than simulacra. However, no mere afterimages or mirage could possibly fool a seasoned martial artist. For Tōsō perceives not with just his mundane senses, but his very soul. Observes attentively, hears, and listens to. Experiences the opponent as he interacts with their techniques, weapons, body, their intent as expressed through spiritual pressure. Instinctively attuned to nature and every single being in accordance to the fundamental principles of combat philosophy. In consequence, most superficial alterations are seen for what they are, their artificiality and flaws exposed, the veil of lies stripped away. After all, owing to the depth of his insight he might pierce the shroud they conceal themselves with to glimpse at the enemy's very heart. Witness the core of their being, their true intentions and motives, try to understand them[6]. Such acute awareness, especially when combined with considerable experience and exceptional skill, allows him to strike, anticipate, block, parry, and counter with utmost promptness and efficacy. So that he treads the shortest path to victory, unyielding as he overcomes obstacles to achieve his goal regardless of deception present in his way.
Ugokinashi (動きなし, "No Motion"): Hohō is a fundamental element of the comprehensive combat system that is Zankensoki. One that revolves around preternatural mobility which befits powerful spiritual beings. Highly useful, not to say essential skillset popular even among devoted specialists of the other fields. Yet, not the only way to achieve remarkable agility. In his pursuit of ultimate Hakuda proficiency Tōsō has found the means to perform analogous feats via his specialty. Owing to the exceptional ease with which he bolsters his supremely conditioned body with his spiritual pressure he can, for all intents and purposes, will himself to reach the destination point[3]. All it takes is but a thought, desire, or his sharp instinct, and he dodges, leaps, or charges in a display of mobility considerably greater than what he may normally accomplish. So fast, so abrupt, that even a seasoned master of Shunpo might be caught by surprise, the briskness of his movement simply astonishing as he propels his body immensely with but an exertion of will. So profound, that a genuine exertion causes the very distance he traverses to shrink; the sheer power of his determination sufficient to warp space itself.
Uzaihanketsu (有罪判決, "Conviction"): Nigh-imperturbable harmony and composure in the midst of the largest cataclysm and long-lasting peace alike – such is the state of the mind of a veteran martial artist. Paradoxically, this especially holds true for Tōsō, the avatar of disorder born of order, the man-shaped gate between two opposite realms. With every step on his never-ending path, with every moment of his millennia-long life he was under pressure, persecuted, insulted, assaulted, tested, and exploited. He had two choices: to give up and perish, or grow stronger and continue onward unabated. And he prevailed. He was forged by history with all the misery and torment that involved, painfully aware of the farce he was forced to participate in but forever with the light at the end of the tunnel guiding him toward his ultimate purpose. As a result, he is dauntless. As a result, he has perfected the mental aspects of martial arts as well. Whenever he assumes a stance, an opening posture, there is more than meets the eyes to his motions. That is not just his body which is prepared, not just his spiritual power that is focussed accordingly, not just his mind that guides him in a specific manner. That is Tōsō as a whole who assumes the posture and acquires all the qualities that are associated with it. When he wants to defend, he becomes an immovable pivot, a mountain one might flail at to no avail. When he wants to evade, he becomes elusive as a gust of wind, sways and slithers away from the most comprehensive volleys of strikes. When he wants to attack, the world cries in protest, unable to contain and bear his otherworldly might. Any stance he assumes affects his entire existence, profound and focussed.
Zensei (全制, "Absolute Control"): Broadly defined adroitness is a crucial trait of any Hakuda master worth their salt. The capacity to deal damage and evade or withstand damage in turn depends in no small part on the performance of the body. Many of the more elaborate manoeuvres and motions characteristic of spiritual martial arts require nimbleness and reflexes unimaginable to an average warrior. Consequently, as an unbelievably devoted specialist, Tōsō has trained arduously to obtain absolute control over the movements and fundamental functions of his physical vessel. Like a supreme contortionist, he acts with acrobatic or dance-like grace that is both remarkable to behold and undeniably deadly in combat. Possessed of flawless coordination, he can swiftly perform stunts anyone else would deem simply impossible. Thus, he twists, leaps, and manoeuvres his way across the battlefield, about the opponent, in an eerily deft advance which seemingly strains the laws of physics without Tōsō using even a trickle of his chaotic power to augment his performance. No element of his movement is wasted, no action depends on luck, there is only absolute control.
Yugamiken
Yugamiken (歪み拳, "Distortion Fist"): The crowning achievement of Tōsō's personal development as a martial artist. During his time as a disciple of the Genji School he studied and practised the many fighting styles which belong to Hakuda, although none of them proved to truly suit him. As such, it was only natural for him to begin working on a style of his own. Use all the knowledge he had already obtained, select principles, moves, and techniques that he found worthwhile. But, first and foremost, no longer deny or attempt to circumvent his curse, the profound, innate connection to Chaos. Instead, he decided to embrace it, harness, perfect, and wield it in combat. Thus, Yugamiken was born. The gestalt of Hakuda and his signature power combined through which he can genuinely express himself. Unique, solely his own, for no-one could possibly emulate a style so deeply intimate to his person, his very existence. Over the following years, decades and centuries of arduous physical conditioning, sparring sessions, meditation, as well as countless battles with a myriad of opponents, he would further refine his fighting style to achieve unparalleled excellence and, at his peak, become recognised as a Grandmaster of Hakuda. The moment he assumes an opening stance evocative of the peculiar zui quan, set low, swaying, his arms in an inward guard while his fingers imitate the gesture of holding a cup of tea, the power of Chaos seeps into and permeates his surroundings on a fundamental level that rearranges the landscape and dimensions, according to his whim. Because he does indeed, wield the conceptual power to distort.
For the purpose of offence he can always rely on his enormous physical strength. Should the enemy withstand his normal strikes, rare as that may be, Tōsō briefly enfeebles one of his limbs to empower the other, abruptly, so that the enemy is smitten by a singular blow of unprecedented might. Of course, he is capable of so much more than a simple exertion of brute force. Finger thrusts, like the stings of a vicious hornet, pierce some of the most durable defences, shatter spiritual weapons and blast holes through the body. Ostensibly gentle taps inject chaotic energies that stun, confuse, throw off-balance, disrupt and erode the inherent properties of their targets; the venomous bite of a cobra. The swipe of a knifehand cleaves any and all obstacles in its path, comparable to the tempered steel of a sword. A simple open-palm strike blows the opponent away with an immense gust of torrential wind – the roar of an angry god. A hand of the primal insanity which reaches out from the distant past to grab at and utterly consume whatever has necessitated its appearance. Some may persevere via sheer willpower or perdurability, struggle to maintain their integrity – but for how long? Should they falter, they soon fade away into nothingness. Undoubtedly, Tōsō's strikes can put the grandest means of defence to the test. Furthermore, reality itself is not safe from his influence either, for he might grab the spatiotemporal fabric to wring or tear it off like the metaphorical veil of lies he so detests[6]. Reality shrieks and twitches in agony with every move he performs, collapses and sinks into oblivion with each exertion on his part.
For the purpose of defence he can always rely on his immense toughness, as well as sharp reflexes. Sway back and forth absent-mindedly, randomly, yet somehow unreachable, elusive like a billow of smoke. Many a powerful blow he can endure unfazed, unflinching, the durability of his physical vessel reminiscent of a whole landmass rather than man. However, from those that do threaten him he twists away in a display of outstanding flexibility, coils around them like a snake. Unarmed blows, sword strikes, and magical spells are warped and deflected ere they manage to succeed in their task, parried thusly with swift motions of his wrists[2]. Risen in a defensive gesture his arm does not as much protect him from harm but mangles reality itself to prevent any detrimental influence upon him, for his guards extend far beyond merely physical. No ordinary technique can hope to pierce through the shroud of unadulterated madness that envelops him. Only abilities of comparable magnitude maintain their integrity long enough to succeed, strive to restore a modicum of consistency and order to the shield of chaos – otherwise an all but insurmountable barrier.
For the purpose of mobility he can always rely on his natural nimbleness, remarkable even if bereft of the grace of Shunpo. Nevertheless, distances between people, objects, and locations are the result of time and space intertwined. Fundamental borders between events and manifestations of existence. Borders which, like many other, may be bypassed. Should he wish so, Tōsō is capable of calling upon Chaos to bleed into the plane of reality in order to fold and compress the fabric of space. For all intents and purposes, he might reduce the very distance he must traverse. Rather than outrun a particularly fast enemy, merely arrive at the destination point earlier than them. Moreover, he can adjust his trajectory as he sees fit, flow like a stream of water, squeeze through miniscule openings or phase through otherwise insurmountable barriers. Meanwhile, four-dimensional afterimages mark his trail, and offer brief assistance if need be. But to tread the slopes of the mountains of madness is no easy task. Each step has to be carefully measured, deliberate, lest he falls into the bottomless abyss in a last display of recklessness. However, who can display more careful footing than a Hakuda Grandmaster?
A fighting style that is erratic and wild, each move nigh-impossible to anticipate. Bizarre and nauseating, even, as he twists, bends, and contorts his body in ways that should not be possible. Not that it hampers him in the slightest. His motions seem impossible to an expert, random at best to a master, but for him they are perfectly viable, the mainstay, in fact. After all, he is not subject to the same limitations as them. So he moves with the grace of a nightmarish wraith, as if made from liquid or gas rather than solid matter, and eradicates every obstacle on his path with the simplest of strikes, the epitome of madness, confusion, unpredictability, in the form of a martial artist. Characterised by the bizarre unity of Order and Chaos: the unruly energies which flow through the winding channels of the refined framework provided by Hakuda. Focus, yet seemingly uncoordinated moves. The goal is crystal clear while the pursuit mercurial. Because Tōsō is like a river. The stream proceeds along an intricate network of meandering paths, a veritable web of infinitely exploding possibilities and sudden dead ends intersecting with each other. Choosing turns at random but steadily progressing toward the objective all the while. Tōsō does not truly wait for an opportunity nor does he actively attempt to create one. As the flow guides him so he acts[1]. The current relentlessly erodes obstacles or circumvents them altogether. His desire the source, his prowess the river, an unflinching if serpentine advance toward the estuary that is victory.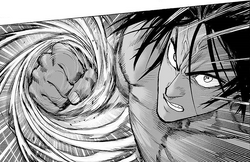 Bōkyaku (忘却, "Oblivion"): To clash with Tōsō is to endure his fate. To discover the folly of life, the futility of the eternal struggle, to peel off the veil of lies and gaze upon the hideousness of the world. For he may share his vision with one who earns the right, proves worthy to bear witness to the origin and undoing of all existence. In that moment Tōsō becomes a perfect conduit for the primordial chaos that he so admires. With that he can perform the true strike, an expression of the intent to destroy uninhibited by pre-established form. There is no noticeable build-up, no warning but a single exertion of will[3]. Just like in the case of the fearsome Ikkotsu, muscles honed through strenuous physical conditioning and countless battles flex, bolstered with not just an enormous surge of spiritual energy but also a devastating outburst of condensed spiritual pressure. As the body, mind, and soul of the seasoned martial artist unite, so does the target of this blow disintegrate. Nevertheless, owing to who he is, there is a unique aspect to Tōsō's true strike which separates it from the well-known technique. For when he exerts himself primeval, chaotic energy swirls around his form and engulfs the enemy in a maelstrom of madness, to rend not merely one's physical vessel but erode one's will and doom the soul to oblivion. Within an instant the entire chaos realm seems to bear upon the enemy in order to utterly extinguish one's existence.
Mikaboshi no Kage (甕星の影, "Shadow of the August Star"): To encounter Tōsō is to experience the overwhelming gravity of primordial chaos. For he exudes and thrives on the eldritch, inherently erratic and uncontrollable energies from time before time. From a period of existence where there were no rules, no order or reason, only pure, undiluted madness. If unrestrained, the aura of his spiritual pressure has a profound effect on both his surroundings and anyone unfortunate enough to be caught within his vicinity. Vision is blurred, auditory stimuli distorted, sense of direction confused. The flow of time itself seems to be disturbed as well. Those effects are subtle, yet noticeable, persistent, and nigh-impossible to resist as they manifest on such a fundamental level. When a martial artist throws a punch or a swordsman swings a blade they may find that what they strike is but a spatiotemporal afterimage, that their accuracy is lacking or their timing off. They struggle to maintain composure and focus – a futile attempt, for the universe around them is warped itself. Especially those who wield the arcane arts of magic find themselves at a severe disadvantage in an engagement with Tōsō. That is because the essence of chaos that he emanates is the antithesis to their spells. Wild, unruly force that not only actively resists control but also serves as a medium for the Hakudaka's resolve. So they are gradually suffocated, deprived of the omnipresent resource they rely upon so much. The intricate constructs spawned from their imagination refuse to coalesce, or dissolve back into their harmless constituents shortly afterward. Such is the will of Tōsō, the down-to-earth martial artist who despises the delusions of men. A sinister force indeed.
Yugamekyō (歪め鏡, "Distorting Mirror"): In a symbolic gesture, Tōsō lifts and bends his left arm, then places his clenched fist upon his chest. At this point his entire body seems to burst into flames, enveloped in an electrified, wildly flickering aura of bright red-violet colour, not unlike Shunkō. In fact, the two techniques are similar in that they both manifest the nature of the wielder in a visible, palpable form. However, Tōsō does not reach outward to assert dominance over the ambient energy present in the atmosphere of a spiritual realm. Rather, he reaches inward, to the source of his own nigh-infinite power, and draws energy directly from the realm from time before time. In consequence, Tōsō gains the ability to consciously tap into primordial chaos, the murky metaphysical blackness from which the world as we know it emerged. Yugamekyō allows him to bring a portion of that primordial chaos back, introduce discord and randomness in their purest form in a reality of logic and reason, and defy those very notions in the process. More than that, it may pervert causality itself. It is a window to stare into the abyss of the beginning of existence, a mirror that reflects the incomprehensible insanity thereof. It is a profound, pervasive conceptual ability that permeates Tōsō's existence. With it, he is no longer bound by reality in any way but through the sheer fact of existing. He twists through dimensions in an impossible dance of death, with no plan beyond overcoming the opponent in mind as chaos itself dictates his unnatural, unpredictable motions. The energies of chaos envelop him, invigorate him, lash out viciously at the realspace around them like tendrils of an eldritch abomination, crackle with excess power. Distort the spatiotemporal fabric with their presence alone. They are a layer of primordial chaos placed upon Tōsō to augment every aspect of him as a martial artist, to magnify his blows and guards[6]. The strain of wielding such a terrible, erratic power on top of his own is significant, although well worth the effort.
Shinuchi (真打, "True Self"): For Tōsō to manifest his true form is virtually unheard of. The first legendary instance of such an occurrence is the vague account of the final battle between him and the mighty warlord he used to serve. The better for the world, as his tremendous power threatens its existence through its sheer scope. This is not about an increment of raw strength normally associated with such a shift, however. No, Tōsō is privy to all of his power in the ordinary state of his being. This is because of what the transformation entails. Profound expression of the true self, unrestrained and unbound. To transcend the level of mortals he forever identifies with so that he may act on their behalf, a single man who wishes to represent the world populace and the tenuous balance that allows them to exist. An avatar of order and disorder united. A commoner who wields the power of a god. The Balancer.
Genkakutai (幻覚体, "Phantom Body"): Tōsō undergoes a significant change in terms of appearance when his true form manifests. Perhaps, to better depict the full extent of his descent, to better represent the truth of his existence and his ultimate goal. First, his eye becomes inhuman, with a slit-like pupil in the centre of a grey sclera and bizarre, curved lines framing it as if they were the sole remnants of a formation of concentric rings. His entire body becomes muted, the few colours it exhibits now desaturated so that he appears a shadow of himself. But the most peculiar change is that his entire form seems to become ethereal, translucent, not entirely material. And, every now and then, comets, stars and nebulae appear briefly within his body, mangled and conjoined until they are rendered an unrecognisable mass – and disappear without a trace. This eerie image suits well the otherworldly nature of the martial artist. Regardless, it is but a symptom of a far more drastic transformation. The true form of Tōsō is in fact composed of the very essence of primordial chaos that he commands, which entails quite a boon to his performance in combat. So much so that his actions tread the border between those of a supreme warrior and a relentless, unfathomable force. For all intents and purposes, his vessel becomes a malleable tool completely subservient to his indomitable will. In consequence, purely physical attacks are rendered ineffective for they have nothing particular to damage whenever they strike him. More than that, but a thought is sufficient for him to enlarge, extend, even multiply his limbs as he sees fit, attach or regenerate dismembered parts and distort his form in ways better left undescribed. A mortal no more, he is a river of primordial chaos guided by the unwavering resolve of a supreme martial artist. An entity that defies simple description. Is that a god? A devil, maybe? Perhaps, something else entirely.
Yugameyo (歪め世, "Distorted World"): Reality struggles to contain the magnitude of Tōsō's otherworldly power. The essence he exudes contorts space and time according to his whim. However, order maintains dominance. So, to be able to express his desire with utmost purity and resolution he may invoke the ultimate concept, the one he was evidently chosen to represent at birth: chaos. Where Yugamiken merely offers brief glimpses at its horrors and Yugamekyō extends its influence into the mortal realm in a limited fashion, Yugameyo summons forth the realm of insanity unfathomed. To trigger that calamity is a gesture amusing, perplexing and frightening all at the same time. Tōsō rises his left arm and swings it backward, as if striking someone or something beside him offhandedly, without even bothering to gaze upon them. For a moment there is a universal vibration that resonates across the whole world as reality struggles to process the impossibility of what is about to occur. For with that strike the fabric of reality shatters, like a pane of glass. In several stages the plane is riddled with ever-spreading fractures that contort dimensions. Then, the veil of lies collapses to reveal what is lying beneath: madness. A realm of indistinct, nebulous shapes and forms of impossible colours, one where the fundamental notions of the reality known to every single mortal being since birth are lost. Tōsō thrives in this surreal environment and may readily mould it to his advantage. This is not an easy task, to wield the ruinous powers of chaos, one that requires indomitable will and unwavering focus lest he loses himself to the tempest of damnation. But being born with that power, afflicted for the entirety of his long, miserable life, struggling to tame it, contain it, wield it, until he realised his role in the order of things – to protect the duality of order and disorder that allows the world to exist – he uses the power of primordial chaos as his own. With astonishing facility. Incredible effectiveness. In consequence, the plane of existence that he and his enemy occupy is easily accessible to him, influenced by him. Each strike shatters dimensions upon impact and splits apart the target at a level that cannot be even properly described. Each guard sends the oncoming attack somewhere, beyond the universe, to a nameless void of non-existence. Each movement disregards the laws of physics, for they have no power here, at least as far as the master of this realm is concerned. Only godlike individuals are granted the misfortune of witnessing this insane world and only they might prevail, persevere where their own reality breaks apart and is torn to shreds, and match the impossibilities brought forth by Tōsō with impossibilities of their own in an epic struggle that is supernatural in every single conceivable aspect. For Tōsō to resort to such a solution, to go to such great lengths, is a sign he has met an exceptional person, one he feels that deserves to experience the same revelation that has affected him so deeply.
Natural Abilities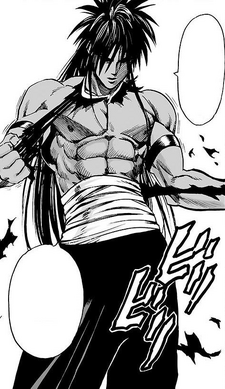 Immense Strength: Outstanding physical strength is a controversial trait. Some boast of their ability to casually topple buildings or to break through elaborate magic constructs. Some point out the inherent lack of finesse and versatility such focus on physical conditioning involves. Very few may deny its frightening effectiveness in battle. Tōsō is exceptionally strong no matter the point of reference being used to judge him. In fact, he may behave with the delicacy required to keep his surroundings intact. But the moment tension contracts his muscles a spectacle of cataclysmic devastation is brought about. For his physical strength, when unbridled, is utterly monstrous. Notably, he was first discovered following rumours of a lone Rukongai boy who would slaughter stray Hollows with his bare hands. Merely the first of the countless imposing feats to his credit. Many a formidable foe fell to a single direct hit, obliterated within an instant, as Tōsō continued to grow even stronger. Some would say, absurdly so. A single stomp can cause a massive earthquake. A single strike can stir torrential winds to uproot a whole forest as a mere side-effect. He can toss giant boulders or punch them into dust with nary an effort. And to suffer a direct hit, one earnest blow, is to face eradication. Few are the opponents who can withstand his overwhelming might; even spiritual weapons and magical wards he can smash into splinters with a proper exertion. More than that, he might employ this awesome strength in a defensive manner as well. For instance, to stop a powerful blow dead with just an open palm risen in anticipation, unflinching[2].
Immense Durability: To be able to inflict heavy punishment is one thing, to be able to withstand retaliation is another. Strenuous training and physical conditioning, as well internal focus and composure, serve to reinforce the physical vessel of a Hakuda specialist lest it breaks under excessive strain. Just like they are capable of shattering mountains they prove perdurable enough to persevere through such blows being landed upon them, time and again. Clenched fists, steel blades and magical energies pose little to no threat to their wellbeing. Tōsō has suffered several lifetimes worth of adversity to become a man possessed of a body harder than the hardest diamond. Few attacks are powerful so much that they warrant a proper reaction on his part[2]. For Tōsō's physical vessel has already acquired its share of battle scars, likely to remain unchanged until death finally claims his tormented soul.
Immense Endurance: Another core aspect of an outstanding martial artist is to stay indefatigable throughout a protracted engagement. Enormous physical strength and impressive toughness do not amount to much when the combatant finds oneself enfeebled so soon, sapped of energy and unable to maintain peak performance any longer. This is yet another factor that has to be addressed and honed to perfection so that it does not leave a glaring weakness in an otherwise comprehensive set of skills and abilities. Tōsō is a veteran warrior through and through, one that has fought numerous battles spanning days and weeks unabated. Simple physical strikes tire him not, neither do more elaborate manoeuvres included in the extensive roster of Hakuda. Only the most advanced techniques require measurable exertion. Should there be no need to resort to them, to expect signs of fatigue from Tōsō is hope against hope.
Immense Speed & Reflexes: Enormous strength ensures that blows destroy the enemy. Perdurability ensures that any retaliation is all but futile. Ample stamina ensures that the warrior can strike and withstand strikes for days on end unabated. However, no skillset of a respectable warrior would be complete without the agility to match. The trait that ensures that blows connect, that dangerous retaliation can be evaded, and that stamina is depleted in the most efficient way possible. Throughout countless hours of strenuous physical conditioning, uncountable sparring sessions and innumerable battles fought across numerous wars Tōsō has forged his body into a magnificent bulwark of martial arts befitting an exceptional, seasoned Hakuda master. For one who judges his imposing stature and expects power and toughness to be the mainstay of his fighting style the inevitable surprise comes once Tōsō begins moving. Distance is insignificant. Every move is like a bolt of lightning, remarkably fast and flawless in execution. Every reaction is prompt, devoid of conscious thought or effort as the body itself positions in order to evade or intercept an incoming strike[2][1]. Where one sees distance, Tōsō sees the enemy. Where one sees a comprehensive, omnidirectional barrage of debilitating attacks, Tōsō perceives every single action individually, inching toward him in specific order so that he may block, parry, or dodge according to his whim. Notably, this is just the extent of his natural celerity, great impetus easily comparable to the aery grace of a Shunpo master.
High Intellect: And for all that the most prodigious physical fitness might accomplish nothing if it is not led with deliberation. Never considered an outright genius for he had to witness and understand each concept presented before him like anyone else, he could never be denied the swiftness with which he inevitably arrived at the proper conclusions. He is mentally acute, quick-thinking and observant. Moreover, he has learnt his lessons and gained extensive combat experience. As such, he pays attention to detail. He always strives to analyse what is being deployed against him to decide upon the most appropriate response, nothing more, nothing less. He is highly difficult to deceive, and nigh-impossible to provoke. He knows that focus and composure are always a viable choice, unlike the pitfalls of rage or overconfidence.
Master Tactician: Tōsō has never been a strategist, the logistics of war eluding him and the scope of matters to consider beyond his capacity to process. He has never been a charismatic leader, unable to convince others to his cause. But as far as his very own conduct on the battlefield was concerned, he had few if any equals. The reason for that is simple, for as a Hakuda Grandmaster it was only natural for him to develop a nigh-perfect fighting style that leaves little room for trickery and manipulation to hinder his steps on the path to victory. The reason for that is simple, because his approach to combat involves a paradox. Tōsō embodies primordial chaos, so that every strike, manoeuvre and plan he executes is an example of pure chaos. There are no obvious connections between motions despite their smoothness in transition, there is no specific target to be discerned in a scheme he invents, for it is ever-changing. To fight him and to analyse him is to try to comprehend the incomprehensible.
Unwavering Resolve: Ever plagued with doubt, apprehension and lapses in judgement, Tōsō has experienced a lifetime of strife. He struggled to reconcile his naive ideals with the severity and ruthlessness of reality in a lopsided war he ultimately lost. He endured great hardships as his dreams were gradually broken, his philosophy deconstructed and his goals proven a folly. He experienced indignation and despair, descended into the mouth of madness and gave up everything he had ever stood for in a quest for revenge. Revenge upon the people who betrayed him and the world that disheartened him. And then he failed again. He lost everyone and everything important to him. At that point, he could either perish, unable to cope with the magnitude of his failure, or become someone entirely different. And so he did. Tempered and forged in the merciless fires of millennia of emotional, psychological and martial conflict, he emerged an all but entirely new being. On that fateful day that marked the end of his old life he underwent a revelation. One that cast doubt and concerns into oblivion to be forever replaced by unshakable conviction and clarity of purpose impervious to the machinations and whims of others. He is fearless and inhumanly stubborn, imperturbable in the face of opposition, no matter how strong. Every issue he encounters is solved, every challenge met, whatever it takes.
Massive Spiritual Power: Born with an unnaturally high amount of spiritual power, Tōsō was destined to accomplish many grand feats during his life to come. Or so everyone, including him, initially thought. Nevertheless, the sheer expanse of his supernatural might could have never been denied. It was subject of fame and infamy, adoration and fear, respect and envy. A source of colossal power so easy to tap into, so accessible and ripe for exploitation and abuse. But Tōsō used to be benevolent, amiable and ambitious. He sought to tame it, control it, use it in conjunction with skill acquired under the tutelage of the best masters. Render it a source of salvation in the service of good.
But his enormous spiritual power was not only his, in fact. Countless people, whether family, friends, authorities and even enemies, sought to take advantage of that power, somehow, some way. Praises continued to be directed at Tōsō and so did shivering, widened eyes and abrasive remarks. His gift was becoming a curse. Worse, it proceeded to grow, gradually unshackled, the full extent of unimaginable latent power slowly awaking from slumber with each stage of proficiency reached and another inherent limitation overcome. Tōsō struggled at the reins of his spiritual power, all the while subject to ever more bold oppression. His power was too great for a single person to wield, they said, so that it ought to be used for grand purposes irrespective of those of the very wielder.
But that was not the end. For his spiritual power had not emerged in all of its unrestrained glory until the main turning point of his life. The subsequent revelation that shaped him into the person he is presently affected every single aspect of his existence, his Reiryoku as well. The final seal was broken. The power was unleashed. Power unlike that of any other, a rank-and-file Shinigami or veteran Captain. Power that may crush any spiritual being unfortunate enough to find oneself in its presence just through the sheer weight of its existence. In his natural, unrestrained state he boasts cataclysmic power that within Soul Society only a Divine General could hope to rival. Virtually endless. Almost without bounds. Only the strongest may prevail, only the strongest may compare, for Tōsō has reached his peak to loom above mortals, overlooked solely by gods. Power that is divine in all but name and origin. Power the colour of red-violet, the colour of nobility stained with the blood of broken dreams. The power to exact vengeance upon - or protect - the entire world.
Flawless Reiatsu Control: On the basis of his power being monumental in extent, to wield it with any degree of precision or subtlety was a monumental task to accomplish indeed. As part of his pursuit of perfection in Hakuda the ability to finely tune his spiritual pressure was one of the main goals of Tōsō in his career as a warrior. One that cost him endless hours, inhuman labour, and profound frustration. One that, with centuries and millennia passing by, came ever closer step by step until the giant leap undertaken on the last day of his old life. Nowadays, his spiritual pressure is not an involuntary side-effect, ambience, or a tool. It is an integral part of his existence as much as his fists or consciousness, used with the amount of facility and skill that entails. Tōsō can strike down or vanquish a lesser enemy with nary a motion on his part[4], distort and mutilate their bodies with but a thought and twist the fabric of reality with a simple exertion of willpower[5]. And in doing that the flow of his energy remains steady and efficient, loath to waste a single particle.
Trivia
The reason for Tōsō's creation was a self-imposed challenge to craft a genuine Hakuda Grandmaster, and a character hopefully in the same league as the greatest powerhouses of this wiki, such as Seireitou Kawahiru or Hiromasa Ishikawa. A task in which he has succeeded, as Tōsō's revised Price Level is an outstanding 134,000.
Tōsō references Saitama of One-Punch Man fame. In that both were initially idealistic heroes who arduously strove to ultimate power only to find themselves profoundly disillusioned with reality. However, Tōsō's deconstruction of the typical shōnen protagonist, a somewhat clumsy celibate hero who wants to save the whole world, eschews parody in favour of more down-to-earth, sombre exploration of the consequences of such an attitude in a more realistically treated setting. Alternately, he might be considered to explore a seinen perspective of an otherwise shōnen fictional universe.
His theme is audiomachine - Nomad. The theme associated with his backstory is audiomachine - When It All Falls Down.
Appearances
Obsolete
Battles
References
Community content is available under
CC-BY-SA
unless otherwise noted.