This article, Rukia Kuchiki (Seireitou), is property of Seireitou.
"We must not shed tears. That is the defeat of the body by the heart. Because, for us, this thing called 'the heart' can become nothing less than proof that one's existence is superfluous."

—
Rukia Kuchiki
"She of death's chill wind, one that could only be hers, the goddess of snow." - Seireitou-shishō
Rukia Kuchiki (朽木 ルキア, Kuchiki Rukia) is a female Shinigami that was adopted into the noble Kuchiki Clan. She had previously served as the Lieutenant of the the Thirteenth Division, under Jūshirō Ukitake, and later succeeded him as its Captain. It was prior to her rise to Captain that Rukia became involved with Ichigo Kurosaki, a human that was inducted as the Substitute Shinigami of Karakura Town, and would serve as his mentor in all things Shinigami. She would later marry her childhood friend, Renji Abarai, and conceive a daughter named Ichika Abarai. In the wake of Shunsui Kyōraku's death, she was chosen to become the Captain-Commander of the Gotei 13, as well as the Captain of the First Division. Within Soul Society, her tremendous abilities and indomitable fortitude in battle as both a warrior and leader have earned her the title "Glacial Empress" (氷河帝, Hyōgatei).
Appearance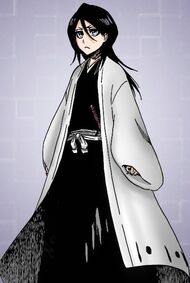 Personality
History
Synopsis
Powers & Abilities
Zanpakutō
Quotes
Behind the Scenes
Community content is available under
CC-BY-SA
unless otherwise noted.