This article, Kenji Hiroshi, is property of Kenji-Taichō. Permission is required to alter its content.
"I said that I was done fighting. I said the realms could burn around me. I said that I didn't care what happened. And for a while I didn't care and I didn't act. I left my children to fend for themselves when they needed me more than ever. But I see now that all I was doing was lying to myself. I've lost enough to realize I don't want to lose any more. I've still got family and friends to protect, and I'll raze Heaven and Hell to see them safe. So allow me to send both your master and your true body a message. I may not always be there but I'll always be watching, Averian. Harm anyone I love and I'll track down your true body and finish what Kusaka started!"
—Kenji to Averian's primary Battle Doll post-Collapse, prior to beheading said Battle Doll.[src]
Archon of Storms
Name
Rōnin Shiba
Kanji
浪人芝
Romanji
Shiba Rōnin
Characteristics
Race
Tsuji (Kodairei)[1]
Birthday
22nd February<
Age
1600+ approx.[2]
Gender
Male
Height
6ft
Weight
98kg
Eyes
Dependent:

Aqua green (Natural)
Violet (Shikai influenced)
Crimson (Influenced by Kyoaku)

Hair
Dependent:

Black (Youth)
Black with silvery highlights (Older)

Professional Status
Affiliation
Numerous:
Previous Affiliation
Numerous:

Occupation
Numerous:

Professional Poker Player
Mechanic at Kori Autos
Blacksmith

Previous Occupation
Numerous:
Team
Numerous:
Previous Team
Numerous:
Partner
Numerous:
Previous Partner
Numerous:

Base of Operations
Numerous:

Personal Status
Marital Status
Widower
Education
Numerous people and institutes:

People:

Institutes:

Family
Parents:

Immediate family:

Lovers:

Siblings:

Adoptive family:

Through marriage:

Clan(s)
Numerous:
Status
Semi-active
Zanpakutō
Shikai
Dependent:
Bankai
Numerous:
Resurrección
Numerous:

Shōkyaku: Aoi Inazuma (Former)
Shōkyaku: Sanmiittai (Former)
None (Current)
Rōnin Shiba (浪人芝, Masterless Shiba), better known by his adopted name of Kenji Hiroshi (健児博, Hiroshi Kenji) and alternatively as Kenji Shiba (柴建次, Shiba Kenji), is a legendary Tsuji feared throughout the realms as the Archon of Storms (嵐のアルコン, Arashi no Arukon), the Sword Saint (剣聖, Sword Saint) and the Morning Prince (朝王子, Asaōji). Sometime following The Collapse Kenji adopted a new moniker: Takemikazuchi, which he said was taken from a God of thunder and swords. Kenji was the youngest son of Dastan and Aiko Shiba and the godson and apprentice of Anika Shihōin. Meian, Rosuto and Kireina where his siblings. He eventually formed a family of his own. He fathered children with Eri Kurosaki, Lisa Yadōmaru and Ino Choyo, and married Ino. His children, in order, include Shinrei Hiroshi, Lisa Hiroshi, Kentaro Hiroshi, Kitsui Sanretsu, Hotaru Hiroshi, Akira Hiroshi and Kay Hiroshi.
As a younger man Kenji revived the Yuengiri philosophy, fought on the side of Anika Shihōin and the Gotei 13 during the Winter War, and fought as an ally to Tōshirō Hitsugaya and Shinji Hirako during the Quincy Blood War. He eventually formed and led the Ryū Order and was a major contributing figure in the war against Averian, whom he often met face-to-face on the battlefield alongside Van Satonaka and Kei Yume, who where his trusted allies, fierce rivals, and close friends. His dedication to freedom as an ideal, his formidable prowess as a warrior, and his unique talent to make seemingly impossible and insurmountable tasks possible has forged him into a legendary figure throughout the realms, with even the Godly Tenjin openly regarding him as a threat. In addition he was openly regarded as a dangerous and unpredictable individual by three generations of the Central 46, who labelled him a criminal.
After the war with Averian, Kenji turned his attention towards Oda Kōhai and Heisekai, whilst training his children to eventually take up his mantle. Alongside his childhood friend and rival, Kusaka Kori, the duo destroyed Oda's primary Battle Doll and left his plans in tatters, though this had the unforeseen side-effect of driving Oda's supposed sister, Shiawase Kōhai, to action. Following the Collapse Kenji seemingly took up the life of an average Human in the World of the Living, becoming a professional poker player and part-time mechanic, and rarely intervened in matters dealing with the spiritual world at large; this stemmed from the combined deaths of his wife, Ino, his twin sons, and brother, Meian, and sister, Kireina. Whilst he declared that he would watch the realms burn, seemingly having lost his drive, time eventually eroded this notion and when Kei Yume required assistance it was the rock that broke the camel's back: Kenji took up his Zanpakutō once more and subsequently went to war with Averian and his Espada, the resurgent Imawashī, the secretive Kikkashō, as well as anyone else who threatened what he held dear. He beat The Outsider and Averian to the Serenity Jewel, which Kei had been sealed inside, and kept it safe from them whilst working to free his friend from within. To aid in his task he enlisted the aid of Lisa Yadōmaru, Tadashi Kori and Shin Nagakura.
Throughout Parts I, II and III of the series Kenji served as the authors primary protagonist, but has since fallen into the role of an advisor and supporting character per the beginning of Part IV; his son took his place as primary protagonist, and his daughter replaced him as the main source of information for their allies. He does, however, return to his original role on a number of occasions, and thus could be considered the secondary protagonist of the series going forward.
Appearance
Kenji is a man with a youthful appearance despite his advancing age. He has only recently started to go grey, despite being at least sixteen centuries old, and hasn't a wrinkle at all. His physical appearance is similar to Kaien Shiba, though as relatives this is understandable, though the likeness is uncanny enough for people who don't know of Kenji's connection to the Shiba clan to compare the two. Sōritsu Kuchiki initially suspected Kenji of being a member of the Shiba clan based solely on his and Kaien's likeness, though he also noted them to hold similar views.
Kenji is muscular, tends to wear the standard Shinigami attire with varying colour schemes, wears his black hair spiked and in an unruly fashion and almost always dons a haori which once belonged to Van.[3] He has also, on very rare occasions, tied his hair up in a ponytail.[4] Of his appearance perhaps Kenji's strangest trait is his shifting eye tone. Under normal circumstances his eyes are a shade of aqua green, but under the influence of his Shikai, Kyoaku or his Hollow powers his eyes turn violet, red and yellow respectively.
Kenji has worn a multitude of outfits throughout his long life, some of which have become his staple colours. His first, donned after leaving the Soul Society, was dark blue with the Yin and Yang emblazoned on the back.[5] The second, which he took to wearing after the formation of the Ryū Order, was regulation black accompanied with a red haori he often discarded prior to battle.[6] His third, which was what many called his "war attire" was sleeveless and backless to accommodate the use of Shunkō, which he accompanied with a white haori similar to those of the Gotei 13 Captains as well as a black gauntlet upon his left arm.[1] His current is a mixture of the first and third, sleeveless, with a long-sleeved white haori that once belonged to Van, which Kenji would later emblazon with the Yin and Yang symbol on the back as before.[3]
Following the Collapse, which saw Kenji relinquish his role as a Shinigami and take up civilian life in Grat, he has changed drastically. He has allowed his hair to grow out long (though much of this growth occurred prior to the Collapse) and he no longer wears his old colours at all, the only exception being the fact he retains Van's old haori. Kenji now wears civilian clothing, usually in the form of denim jeans and leather jackets, though when he works the forge he tends to-do-so shirtless. On the rare occasion he does appear as a Shinigami once more he typically dons a sleeveless black kosode and a long padded black scarf, accompanied by tight-fitting black jeans and a pair of tight-fitting black sandals. The only constant carried over from his older uniforms is the white haori he dons; it is the same haori he took as a reminder of his vow to defeat his impostor for the injuries he inflicted upon Van. A newer additive was the necklace he appeared to wear. Kenji donned a green jewel commonly worn around the neck, shaped in the form of a diamond with extended points, which bore an exact likeness to the Serenity Jewel of the Yume Clan. He claims this jewel serves as homage to his lifelong friend and ally Kei Yume, though this was merely a diversion; this was, in fact, the actual Serenity Jewel. Following the Collapse Kei was sealed within the gem, which became a target of The Outsider. Kenji seized it first to protect his old friend.
Personality
"Averian... You did a very stupid thing. I was content to sit and let everything go after The Collapse. But then I returned to save my son, and I learned something. You and The Outsider empowered Kurokawa and he killed my wife and sons. You then set your sights on Kei. So congratulations! You've awoken the Archon. And nothing -- not you and not the Tenjin -- will stop me. If I need to burn the realms to ash to see you dead I'll do it gladly."
—Kenji to Averian.
Kenji is kind, helpful and generally an all around nice guy;[7] at least until you piss him off, at which point you'll be lucky to escape with your life.[8] Kei Yume went as far as to say that excessive violence wasn't Kenji's way and that the violence propagated by his doppelganger just wasn't in-line with Kenji's character,[9] though the validity of this statement was later called into account when Kenji revealed this doppelganger was in fact his manifested Hollow powers; which had once supplemented Kenji's rage centers enough that he ripped a man's head off after crushing his windpipe.[4] As such by no means is Kenji the gentle lamb some paint him as; he'd as quickly kill some people without a shred of remorse, and has often done so even when the option of mercy could have been entertained. Following Kenjiro's brutal attack on Van Satonaka, for example, Kenji vowed to see his attacker dead, and even took one of Van's haori with him just as a reminder of that vow.[3] He has worn it even after exacting his vengeance. He was also easily angered and prone to fits of rage, especially in his youth, which tended to get him into trouble; especially with Anika Shihōin, though even as an adult he can still sufficiently lose the head and go on a rampage.[10][11] He also became less perceptive as a result,[8] though this did lesson in later years; for he always fought against Averian whilst enraged and suppressed his Inner Hollow with much the same emotion ruling his thoughts.[12]
In his youth Kenji was a carefree flirt and a womaniser who once complained when Shinji caught him, as it wasn't a gorgeous woman.[13] He ran from one relationship into another, which included Eri Kurosaki, Lisa Yadōmaru, and Ino Choyo. His relationship with these woman led to the birth of six children; one to Eri, one to Lisa, and four to Ino. He would eventually marry Ino though the Collapse resulted in her death. Sometime after this Kenji and Lisa, based on a mixture of loneliness and adrenaline, rekindled their old relationship and became lovers once more.
Outside the stresses of battle and leadership, Kenji has repeatedly demonstrated his good nature and jolly attitude, particularly when with those he considers his close friends.[14] When he first discovered he fathered a child with Eri she neglected to tell him about, Kenji met the news with joy, even though the circumstances where dire; he then offered to look after the child, who he then named: this child was Shinrei Hiroshi.[15] When he's with his friends he maintains an almost childish attitude that frequently annoys his student Akiye, who often reprimands both him and Kusaka for their antics.[16] Once he and Kusaka start bickering it isn't an odd thing to have all other matters put on hold, an example being when they planned to reveal Oda Kōhai's plans, only to have the explanation derailed by their childish tendencies. However, despite this attitude, when push comes to shove Kenji can be the epitome of calm and seriousness and by no means is he naive. When he finally confronted Oda alongside Kusaka he did so without any of his apparent childishness.[17] This good natured spirit also extended to matters of trust. Even as a young man he wasn't one to be suspicious when meeting new people; some would even say he was too quick to trust as he was nothing but courteous to Van and his friends and even put his own life on the line to help Van in his struggle against his Inner Hollow.[5] He did this in spite of the fact he had just met Van and company that exact same day; perhaps because he felt a kinship with the young man for Kusaka hinted much later that he had gone through something very similar when Kenji's own Inner Hollow had threatened to gain dominance.[18] Though it could be argued he was merely following the examples of Kei and Shinji, who had helped him in much the same way as he helped Van.
As time progressed Kenji has mellowed tremendously, to the point he told Averian that his head could not be bought with cheap taunts.[19] He rarely engages in battles at all anymore and when he does he takes his time, almost as if he where out on a leisurely stroll. He only loses his temper rarely and likes toying with his opposition; the latest victim of this was Oda.[20] He acts even worse when alongside Kusaka, in part to their childish tendencies and general rivalry. The two easily dominated Oda during the initial stages of their conflict, and even when Oda seemingly took the upper-hand against them by temporarily sealing their Shinigami power, the two where merely playing at a charade to demoralize the man. They even came to a shared agreement that they'd let Oda return to his old legendary strength just so they could test the depths of their own powers against him, safe in the belief that if they failed to finish him, their fused state, Jiyū, could do so easily.[20] However, when outmatched, Kenji knows his limits and when to ask for help. When faced with a revived Averian he immediately put a plan into motion that would hopefully result in him and Kusaka gaining the necessary power to topple their adversary.[21]
Kenji has often loudly protested the believe that he is protective as he often cites Kusaka as the guardian of the group instead, even when he raids enemy strongholds to rescue his dearest friends.[8] One of the reasons he engaged Averian in combat at all was because the first time he did so he was alongside Van and didn't want to see one of his best friends hurt fighting a foe neither could've hoped to defeat one-on-one at the time.[12] When he found out that his children had been attacked by Kenjiro Hiroshi, who was actually his manifested Hollow powers, Kenji, in his quite fury upon finding the him, immediately released his Bankai and fought just like he used to with his Hollow mask donned; angry, ruthless and wholly uncaring of the destruction his wayward powers could cause.[10] As long as he slaughtered Kenjiro the ends justified the means.[22] Perhaps due to this it is no surprise he is feared by those in positions of power. By the classification of the Central 46 Kenji is considered a dangerous future element.[9] This boils down mainly to the way his ideals are viewed by the governing body of Soul Society; for they view Kenji as a good yet chaotic individual who needs constant monitoring.[23] He happily goes out of his own way to help others and save innocents, even should he have to put his own life on the line to do so; often complaining about people calling him "protective" afterwards. The fact he's bound by no rules or authority but those he sets himself is also a contributing factor. As head of the Ryū Order with what is essentially an army of fanatical followers at his beck and call, the Central 46 are perfectly justified in being wary of the man; though Kenji himself delights in this. He believes that peace can only reign when a deterrent is in place and views himself as one such deterrent.
Kenji has saved the day or resolved a conflict so many times now that he takes most things in his stride, without surprise or overreaction. During the Tower of Night Incident, in which Averian managed to tear the veil between alternate worlds, Kenji moved between the worlds fixing the tears until he at last met an alternate version of himself.[24] Aside from thinking that the odds of such an occurrence where so low that it was almost impossible he still reacted without much outward show of surprise. Afterwards he demonstrated another trait; he held this alternate version of himself to the same high standards he holds himself to, and expressed an interest to train and prepare this younger version to eventually combat that worlds Averian.[25] One can infer from this that Kenji sees it as a form of fate for he and Averian to clash, especially considering he has gone to such lengths to combat him.
Kenji has a scant list of likes and a much larger one for dislikes, his wives cooking being amongst the top, though he misses it now that he can't have it following Ino's death. He is partial to a drink and prefers cider and spirits, and is also a known smoker of cigars.[16] He supports Tottenham Hotspur F.C., as does his son Kentaro, and one of his preferred settings is watching the match with a drink to-hand.[26]
Following the Collapse it can be argued that Kenji lost a great deal of his drive as he now spends his days tinkering on old cars and his nights visiting strip-joints, and the time in-between drinking far too much. Kusaka, who runs the garage alongside Kenji, states he is a completely changed man. He explains that Kenji always had his friends by his side and that the Collapse had taken so many of them at once that the fight was, quite literally, kicked out of him and then some; even Kusaka cannot coax him into even a friendly fight. He doesn't appear to care about defending the Spirit Cycle as he did in the past, or even whether or not Averian is stopped from destroying everything in front of him, feeling it is the duty of others to rise and challenge him. Kenji believes that he has sacrificed enough for the world and those in it and would quite happily watch it burn. If push came to shove he may even aid in its burning. Instead of fighting the grand wars of his past he has finally lot go and allowed the next generation, headed by his son, to take over for him. He does however at times revert to his old self, particularly if someone threatens what little family he has left, at which point his anger is without limit and his vengeance without mercy. His father, Dastan, learned to his regret that Kenji still watches over Kentaro and that he would fight with everything he had to protect him, a lesson he then taught the entirety of the resurgent Imawashī by proceeding to unleash his Bankai upon them. He also isn't above helping out now-and-then as he still has a knack for finding things out, but instead of jumping on this information himself, he is seemingly content to offer his son and daughter vague clues and, at times, a push in the right direction. If direct intervention is required Kenji rarely does anything but what is required to see the task accomplished; nothing more, noting less. Kusaka theorizes that there are only two people alive today who could possibly urge Kenji to lift his sword and fight for a cause again, and they are Van Satonaka and Kei Yume.
Kusaka's words, as usual, proved to be prophetic. Following the Collapse Kei was sealed inside the Serenity Jewel; an heirloom of the Yume Clan and one source of power for The One, similar to the Well of Awakenings. The Outsider coveted this jewel but Kenji picked up his sword and seized the gem first in order to protect Kei, and was subsequently placed firmly at the top of The Outsider's hit-list. However, this did far more for Kenji than saving a friend, or returning the favour; it served to light a fire under his ass, providing Kenji with a goal that renewed his drive and fighting spirit. The fact he soon discovered that Kurokawa was aided in unleashing The Collapse by Averian and The Outsider only served to intensify the flame; to the point that Kenji declared that he would happily burn the realms himself so long as he could kill Averian. He reorganised what remained of his old friends and promptly went to war once more, and he's more determined than ever to make this his last.
Specials
During the various specials and omake segments in which he appears, Kenji's fondness for drink and competition is highlighted more than his other characteristics; he and Van often begin the segment sober, but almost always finish drunk, arguing or fighting.[27] The duo also have a penchant for childish behaviour that irks their friends and children. When teaching a class at the Yuengiri Academy Kenji notably illustrated it with childish and chibi versions of himself beating Van in a battle, all whilst drunk, which eventually resulted in Maki Zhijun shutting down the class and Kenji and Van fleeing from him.[28] He later used the same tactic when attempting to explain the multiverse, but ended up offending his two counterparts as well as Van's counterpart, which resulted in a fist-fight in the bar.[29]
When Ino and Anna hid Kenji and Van's easter eggs, for example, Kenji and Van set up an intricate plot that forced Kentaro and Haruki to gather the scattered eggs on their behalf lest they lose their gaming consoles; a feat that required arguably more effort than actually looking for the eggs would have, which was again foiled by their wives.[30] One Halloween he and Van teamed up against Kei and Shiju to see who could gather the most sweets for their various children, with Kei and Shiju emerging victorious. True to form Kenji and Van ended up coming to blows before proceeding to drag Kei and Shiju to the pub with them.[31] At Christmas Kenji and Van are known to produce the strongest eggnog around, with Shiju remarking that the pure alcohol content could "run a lawnmower for a week".[32] Kenji has even broken the fourth wall after noticing that the background changed from black to white.[33]
History
Main article -- Kenji Hiroshi/History.
Synopsis
Main Article -- Bleach (Kenji Hiroshi).
Part I
Main Article -- Bleach: Sun and Moon Chronicles.
Rivalries arc
Days of Carnage arc
Trickster arc
Exiled Prince arc
Exiles arc
Wanderer's arc
Tsuji Crisis arc
Haunted by the Past arc
Bount Incident
Preparations arc
Kagamino City arc
Pre-Fullbringer Incident
Post-Fullbringer Incident
Quincy Blood War saga
Arrival arc
Part II
Main Article -- Bleach: War of the Worlds.
Prelude to War
Making a Stand arc
Ending of a War
Part III
Main Article -- Bleach: War of the Worlds.
New Wars arc
Kikkashō Unveiled arc
Part IV
Main Article -- Bleach: Cataclysm.
Investigating Grat arc
Post-Collapse
Rising arc
Testing the Waters arc
Meian's Legacy mini-arc
The Fire Still Burns arc
War on Two Fronts arc
Specials
Holiday specials
One shots
Omakes
Equipment
Sasaeru: Kenji apparently discovered the location of Sasaeru during a mission to protect the Kyūtai from the Illusive Man, though he ended up losing Fushichō to Shinzō, only for Kentaro to later reclaim it. Whilst he initially hid and subsequently sealed them away to prevent misuse of their powers, the return of Averian forced Kenji's hand and he once again reclaimed the fabled orbs to help Kusaka and himself counter Averian's vastly increased strength.[21] It was Sasaeru, the fabled black Kyūtai and strongest of them all, that Kenji took for himself; mostly because it refused to work alongside anyone else, proving the orb was sentient. He had it on his person during the Tower of Night Incident and used it's power to travel at will between the various worlds the Tower of Night appeared in.[24] It was later revealed that Sasaeru was, in fact, a creation of the Lesser Tenjin The Balancer, known later as the Soul King. The fact he possesses it is also unknown to all save Kusaka, Van and Kei. Possession of it granted Kenji a number of effects:
Immortality: Sasaeru grants Kenji immortality; nothing short of a beheading will kill him, though Kenji himself claims even this isn't enough. When he took possession of the fabled orb Kenji was a man in his prime. As such he will remain as such as long as he possesses it.
Dimensional Control: Kenji claims Sasaeru can control the dimension as it sees fit; as its wielder Kenji is afforded the same power. This enabled him to travel at will between alternate worlds in order to counter the Tower of Night.
Instantaneous Travel: Kenji can forge a pathway with which he traverses the realms instantly, without passing through the Dangai. This enabled him to quickly come to his son's aid when he and the Six Directions came under attack from the entire resurgent Imawashī despite being in the World of the Living at the time.
Kamishini (神殺, God-Killing): As far as Kenji is concerned this is the most noteworthy ability imparted through his ownership of Sasaeru. Normally a Tenjin is immortal; even if struck down in battle they will revive in Amenokai, and they have a massive tolerance for shrugging off pain and ignoring even the most extensive of injuries inflicted upon them; this is the reason neither Kenji, Kusaka, nor Van could kill Averian. This trait is rendered powerless before another celestial being, or celestial artefact; Sasaeru is the latter. Merely being its host enables Kenji to land a killing blow on deities.
Serenity Jewel: In the aftermath of the Collapse Kei Yume was sealed inside the Yume Clan's heirloom; a large green-coloured diamond-shaped gem with a hollowed centre, typically worn around the neck by the strongest of the Clan. The Outsider, coveting the gem due to its status as a source for The One's power, sought it for himself; whether he knows Kei inhabits it or not is unknown. Kenji, knowing Kei to have been sealed within and not wishing to find out what would happen to Kei should The Outsider claim it, seized it first and subsequently placed himself at the top of The Outsider's hit-list. Kenji later acknowledged this to be the reason he dropped off the grid following the Collapse. He wears it around his neck and has made it his goal not only to evade The Outsider but to return the favour and rescue Kei from its depths.
Lesser Kyūtai (former): Kenji has possessed all of the Kyūtai sans Musabori and Fushichō at some point or another, with Sasaeru being the most recent. During the Quincy Blood War he held both Asataiyō and Semaiumi and used their powers in combination to reverse the effects of The Zombie, which had been used on Kensei and Rose. This is notable considering that, at the time, the two Visored where actually dead and under the control of Mayuri.
Inventions
Renkei: It is unknown exactly when Kenji created these paired bracelets but he was seen to have used them prior to the official creation of the Ryū Order as he and Kusaka wore a matching set when they fought against Kaimen Kazuki.[34] The bracelets allow their respective wearers to share spiritual power and communicate across vast distances,[35] even across separate realms.[36] Kenji's own bracelet is shared with Kusaka even to this day. It was this device that enabled Kusaka, despite losing his powers in the battle with Averian's premier Battle Doll, to combat Hollow during the sixteen years prior to the return of his spiritual powers.
Reijutsu: Throughout his adventures in the World of the Living Kenji created an assortment of weaponry based jointly on the Zanpakutō template and the lesser utilized Bakkōtō template, adding his own personal twist whilst merging the two styles of forgery. The entire Ryū Order and Dragonforce are outfitted with weaponry created by Kenji.
Zanpakutō: It has yet to be revealed how Kenji forged his Zanpakutō but the fact the new recruits of the Ryū Order who came through the Yuengiri Academy where all outfitted with the Asauchi forged by Kenji's own hand proves his methods where very effective. Kentaro and Hawke both wield Zanpakutō forged by Kenji and both have achieved their respective Bankai release, showing the effectiveness of his skills at the forge.
Bakkōtō: Kenji studied Bakkōtō over two-centuries and came to greatly understand how they operate, eventually reverse-engineering the technology whilst applying his own twists. The Bakkōtō forged by Kenji suffer from few of the original design flaws, specifically the one which endangers the wielder. Whilst his Bakkōtō still possess organic components they do not overcome their wielder, having safeguards built in. Kenji admits this does restrict their power somewhat but it definitely ensures the safety of the wielder.
Powers and Abilities
Part I Powers and Abilities
Part I Powers and Abilities
Instincts and Ingenuity: Kenji is a phenomenally complex individual both in and outside battle, who reasons at a level beyond most of his contemporaries. This claim is laid mostly on his simplicity as a combatant, and the way he uses his unique skill-set; though mostly in the manner in which he does battle, and the way he seizes on the slightest shift in momentum to swiftly alter the battle's flow to his advantage. Kenji's resourcefulness as a combatant, combined with his seemingly simple fighting style, serves to lull his foes into a false sense of security. He is openly regarded as one of the most powerful and dangerous individuals active in the spiritual realms.[37]
Great Spiritual Energy: Despite lacking Bankai, Kenji was capable of fighting at the level of a Captain; he was notably fit to engage the likes of Van Satonaka and Margin Heart for an extended duration as an equal,[38][5] and also defeat his father, Dastan Shiba, who was an ex-Captain in the Gotei 13.[39] This was considered an especially noteworthy victory for Dastan was regarded as one of the few Captains to have power close to that of the original Gotei 13 Captains.[40] He was capable of engaging both Lisa Yadōmaru and Hiyori Sarugaki in a two-on-one confrontation without being overwhelmed, despite Love noting they where being quite hard on him.[41] He was outclassed in the beginning however by Kei Yume and Arturo Plateado; this suggested that Kenji's power still lacked refinement.[42][43] His spiritual energy was sufficient enough to contend with a defective Battle Doll of Averian, though he was pushed to the absolute limit of his abilities as a result and only survived because he was fighting side-by-side with Van Satonaka.[44] He was notably capable of expending certain quantities of spiritual power to cushion against incoming damage, if not dispelling it out-right; even at point-blank range.[38] After achieving Bankai, which occurred in the time between the Winter War and Blood War, Kenji's spiritual power rose by a factor between five and ten. He was notably capable of momentarily contending with the likes of Gerard Valkyrie, though he acknowledged that he was not powerful enough to defeat him.[13] By the time he and Van fought Averian just prior to the outbreak of the First Spiritual War, the two rivals were noted to be equal in power.[45]
Blut (血装 (ブルート), Burūto; German for "Blood", Japanese for "Blood Guise"): an ability stemming from Kenji's Tsuji status. Kenji used the ability instinctively for many years before being made aware of his Tsuji abilities, for he shattered one of Van's crystal spears with his bare hands: an unconscious use of the offensive Blut Arterie.[5] He usually kept the defensive Blut Vene at maximum strength whilst bolstering his offence with his various lightning-themed abilities. This focus on defence enabled him to emerge from the explosion of a point-blank Cero detonated by Kenji's own lightning abilities with only a shattered mask and burnt clothing.[38]
Hirenkyaku (飛廉脚, Flying Screen Step): an ability stemming from Kenji's Tsuji status. Kenji made use of the technique as part of his incomplete manifestation of Kyoaku's powers, specifically when using the advanced Kassō technique.[44] He later used Hirenkyaku on its own when his own spiritual powers where drained and he was solely utilising Kyoaku's supply.
Zanjutsu Mastery: Kenji's primary form of combat was Zanjutsu, which he usually engaged in with two blades; a katana and a wakizashi, with his style being an even blend of offence, defence and counter-strokes.[5][44] His skills enabled him to cross blades with both Lisa and Hiyori two-on-one in difficult sparring sessions, and he could sustain this level for more than an hour.[41] He further honed his skills mimicking the swordplay of the Sword Saint of Dreams Kei Yume, resulting in a highly personalized and adaptable Form he later made his own; his sheer ability, even with one blade, meant he could swiftly kill even experienced assassins.[4] By the time of the Winter War Kenji was only bested consistently in terms of Zanjutsu by Kei himself and Arturo.[43] A clear indication of his advanced skill-set is his ability to battle Bankai-wielding foes with only his Shikai and emerge victorious, not to mention battling foes as powerful as Averian's Battle Dolls or former Captains in the Gotei 13 by himself.[39] He was able to maintain a solid solo defence against Averian's defective Battle Doll whilst Van prepared to release his Rin'ne until presented with an opportunity to use Senka, which even Averian's Battle Doll considered dangerous.[44] He was also capable of holding his own against the real Averian with only one arm with an injured Kazuma slung over his left shoulder, though Averian was holding back.[46] Whilst in his uncontrolled Hollowfied form he perhaps showed the greatest example of his formidable prowess, temporarily holding his own against the Sword Saint of Dreams himself.[42]
Wan'nesu: Kenji was trained thoroughly in the combat forms of the ancient Yuengiri firstly by Kyoaku,[47] and secondly by Yoshiaki Hiroshi sometime during Shiju Shūdō's own training; Kenji has notably referred to Shiju as a "sibling student".[48] He was capable of invoking an incomplete version of the Battle Aura prior to his second battle with Dastan Shiba,[49] and used the teachings therein to develop the Jitsugen alongside Maki.[39]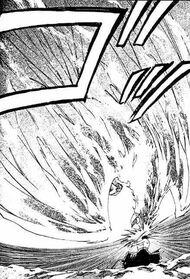 Battle Aura (一戦霊気, Issenreiki): Kenji's Battle Aura was incomplete; Kyoaku had only limited time to instruct Kenji ahead of the techniques first in-battle use against Dastan.[50] What he could use he and Kyoaku referred to as Suzaku (朱雀, Vermilion Bird). The sheer speed and friction of his blade when striking causes it to be set aflame, and when he strikes his opponents with this burning blade he creates a phoenix-like silhouette of flames at his back that then descends on the opposition. Tadashi also noted that Suzaku's preparation invoked gradually higher temperatures around Kenji.[49] The sheer intensity of the flames can burn through Espada-level Hierro and melt a foes body, and was powerful enough to assault Dastan long enough to render his time-based restoration null and void.[39] By the time he fought the Privaron Espada Kenji had developed Suzaku through his training with Van Satonaka in preparation for the conflict.[51] This involved combining the principle of Suzaku with the power of Shunkō, which allowed Kenji to wear the intense flames of Suzaku and prolong its effect beyond its usual one or two attacks.[52]
Soul Manipulation (霊操縦, Reisōjū): an advanced application of the Wan'nesu allowing one to commune with the spirits in nature. Kenji was fit to pinpoint Anika Shihōin's presence despite extensive skill at hiding her presence from others.[53] He would quickly demonstrate the ability to communicate with spirits over vast distances for means of information gathering.[54]
Hakuda Expertise: Although not his preferred method of combat Kenji is nevertheless a dangerous opponent even when bare-handed, due in-part to the extensive martial-art training he received from Anika in his youth. After only a few days of further advanced training designed to combine his Hakuda blows with Kidō, his abilities had progressed to the point he could completely outmatch Jimi, who is himself a skilled operative of the Onmitsukidō.[4] Kenji is openly regarded as a dangerous close-quarters combatant; it is actually said that he prefers taking things up-close and personal.[37]
Hohō Expertise: Kenji was trained extensively in the art of high-speed movement by the original Flash Goddess Anika Shihōin. Coupled with his unique lightning-enhancement, Kenji was fit to keep pace with and even exceed the speed reached by Captain-class combatants. He was notably fit to react to Averian's blistering speed, even if it was by a hairsbreadth.[44] His mastery extends to advanced Hohō techniques; Kenji can perform not only Senka and Utsusemi, but a number of speed-related techniques usually restricted to the Onmitsukidō.[44][46]
Inazuma Utsusemi (稲妻空蝉, Lightning Cast-Off Cicada Shell): an improvement of Kenji's own invention utilizing Utsusemi and Aoi Inazuma. Kenji doesn't leave behind an after-image; he instead swaps places with a clone in his exact likeness composed of lightning which, when struck, violently electrocutes the attacker.[46]
Kidō Expertise: Kenji's skill with Kidō is immense; to such an extent the abilities he brought to bare against Van and the myriad uses he found for even the simplest spells, did much to counter the latter's equally as masterful crystal manipulation skills.[5] He was capable of utilizing Hadō #90. Kurohitsugi against Averian despite earlier utilizing many spiritually-taxing techniques, and still maintained the necessary levels of stamina to continue fighting afterwards; this shows Kenji to be a masterful practitioner of Kidō techniques.[44] He was also known to utilize Kidō spells to turn conditions stormy to better utilize his more powerful Shikai abilities, all without alerting his foe to his intent. In addition to traditional Kidō fields Kenji was likewise knowledgeable regarding healing Kidō and protective barriers. He was fit to perform emergency treatment to Tōshirō Hitsugaya during the incident involving the return of Sōjirō Kusaka, whilst hiding Hitsugaya's spiritual energy from his pursuers.[55]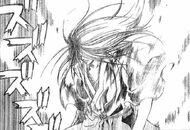 Shunkō (瞬閧, Flash War Cry): Kenji learned Shunkō in a remarkably short period of time under Anika's tutelage, specifically five days.[11] While this version was notably incomplete it allowed him to easily defeat Jimi, providing the strength required to casually crush his windpipe and rip his head free of his body.[4] When used alongside his Quincy: Kampfstil and Hollow mask Kenji was, despite the differences in their base strength, injure the likes of Averian with a point-blank Jitsugen.[46] He would eventually go onto master the art. During the battles over Kagamino City Kenji unveiled his personal mixture of Shunkō and Battle Aura, which produced what he referred to as a "Completed Suzaku" that could be sustained beyond one or two attacks.[52]
Hanki (反鬼, Reverse Demon): Kenji demonstrated the ability to nullify Kidō by hitting them with perfectly opposite speed and power, and also was capable of nullifying the movements of Jimi.[4] He was capable of using this ability no matter which form of Shunkō he took.
Jitsugen (実現, Fulfillment): Kenji's signature attack which he and Maki Zhijun developed during their initial Wan'nesu training under Kyoaku.[39] It's a potent wave of spiritual power released through one's Zanpakutō, similar to the Reīssen, and is capable of devastation on a massive scale. Even the real Averian was hesitant to face the attack head-on, which was accomplished without its incantation when used at full-power.[46]
Enhanced Strength: Kenji's strength with only arm was enough to parry the vicious strikes of Averian.[46]
Enhanced Durability: Kenji has repeatedly demonstrated the ability to shrug off even the most life-threatening of injuries.[38][5] He has at times willingly allowed himself to be injured in close-quarters combat just so he may further attack his opposition. Against Averian's Battle Doll Kenji suffered having his shoulder pierced through by the Battle Doll's Zanpakutō, and then survived one of the latter's Cero with only middling injuries.[44]
Aoi Inazuma
For the manifested form of Aoi Inazuma see: Aoi Inazuma (Spirit).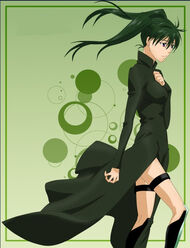 Aoi Inazuma (青い稲妻, Blue Lightning). Kenji's Zanpakutō takes the form of a paired katana and wakizashi, thus making it a daishō combination.[14] The katana sports blue hilt wrapping and a square guard inlaid with lightning motifs which he wears at his waist in the traditional style threaded through his ōbi. The wakizashi has red hilt wrapping and a bronze circular guard which he wears strapped horizontally across his back in the style of the Onmitsukidō. People have come to fear the Zanpakutō and Kenji himself as Raikiri (雷切, Lightning Cutter). Kenji is also one of the few males whose Zanpakutō is confirmed to be a female; Aoi Inazuma's manifested spirit takes the form of a teenage woman with green-coloured hair and black eyes. In truth, however, Aoi Inazuma was a false identity maintained by Kenji's true Zanpakutō, Raijin (雷神, God of Lightning), because the latter did not fully recognise Kenji due to his over-reliance on Kyoaku as a source of power.
Shikai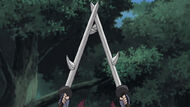 Shikai: Kenji releases his Zanpakutō with the command "Strike" (打撃, Dageki), followed by him rubbing the two blades past one-another as he recites the command. When its Shikai is activated, Aoi Inazuma's daishō straightens and produces two jutte-like prongs near the base and tip that appear like fangs, which continually produce surges of lightning. Even in Shikai the length of the katana and wakizashi remain unchanged and are used in the traditional style of Zanjutsu by Kenji.[42]
Shikai Special Ability: Aoi Inazuma allows Kenji to manipulate lightning and electricity in multiple different ways; the only limitation seems to be Kenji's own imagination.[56] He can also shape a large quantity into his exact likeness, referred to as a lightning clone,[43] to throw off opponents, or mix it with various Hohō-related techniques to take his foes by surprise or hold their attention.[14] It was this that led Ryōta Hachirō to claim that it was one of the most balanced Zanpakutō he had ever seen. Kenji has demonstrated a number of effective uses for Aoi Inazuma; blasting foes with high-intensity shocks,[49] augmenting the height and speed of his movements,[57] blocking attacks with a shield of lightning,[58] and even as a set-up for stronger attacks.[14] He could also employ the electrical current as a means of cutting through fortified defences with casual ease.[45]
Inazuma Kyūshū (稲妻吸収, Lightning Absorption): Kenji could pull a bolt of lightning from the sky to strike his own body. He would then absorb the energy to regenerate his reiryoku reserves, seemingly without limit. It was this ability that enabled Kenji to fight against extremely powerful enemies for extended periods of time when others of his reiryoku level could not, whilst utilizing only his Shikai.[45]
Seitennohekireki (青天の霹靂, A Bolt Out of the Blue): Kenji's strongest pre-Bankai technique. Should he manage to absorb an actual bolt of lightning from the heavens he can cycle that deadly force through his own body onto distant objects, without needing to expend his own reiryoku.[45] When he does this he can super-charge the lightning using his own reiryoku which results in a deadly blast of violet-coloured electricity that can burn his opponent to ash. The one downside was that stormy conditions where required for this technique to be viable. Gerard Valkyrie managed to survive the attack mostly unscathed but suffered from bodily paralysis afterwards.[13]
Bankai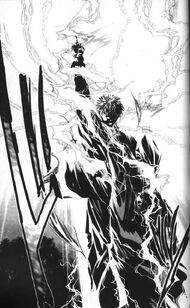 Bankai: Aoi Inazuma Kasō (青い稲妻火葬, Blue Lightning Cremation). Kenji learned Bankai prior to the Winter War, but noted during his battle with Jarrett that it still wasn't suited for battle; this suggests that it was only recently obtained.[14] In the seventeen months between the Winter War and Blood War, Kenji seemingly overcame this, and used his Bankai to great effect against such opposition as Gerard and Averian.[46] He notably lied to Van Satonaka about his achievement of Bankai, telling him he intended to "push for his Bankai", when in truth he already possessed it. He did this seemingly to use as a trump card later.[44] To unleash it Kenji extended his Zanpakutō above his head and forcibly pulled a bolt of lightning from the sky which was then cycled through his body.[45] Kenji's Shihakushō turned violet and descended into ragged edges while Aoi Inazuma herself became twin daitō with a serrated design on their outside edge, complete with a lightning-themed guard, sporting blue hilt wrapping with red slashes.[13] By the time he fought Averian his Bankai comprised only a single daitō,[45] which seemingly possessed increased cutting power, for it was fit to cut through Averian's Hierro without obstruction.[46]
Bankai Special Ability: Aoi Inazuma Kasō was a Bankai of overwhelming reiatsu and great range and was capable of effecting the weather for miles around upon release, turning conditions stormy and treacherous, which facilitated the easy use of Seitennohekireki.[45] Kenji utilised an enhanced variation of his Shikai's ability to manipulate lightning and electricity; to the point of lethal damage being inflicted. When fighting under the effects of Shinji's Shikai, Kenji was fit to hold his own against the likes of Gerard for a short time.[13]
Immense Physical Enhancement: The true power of Kenji's Bankai was not in its destructive lightning-related techniques, or even its ability to replenish his own reserves of reiryoku, but rather in the physical augmentation it granted him. The bonuses where such that Kenji was fit to survive being hit directly with one of Gerard's Heilig Pfeil, albeit he was critically injured, and was barely able to remain conscious.[13] He was likewise fit to engage in protracted battle with the same Battle Doll who earlier dominated Kenji and Van fighting together with various forms of enhancement, whilst fighting with Kazuma slung over his shoulder.[46]
Enhanced Speed: Kenji's speed was sufficient to match and occasionally exceed the speed of the real Averian. He was capable of tricking the latter with a lightning-based Utsusemi.[46]
Enhanced Seitennohekireki: In conjunction with Van creating a ring of lightning rods and funnelling his own reiatsu for the effort, Kenji was fit to unleash a single devastating Seitennohekireki with enough power to critically damage Averian.[45]
Seitennohekireki-Jitsugen Combination: A technique Kenji created "on-the-fly". It combines the destructive power of both techniques with the sheer speed of Seitennohekireki, producing Kenji's strongest offensive technique. It's power was sufficient to cause extensive injury to Averian's premier Battle Doll, which forced him to flee.
Enhanced Bankai Duration: One of the more noteworthy aspects of Kenji's Bankai is the duration he can keep it active. As he can cycle natural lightning through his body to rejuvenate his reiryoku reserves he could theoretically maintain his Bankai indefinitely, or activate it again despite great fatigue.[45]
Incomplete Quincy: Kampfstil
For the manifested form of Kenji's Quincy powers see: Kyoaku (Spirit).
Kenji would eventually contain Kyoaku's essence in a specially crafted sword forged by Garian Shinjo, which enabled him to release his Quincy powers in a similar manner to a Zanpakutō.[46] He did this in the months prior to the Winter War.[59] This sword took the form of a katana with white hilt-wrapping and a pentagonal-shaped guard, complete with a sky-blue hilt.[44]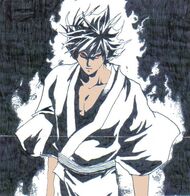 Quincy: Kampfstil: A technique created by Kyoaku to account for the weaknesses for the outdated Quincy: Letzt Stil without embracing the new Quincy: Vollständig. It's power is comparable to Bankai and cloaks Kenji in a white-coloured spiritual pressure that is purely visible, whilst dying his eyes red and causing his hair to stand up.[44] The Kampfstil form is compatible with Shikai, Bankai, Shunkō and the donning of a Hollow mask, and only when all are used together does Kenji reach his strongest level.[46] When combined with Aoi Inazuma's Shikai his power output was comparable to that of Daiguren Hyōrinmaru pre-mastery, though the effort quickly exhausted him.[59]
Kassō (滑走, Glide): using the swifter Kassō Kenji was capable of keeping pace with Averian's first Battle Doll during their battle, albeit he was pushed to the extremity of his speed. He was momentarily fit to outpace his opponent and launch an offensive in the form of a swift Senka, but was blocked.[44] When combined with his Bankai form he was fit to keep pace with Averian himself.[46]
Onkyōkyū (音響球, Echo Sphere): a passive enhancement that allows Kenji to evade attacks at the last possible moment by greatly sharpening his ability to sense spiritual power, thus allowing him to "predict" his opponents movement.[44]
Enhanced Spiritual Energy: The spiritual energy of this form is comparable to a Bankai in potency and allowed Kenji to contend with the likes of Averian himself when combined with his Bankai state.[46] On its own this state was powerful enough to match Averian's various Battle Dolls.[44] Even with only his Shikai this form was capable of clashing with Hitsugaya using Daiguren Hyōrinmaru.[59] Whilst taking this form in conjunction with his Hollow mask donned and Shunkō active Kenji's spiritual power spiked so tremendously that he was capable of injuring the real Averian with a point-blank Jitsugen, though he taxed his body tremendously.[46]
Hollowfication
For the manifested form of Kenji's Hollow powers see: Kenji's Inner Hollow.
Kenji, as a natural Tsuji, was born with an Inner Hollow; his, however, was suppressed through unknown means until his travels around the World of the Living, where he began to undergo involuntarily transformation into a berserk Hollow-like creature.[42] Kenji later discovered that Kyoaku was responsible for suppressing his Inner Hollow through usage of the Yuengiri's Soul Manipulation. Although unconfirmed it has been hinted at that Kagura, in conjunction with an unknown third party, was responsible for Kenji's Hollowfication in the same manner he was responsible for Van's enhanced states.[60]
Partial Hollowfication: Kenji, after extensive training with the Visored, learned to partially Hollowfy without donning his Hollow mask; this enabled him to utilize his Hollow abilities without drawing attention to them by utilizing a distinguishable mask, which was a requirement Shinji Hirako placed on Kenji before agreeing to train him.[61] He commonly masked his spiritual power through various means in order to fight like this, using this enhanced state almost as his "resting" form. Unlike the Visored, whose limits seemed to be anything between three to five minutes, Kenji can maintain this partial Hollowfication for a far longer duration; even being fit to call on the boosts when exhausted.
Hollow Mask: Kenji's Hollow Mask was plain with little decoration sans a black tribal design on the right-hand side that looped around the eye-socket to form a crescent.[43] Initially the Mask was little more than clarification that his Inner Hollow was in control,[42] but as he trained with the Visored it became a sign instead that he was consciously accessing his Hollow powers at a deeper level than his partial Hollowfication.[10] Following his uncontrolled transformation into a more complete Hollow-like creature following the death of Anika Shihōin, the Mask underwent a more significant change, gaining a symmetrical tribal design on the left-hand side. It was shortly after this incident that Kenji distanced himself from his Hollow powers, to the point he all but ceased using them.
Hollow form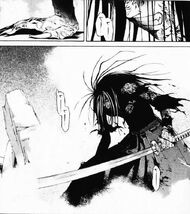 Hollow form: Kenji assumed a bestial Hollow form on numerous occasions during his early travels around the World of the Living prior to encountering Kei Yume and being introduced to the Visored through the former. When he took this form his black-coloured hair grew out to waist-length and became wild and unruly, his eyes shown a mix of red and yellow, a Hollow hole formed in the centre of his chest, and his fingers became razor-sharp claws. His muscles became noticeably enlarged with prominent veins; to the point he ripped the sleeves of his kosode when this form was took. His teeth sharpened considerably, and his personality regressed to that of a feral beast; when he faced Kei all he did was grunt and snarl, with the exception of releasing his Zanpakutō and uttering Kusaka's name.[42] A more bestial, powerful, and uncontrolled transformation was assumed by Kenji immediately prior to the death of Anika Shihōin, which saw a horned Hollow mask form over his entire head like a helmet. Like his prior form this state possessed clawed fingertips and his entire body was covered in a white shell-like carapace.[45]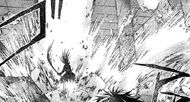 Devastating Spiritual Energy: Kenji's spiritual power in this form radiated off him in potent waves that visibly affected the environment around him. The mere release of his spiritual power levelled countless trees in the immediate vicinity. Despite the strength of this form however Kei Yume only required Shikai to overpower him, as he was aware on how to properly deal with Hollowified Shinigami.[42] The power of his second Hollow form was so vast that even the real Averian remarked that it was an interesting development.[45]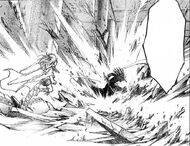 Immense Strength: Kenji's first Hollow form possessed such a degree of physical strength that he was capable of keeping even one as physically powerful as Kusaka Kori on the defensive for most of their battles. He was capable of altering the landscape with a mere swing of his sealed Zanpakutō, and completely levelled a forest during his battle with Kei.[42] The strength displayed by his second Hollow form was high enough that Kenji was capable of physically tearing Averian's Hierro and shunting aside his Zanpakutō with ease.[45]
Enhanced Jitsugen: Kenji's Jitsugen became so powerful that it took the combined efforts of Masaki Satō, Nerine Amamine and Kusaka to successfully repulse it. He also demonstrated the ability to keep the technique wrapped around his Zanpakutō, though he failed to hit Kei with it; thus this version's destructive power went unseen.[42] When used in his second Hollow form the damage caused exceeded that of Averian's Cero, which had cratered the ground over a mile-radius.[45]
Regeneration: Kusaka noted that Kenji was fit to use high-speed regeneration, further noting this to be a new development. He successfully healed himself of the damage incurred by both Kusaka and Kei.[42]
Parts II and III Powers and Abilities
Parts II and III Powers and Abilities
Immense Spiritual Energy: Even by Captain-level standards Kenji possesses potent levels of spiritual energy. Following the death of Anika he threw himself into harsh training alongside Van Satonaka to satisfy his thirst for vengeance, and eventually reached a level of power that was roughly equal to that of Kei Yume. Due to his status as a Tsuji he can further bolster his impressive levels by absorbing ambient reishi from the atmosphere; he has an easier time doing this in locales with higher concentrations. He proved himself one of the few individuals with the necessary strength to combat Averian alone for extended durations, though he admitted that he would never defeat him one-on-one. He was also one of the few beings considered to be the equal of Oda Kōhai and his supposed siblings.
Jiseiryū (自制流, Self-Control Method; lit. Art of Controlling One's Self): when Kenji learned that Aoi Inazuma was not his true Zanpakutō, but rather an alias, he was taught to control the reishi that comprised his body by the Royal Guard. Ichibē Hyōsube claimed that all Aoi Inazuma did was manipulate lightning and electricity and that Kenji's body was naturally receptive to this process. He reasoned that Kenji, like Genryūsai Shigekuni Yamamoto often did with his fire-based spiritual energy, should be able to accomplish such a feat without his Zanpakutō using only his reiatsu. Kenji eventually learned how to cycle natural lightning throughout his body without succumbing to paralysis or having his body burned to ash, which gave him sweeping enhancements across the physical spectrum that matched those formerly given by Aoi Inazuma Kasō.
Zanjutsu Mastery: Kenji is a swordsman through and through who is at home in life-threatening close-quarters combat. There are very few who can match his levels of skill. Even with his Shinigami powers temporarily sealed away, Kenji's mastery of bladed combat allowed him to competently cross blades with Oda Kōhai, and fight to a stalemate despite the latter's own skill. When empowered by his Hollow powers he was fit to swiftly defeat Oda. As a master of the Yuengiri philosophy Kenji is calm, graceful, and composed. His style is noted particularly for its defensive application; it is rare for Kenji to ever feel threatened, even when faced with multiple opponents. His mastery allows him to swiftly defeat four opponents whose overall power exceed an average Captain-class, without assistance of any kind. By no means is his offensive application lacking however. Kenji ever seeks the decisive breakthrough whether he's on the defensive or not, and is wholly capable of seizing on the first lapse of concentration and subsequently maiming his hapless opposition in reprisal.
Genzōken (幻像剣, Phantom Sword): an application of Zanjutsu and Kidō that Kenji arrived at based upon observations of Shinji Hirako's Zanpakutō.
Quincy: Kampfstil
Part III Hollowfication
Although more than capable of using his Hollow powers in battle, Kenji distanced himself from them following the death of Anika Shihōin and his transformation into a more powerful Hollowfied form of which he had no control over. Throughout the war with Averian that followed he refused to use his Hollow powers, deciding to rely on the methods of the Yuengiri instead. In secret, however, he mastered their use through sparring with Kusaka. When he finally did Hollowfy again it was against Oda Kōhai. At this point it was widely believed that Kenji had lost his Hollow powers completely, due to his infrequent use of them, which he and Kusaka revealed to be a ruse.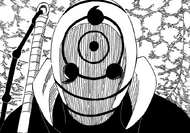 Hollow mask: Kenji mastered his powers during the war with Averian even though he never used them, resulting in a new mask. This new mask covers the entirety of his head like a helmet rather than a mask. It possesses a ripple-like pattern, and three tomoe-like holes arranged to form a loose triangle, with a solitary hole in the centre of these three. Two of these tomoe-shaped holes serve as eye-sockets whilst the third is situated near his forehead. In addition a cloak similar to that worn by the Excavado forms about his shoulders beneath his haori.
Enhanced Spiritual Energy: Kenji's spiritual power whilst Hollowfied is truly monstrous. During his battle with Oda the latter managed to temporarily suppress Kenji's Shinigami powers. When he donned his mask he was swiftly fit to overpower Oda with casual ease. Considering Oda and Kenji where considered equals before this revelation Kenji's unrestrained spiritual power with his mask donned would be more than double Oda's own.
Parts IV and V Powers and Abilities
Parts IV and V Powers and Abilities
Devastating Spiritual Energy: Just prior to The Collapse Kenji's power had reached incredible heights which enabled him to overwhelm Kitsui Kōhai, Ichihara Kōhai, Nakajima Kōhai and Kurokawa Kōhai four-on-one, and later dominate Oda Kōhai; himself said to have power during his prime that was second-to-none beneath the heavens.[62] Shinrei Hiroshi remarked that he could not sense either Kenji or Kei's spiritual pressure when the intensity of their fight escalated and quickly labelled both monsters, suggesting they've both reached a state of transcendence.[63] The mere release of his reiatsu was enough to kill countless Hollow throughout Grat and seal the breach from which they had been coming, which shocked both Garrett Sheppard and Tiffany Henderson.[64] Following the Collapse Kenji unsealed the fallen God Hakyoku and used his body to contain its power, becoming the next container after his deceased brother, Meian, relinquished the fallen God.[65] Kenji's spiritual power has increased to such levels that he was capable of contending with the entire resurgent Imawashī which boasted roughly twenty Captain-class and nine Lieutenant-class fighters by himself, whilst using only his Bankai and receiving only minor wounds in exchange.[66] Post-Collapse Kenji has seemingly bridged the gap between himself and Averian, pointedly telling the latter that he was not the same person and that Averian should flee. Rather than test this claim Averian chose to withdraw.[67] Kenji, however, followed and swiftly defeated the empowered Battle Doll masquerading as Averian, whilst remarking that his master was next. Shin Nagakura stated that Kenji and Kusaka together had grown so powerful that the pair could "kill Averian with a sneeze".[68]
Reishi Absorption: As a Tsuji Kenji can absorb ambient reishi from the atmosphere.[69] Following The Collapse he learned how to enhance this absorption through use of the Yuengiri's Soul Manipulation.
Blut Arterie: Although he is more than capable of employing the defensive variation of Blut, Kenji chooses instead to rely upon his Hierro for defensive matters. This enabled him to effortlessly dispatch the members of the resurgent Imawashī even before Kenji unleashed his Bankai, using little more than casual swings of his Zanpakutō.[66] A mere thrust-kick empowered by Blut Arterie was enough to send Averian flying clear across a large room.[67]
Hollowfication: Kenji's mastery of Hollowfication has advanced to the point that he no longer has the need to don his Hollow mask, and thus exists in a "resting" state of Hollowfication that demands none of his stamina in exchange. He doesn't even need to don a mask or enter a Hollowfied state. Only his eyes change, which take on a yellow coloration.
Hierro: Kenji has developed the ability to use Hierro over time, which he utilizes alongside the offensive Blut; more-or-less negating the need to switch between both forms of the aforementioned technique.[70] The density of his skin is such that, even when faced with the entire resurgent Imawashī, Kenji received what amounted to little more than scratches.[66]
Pesquisa: Kenji has developed the ability to use Pesquisa over time. His mastery of the technique is such that Kenji doesn't need to close his eyes or initiate a state of meditation to gain the awareness usually required.[71] He can however meditate to heighten the range and potency of his Pesquisa. When doing this Kenji could pinpoint his son's spiritual power whilst he was fighting in the Reikai when Kenji himself was in the World of the Living.[66] He traces his foe's movements using a combination of traditional spiritual pressure perception, eyesight, Soul Manipulation and Pesquisa, meaning that Kenji rarely loses track of someone who enters his sensory range. He was notably fit to follow the signatures of The Outsider's agents when he moved to recruit Lisa Yadōmaru, for he was able to not only inform her that danger was close but also react with enough forewarning to completely slip their ambush.[72]
Zanjutsu Grandmastery: Kenji's mastery of bladed-combat is so extreme that he was capable of defeating the entire resurgent Imawashī by himself, which included his father, Hiden Shinzui and his son, as well as a number of highly dangerous criminals.[66] He was able to not only cut through Averian's extremely durable Hierro with a mere casual swing of Raijin's wakizashi, but Hitsugaya's ice as well.[67] He also completely dominated Averian. This shows that his skill, bolstered by his raw strength, now exceeds that of Averian himself. As such Kenji has entered into a realm of Zanjutsu mastery that is matched by very few throughout history. Only Kusaka Kori appears to have the requisite skill to cross blades with him for extended periods.
Battle Aura (一戦霊気, Issenreiki): Following The Collapse most of Kenji's Zanjutsu sequences are comprised of his four Battle Aura "stances", known as the so-called Shishō (四象, Four Symbols).[72]
Seiryō (青龍, Azure Dragon): one of the four "stances" comprising Kenji's Battle Aura which combines extreme-speed with flawless swordsmanship and a highly focused aura of electricity, with Kenji himself becoming nearly untraceable. Usage of this stance enabled Kenji to effortlessly dispatch a number of The Outsider's agents.[72]
Suzaku (朱雀, Vermilion Bird): one of the four "stances" comprising Kenji's Battle Aura.
Byakko (白虎, White Tiger): one of the four "stances" comprising Kenji's Battle Aura.
Genbu (玄武, Black Tortoise): one of the four "stances" comprising Kenji's Battle Aura.
Shishō Issei Shidan (四象一斉指弾, Four Symbols Simultaneous Attack): the true form of Kenji's Battle Aura is achieved through the simultaneous use of Seiryō, Suzaku, Byakko and Genbu.
Soul Manipulation (霊操縦, Reisōjū): one of the more advanced applications of the Wan'nesu. Kenji claimed that it was Soul Manipulation that allowed him to pinpoint Kei Yume's spiritual power inside the Yume Clan's Serenity Jewel, which even his Pesquisa failed to pinpoint on its own.[72] Kenji is so in-tune with nature and the spirits that reside therein that he was fit to immediately recognize the threat Aaron Sheppard posed to Garrett. This same power enabled him to instantly recognize the killing intent lacing Aaron's attempted attack on Garrett.[73]
Shukuchi: Kenji no longer utilizes traditional Hohō techniques, preferring instead the brand of high-speed movement he developed during the war with Averian, which itself was based on the Tenshi form of high-speed relocation.[74] It enables him to travel incredible distances seemingly in the blink of an eye, as well as traverse the spiritual realms without using traditional avenues of travel.[67] He was capable of coming to Kentaro's aid when surrounded by the resurgent Imawashī,[66] as well as relocate himself and Lisa Yadōmaru to safety after he came to her for help.[72] In both cases Kenji arrived and disappeared as quickly as he arrived, leaving behind no trace as to his intended destination. Kenji would teach Kentaro enough before his disappearance during The Collapse to allow Kentaro to replicate the Shukuchi through Kidō.[75] Even Averian failed to follow Kenji's speed post-Collapse. Kenji not only slipped through his senses but also placed his wakizashi against the small of his back, all without Averian's notice.[67] The Shukuchi, coupled with the Renkei, enables Kenji to instantly arrive to aid others who possess said bracelets, as was the case when he answered both May's call for help and Hitsugaya's warning about Averian.[64]
Kidō Mastery: Kenji's mastery of Kidō extends to all its branches, including Shunkō,[72] with particular skill with spells labelled forbidden. Using a highly complex mix of healing and forbidden Kidō, which was beyond the grasp of Ayumi's prodigious abilities, Kenji was fit to revive Riki Nagakura from a near-death state and restore his mangled arm, whilst augmenting the new arms physiology to aid the flow of Riki's vast and uncontrolled spiritual energy.[76]
Raijin
Raijin (雷神, God of Lightning). Raijin is a rare case amongst Zanpakutō. Even whilst sealed the weapon exists as a daishō set comprising a paired katana and wakizashi. Throughout his life Raijin, for one reason or another, failed to acknowledge Kenji as a worthy wielder of its power. This led to Raijin providing Kenji with a false name, which in essence cut Kenji off from the majority of Raijin's power. Now that he is fully acknowledged Raijin is considered the strongest lightning-based Zanpakutō in existence, with only Shinrei and Tiffany's Raikōisan (雷光 遺産, Lightning Inheritance) being considered to be in the same league.
Shikai: Kenji was known to release his Zanpakutō with the command "Illuminate the Far Heavens", but tends not to bother verbalising the command. In fact he rarely -- if ever -- seals Raijin; Kenji prefers keeping his Zanpakutō in a state of constant release. Even before The Collapse the released state of Raijin was identical to its sealed state.[22]
Shikai Special Ability:
Tensō Jūrin (天相従臨, Subjugation of the Heavens). Like Hitsugaya, Kenji can control the weather in the immediate vicinity, creating powerful powerful storms. Even before releasing his Bankai against the resurgent Imawashī Kentaro noted that the sudden and violent storm that covered the Reikei was his father's handiwork.[77]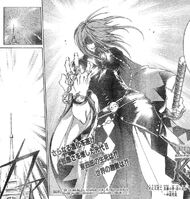 Bankai: Junsui Raijin (純粋雷神, True God of Lightning). Kenji's Bankai acts to amplify the storm-based nature of his exerted reiatsu, with its activation being signalled by Kenji being struck by a bolt of lightning. Kenji himself undergoes a mild transformation, with a sash descending from his waist, whilst his eyes shine with violet undertones. In addition his twin swords fuse into a single electrically-charged nodachi.[22] Appearance aside the mere release of Kenji's Bankai creates an instant storm to appear centred on his location, which has been noted to be Kenji's Bankai.[77] Despite his mastery of Zanjutsu, Jinzen and his Bankai in general, Kenji has rarely actually used his Bankai -- in the times its use has been warranted Kenji's better sense of reason and restraint have been overridden by his growing anger, with its use later being remarked upon as overkill.[66]
Bankai Special Ability: Kenji's Bankai is a two-stage release; the first affecting a massive area, with the second affecting only Kenji personally. The first stage is similar to Tensō Jurin in that Kenji's Bankai immediately affects a large area -- roughly the size of Heisekai -- with a storm so powerful and destructive that Kenji speculated that only Averian at the height of his power had the durability to withstand it long-term.[22] The second stage involves Kenji banishing the summoned storm whilst retaining the destructive force within his single blade.[66] A single swing of this storm-bound-blade destroyed the Battle Doll made using Kenji's siphoned Hollow powers in one stroke -- a strike whose aftermath left a several-mile-long trench cut into the spiritual seas of Heisekai as if the ocean had been parted.[22] After The Collapse, and especially when enraged, the scope of Kenji's Bankai extended to cover almost all the Reikai, with a display of power that awed Kenji's son.[77] When used against the resurgent Imawashī only Dastan Shiba, Hiden Shinzui and Eiji Shinzui had the capacity to offer resistance, and even then Kusaka correctly stated afterwards that they only lived because Kenji had pulled his punches and allowed them to escape.[66]
Fusions
Main article -- Kenji Hiroshi/Fusions.
Racial status
Main article -- Kenji Hiroshi/Racial status.
Relationships
Main article -- Kenji Hiroshi/Relationships.
Alternate world counterpart
Rōnin Shiba
Main article -- Rōnin Shiba.
Kenji possessed a counterpart in Nanashi's World who eventually became the Lieutenant of the 13th Division in the Gotei 13. This version of Kenji was born into the Shiba clan and bore the name Rōnin, and had a brotherly relationship with Kaien Shiba; he even made the latter the godfather of his only son. Rōnin lost his life during the Collapse and imparted his last words to Kaien, asking him to look after Kentaro. Kenji met this particular version of himself when he joined with that world's Kaien to seal off the Tower of Night. It was Kenji's use of Sasaeru to travel between the world boundary which gave Kaien the idea to do the same when his world was overrun by Averian and his Arrancar army following The Collapse.
Kenji Hiroshi (FC)
Main articles -- Bleach: The Coven War & Kenji Hiroshi (FC).
Kenji possessed another counterpart who existed in a world very different to his own. This version of Kenji bore the same name, had no affiliation with the Shiba clan, and was a loyal Shinigami of the Gotei 13. Kenji was specifically attached to the 9th Division, which oversaw the Seireitei Communication, and he was known to be a popular writer with weekly columns in the Seireitei News Magazine. His most well-known work is an on-going fictional tale referred to as The Cataclysm. Like his main counterpart this Kenji eventually developed into something of a divisive figure.
Other appearances
Omake
Kenji's character is the co-host of an omake segment alongside Van Satonaka, where the two discuss a number of details regarding Bleach (Kenji Hiroshi). Kentaro Hiroshi and Haruki Satonaka -- sons of Kenji and Van respectively -- eventually appeared as frequent guests. The omake, dubbed Drinking Time With Kenji & Van, is intended solely for humour, but has been used as reference material as well. Although delivered with a comic tone in mind the information is canon to the story.
Kenji is also slated to appear in a similar omake segment alongside Shiju Shūdō.
Specials
Kenji has appeared in a number of holiday specials written by Kenji-Taichō. These have included Halloween, Christmas and Easter specials, which are done entirely for humours sake and are considered as loose canon. Kenji has likewise appeared in various one-shots, which again where written for humours sake, with one example being the one-shot giving a shout-out to the merging of the two Bleach fanon wiki.
Atuhor's notes
Behind the Scenes
Even in light of the retcon undertaken in 2015, Kenji's character has undergone the least amount of changes compared to everything else, with his personality being largely the same since the author first role-played with him alongside Razo.
Kenji has born many titles throughout his many appearances:
Kenji's most well-known title is "The Archon of Storms", which was originally given to him after the death of Averian. The Archon in Kenji's title can be taken to mean several things. In this case however the word refers to the Greek meaning; specifically Ruler. Thus when Tadashi remarked that Kenji was like an "Archon of Storms" during the events depicted in Kickoff of the First Spiritual War, he essentially meant that Kenji was the "Ruler of Storms".
Kenji's title as a "Sword Saint" was originally bestowed upon him by Averian as a form of mockery alongside Kusaka Kori's title of "Sword Demon", which Kenji and Kusaka would subsequently adopt as a badge of pride after Averian's defeat in the First Spiritual War. Following the 2015 retcon however it is currently unknown just when Kenji first started using the title.
Kenji's title of "Morning Prince" originated when he was forced to experience a catastrophic future which showed Averian winning the First Spiritual War. Before returning to his own timeline Kenji successfully defeated this future incarnation of Averian, where he was dubbed the "Morning Prince" by the survivors, which he would continue to use. Following the 2015 retcon however it is currently unknown when Kenji first started using the title, though he was referred to as such before The Collapse. His son, Akira Hiroshi, would eventually adopt the title as well, and infer that it was granted to Kenji during the course of his many battles with Averian.
Trivia
During the events depicted in Desperate Stand: Averian Appears!, Kenji states to Van that he must start pushing for his Bankai if he is to continue keeping up with Van. His usage of the release in the Blood War Inquel IV, which occurred first chronologically, shows that he already possessed it. It was implied he lied in order to keep his Bankai hidden for use as a trump card in a latter engagement.
Notes and references
Community content is available under
CC-BY-SA
unless otherwise noted.