This article, Kōhaku Morimoto, is property of Zf6hellion
Kōhaku Morimoto (森本 康爆, Morimoto Kōhaku) is a talented Fullbringer currently residing in Ikeda, Osaka. He is the current head of the Morimoto Conglomerate, having inherited the position from his father upon his retirement. A student and graduate of both Karakura High and Nagoya University, he is a long time friend of Tetsuo Momohara's and a member of the organization Xstence.
Appearance
Kōhaku is a man of average height and strong physicality, though not overly developed, his majority of his body is marked by well-groomed musculature from his years studying and training in Kendo, Karate, and, Acrobatics. He has an extremely light complexion in spite of a physically active life-style, due to a melanin deficiency, making him an albinoid. His hair has a grey-ish hue for the same reason as his skin, and is rather short in length reaching only as far as the nape of his neck. It is relatively clean kept though it ruffles into spikes at the back, his bangs are formed into two tufts above his eyes, reaching down far enough to obscure them only slightly with their tips, as well Kōhaku has rather prominent sideburns that have a somewhat feathered style to them. His eyes are almost rectangular in shape, something not helped by Kōhaku's tendency to squint when concentrating, they have strong lashes to them as well as green irides. His eyebrows are grey like his hair and exceedingly thin and are known to arch in interesting ways when Kōhaku becomes emotional. His nose appears rounded at a glance, but actually has a soft pointed-tip with closer inspection, as well he has a pointed chin that appears rounded from a distance and a fairly flat jawline. Kōhaku can most commonly be found wearing a tailoured black suit with long sleeves, it is accompanied with a simple red shirt and a black suited tie as well as a pair of black slacks and brown leather shoes. His left ear is pierced with a small black stud earring, and Kōhaku can often be found wearing several rings, though the amount, and which fingers are adorned with them vary frequently.
Personality
Kōhaku is that kid who grew up looking after everyone else. He never got something that he couldn't share with his friends, be it toys or snacks. He had the ear to listen, the empathy to never look away, and carried the shoulder to cry on. Thanks to his family's well off status, this trait was easy to nurture and quickly became a large part of who Kōhaku is. He sees it as his responsibility to look after everyone else, it sits at the core of his personal philosophy which came into shape through his friendship with Tetsuo Momohara and is something that remains evident in the part Kōhaku plays in Xstence. He is the support structure of the group, not only does he provide assistance through his myriad Fullbrings, but also in the organization's other endeavours, using the Morimoto Conglomerate's resources to aid them as needed, be it through the acquirement of resources, or simply financially. That said he isn't entirely selfless and has some drive to accomplish his own needs and desires ahead of those of others, typically taking care of that as quickly as he can so that he can devote more time his friends and compatriots alike.
History
Shizumaru Morimoto (森本 静, Quiet, Forest Origin) was a long standing member of the Sumiyoshi-kai, acting as one of its several saikō-komon (最高顧問, senior advisors) with control over territory in the Higashinari ward of Osaka. Primarily a businessman by trade, Shizumaru used his Yakuza connections to grow and rapidly expand his own business, known as the Morimoto Conglomerate, by buying out, extorting, and otherwise crippling his competition in the city. Shizumaru was a bit of a glutton for punishment, and when he ran into a rambunctious woman named Kazue Kawaguchi (川口 和枝, Peaceful Branch, Mouth of the River), he fell in love. It was an odd relationship to say the least, but they made their peace with it. When Shizumaru became ill, Kazue even filled in for him with the Sumiyoshi-kai, and it served as an excellent place for venting her frustrations in life.
In 1986, Kazue became pregnant with Kōhaku. There was little in the way of complications, the pair were well respected among their "family" amongst the Yakuza and a temporary leave of absence was seen as water under the bridge, as soon as they appointed a temporary replacement, and of course, Shizumaru remained around to help when he could spare it. Of course, they were still criminals, and even amidst taking a break, the family had to be prepared. Shizumaru had his best men watching over his family and it was one of those same men that saved Kazue's life when they were struck by the most unfortunate circumstance: Hollows. One of their protectors was spiritually aware, and as a result had been able to save Kazue and her unborn son from the supernatural predator that had attacked them. This man, (Roshan, Dresden, somebody), was paid handsomely for his services, despite the highly unusual circumstances surrounding the attack.
Powers & Abilities
Natural Abilities
Keen Intellect:
Expert Swordsman:
Enhanced Durability:
Spiritual Awareness:
Fullbring
Expert Fullbringer: Kōhaku has possessed his powers since he was a child, in fact he bonded with his childhood friend Tetsuo over the fact that Tetsuo could see spirits and Kōhaku could coerce objects to do his bidding without touching them, though in reality Kōhaku could see these same spirits he feigned ignorance in order to maintain Tetsuo's friendship. Kōhaku possesses incredible sensitivity for a Fullbringer and manages to eke out the abilities of objects around him with comparative ease to his peers. This is partially tied to his kleptomania, which affords him a nigh unfathomably quick means of forming an attachment with all sorts of trinkets, from the mundane to the outlandish. Though he manages to harness the powers of these items quicker than others, as the bond is largely formed from Kōhaku's end, these items tend to come with caveats that work to his detriment. The Fullbringer has noted that his power grows as he masters each of the Fullbrings in his collection and so he tends to attempt to devote time to each new one he obtains, though his kleptomania causes a backlog to develop against his will. As he is adept at bringing out transformations in the items he bonds with, Kōhaku is also keenly skilled in the lesser forms of manipulations that his power can be used to achieve, and he appears to be particularly creative in doing so. One of his go-to methods is the manipulation of fruit, where-by he augments the acidic qualities of things like lemons or grapefruits to cause scathing, if minor, burns on entities as strong as Hollows. As expressed by Kōhaku himself he does not consider himself highly skilled in manipulating objects with Fullbring, especially in when compared to the likes of Otoya Kurogane, instead he claims his specialty lies in object transference, the ability to transfer ones Fullbring to someone else. Indeed, he is highly capable in doing so, able to bestow his Fullbrings upon others from a great distance away and at no cost to himself. This is his primary use for Fullbring, acting as a support combatant for the other members of Xstence.
High-Speed Movement: Bringer Light (完現光 (ブリンガーライト), Kangen Hikari (Buringā Raito); lit. "Full Manifestation Light")
Fullbring Collection:
What's Yours is Mine (ウオート・ヨールス・イス・マイーン, Uōto Yōrusu Isu Maīn): Kōhaku always has an electronic cigarette on his person, a reminder of his attempts to curb his nicotine addiction. While his attempts failed, and he continues to smoke to this day, he also uses one particular electronic cigarette every now and then out of habit. This e-cigarette contains the memories from the year he spent fighting addiction, forming a strong connection between its soul and Kōhaku's by recollecting his struggle and suffering through those events. This makes it an ample focus for Kōhaku's power, and through the use of Fullbring can be made to transform into a series of dynamite. It is a Dual-type Fullbring, embodying traits of an Armament and Clad-type, as though the dynamite are weapons meant to be thrown, they are continuously generated on random locations across his body. This is the one Fullbring he would not transfer to others.

Dynamite Generation: What's Yours is Mine has the ability to generate a seemingly unlimited amount of high explosives, in the form of dynamite sticks, that appear to spontaneously manifest on random locations through out his clothing. While this does not normally present a problem for Kōhaku, they do sometimes manifest in compromising locations, which can prove to be distracting and dangerous in combat. The explosives are of exceedingly high quality and capable of very high-yield explosions as a result. Kōhaku is capable of controlling this aspect, as if altering the chemicals or materials used in the dynamite subconsciously, in order to control the quality of his explosives. He can alternate between military and industrial grade dynamite on the fly, and can degrade the quality of them in order to make them unstable and unpredictable, or to limit how powerful his explosions may be if he feels the need to hold back. At its lowest point, Kōhaku's explosives are little more than powerful concussion grenades, and at its highest they can be made equal to the finest quality dynamite. Whenever his Fullbring is activated Kōhaku is bestowed an initial eight sticks of dynamite with more of them generating across his body as time passes. What's Yours is Mine accomplishes this by absorbing a portion of Kōhaku's Reiryoku in order to create each explosive, the amount of energy absorbed grows with Kōhaku's strength such that it would always absorb the same percentage of his power regardless of how powerful he is (So that if his total power was 100 units, each dynamite created would cost 5 units of that energy, and if his power grew to be 500 units, then each dynamite would then cost 25 units of that amount). This leads Kōhaku to burn out relatively quickly in combat, greatly limiting him as an offensive fighter. The process is automatically handled, with a single stick of dynamite generated every 10 seconds, though Kōhaku is capable of speeding this up as necessary.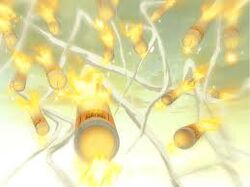 What's Mine is Yours (ウオート・マイーン・イス・ヨールス, Uōto Maīn Isu Yōrusu): An ability of Kōhaku's Fullbring where he seemingly transforms his dynamite to add on a set of small thrusters in order to turn them into seeking missiles but in truth it is a result of Kōhaku manipulating the Hollow Reiryoku welled up inside of himself. The power of the Hollow that attacked his mother and was subsequently passed on to him was fire-based, leading to the traces of its Reiryoku to inherit this trait and grant it to Kōhaku. With enough exertion he is capable of manipulating it to manifest flames beneath his dynamite in order to propel them towards a target, further guiding them with tightly managed control over his own spiritual energy. Though the technique may appear simple, it is actually rather advanced and exhausting for its user, thus while it is a more effective means of delivering his attacks to an opponent it tends to be used sparingly.

Aerosol-based Reishi Absorption: After obtaining a Soul Fragment of the deceased Quincy Emperor, Kōhaku has been gifted with the ability to absorb particles of Reishi through the use of his Fullbring, an effect similar to the main ability of the Quincy themselves. While in its natural state, the e-liquid, replacing cigarette smoke, emitted by Kōhaku's e-cigarette latches onto the ambient Reishi that it passes over and then draws it through the mist to Kōhaku passing it on to him. This allows him to draw energy from the environment simply by exercising his smoking habit. The mist will draw Reishi out of whatever it passes through, be it the air, inanimate objects or another living being. This way Kōhaku can effectively steal the energy from others around himself, though it is known to do so in rather limited amounts. The intended effect is to allow him the ability to bolster his Reiryoku without greatly expanding his capacity, thus he can use it to limit how quickly he'll run out of energy while using What's Yours is Mine, but not exceedingly so. This ability is also restricted to the natural form of his Fullbring, leaving him defenseless while in use.

Bonewheel (ボーンホイール, Bōnhoīru): Kōhaku brings forth a set of five rings that he can control telekinetically, floating around him as he commands. Each ring is made up of twelve interconnected black bones, with four black segmented blocks resting on each of the four cardinal directions that feed into another bone at each point. The rings ignite into red glowing flames when active and the space in the centre of the ring fills up with green energy. The wheels act as a form of shield that can intercept energy-based attacks. As they come into contact with the wheel, the energy is forcefully redirected, split into four directions and cast away harmlessly from whatever it was intended to strike.
Necropolis (ネクロポリス, Nekuropisu): Kōhaku brings forth a bow that is made out of deformed bones with red fur hanging off the end of either of its limbs. When the string is pulled back, the bow releases a torrent of crimson flames of moderate power. The flames continue to spew forth so long as the string is pulled back and can continue to stream endlessly forward so long as their wielder provides them with energy. The further the bow string if pulled the more intense the flames become.
The Coolest (ザ・クルスト, Za Kuresuto): In their last year of highschool, Tetsuo and Kōhaku found their friendship under strain when they learned that the latter was moving to Nisshin. They would bicker and fight more than usual, generally acting like an old married couple out of stubborn refusal to say their goodbyes. They were both active members of certain clubs at their school, Tetsuo was a member of the Karate club, and Kōhaku the Kendō club, and as a means of fixing their relationship a mutual friend suggested that the two join the other's club for the final year of school. By the end of the school year, they came out of it better both physically and mentally, allowing them to come to terms with Kōhaku's coming departure. A piece of memorabilia from that time, a wooden badge that the two made emblazoned with the combined Mon of their clubs became an object of great importance for Kōhaku, a memento of all their memories made during that year and as a result: his first Fullbring. By focusing his Reiryoku into the badge, Kōhaku causes it to transform into a stylized Katana bathed in an ephemeral blue light. Kōhaku named this particular Fullbring after the fact that he believed that it was the coolest, though Tetsuo decried the name as silly. In meek appeasement, Kōhaku offered to call it "The Crest" instead, only for his bemused friend to point out that the transliteration would be the same.
Trivia
Kōhaku is largely based upon Hayato Gokudera from Katekyō Hitman Reborn!.
Prior to giving Kōhaku a proper name, the author took to calling him Klepto (クレプト, Kureputo).
Kōhaku can be taken to mean "Explosive Peace" (康 (Kō), Peace; 爆 (Haku), Explode) while Morimoto can be translated as "Forest Origin" (森 (Mori), Forest; 爆 (Moto), Origin).
Appearances
References
Community content is available under
CC-BY-SA
unless otherwise noted.