This article, Icía Cabaleiro do Val, is property of Zf6hellion
"Don't mind me, I'm just a crazy blind lady that lives with a talking stick."

—
Icía Cabaleiro do Val
"She Who Provides Light and Dark."
Icía Cabaleiro do Val (イシア・カバリエロ・ド・バル , Ishia Kabariero do Baru) is a Galician Shinigami and former member of the Gotei 13, having served as one of the original founding members and the first Captain of the Ninth Division. Sōkan Shiba was her acting Lieutenant. Today she is more commonly known as the Madosasennin (窓坐仙人, Window Sitting Hermit), a roaming hermit who appears sporadically across the Rukongai.
Appearance
Icía is a woman of Galician descent, shorter than the average height and with a nimble and light figure to match her flighty nature. She has black hair that reaches her neck in general length, framing either sides of her face while shorter tufts, that reach just beyond the top of her eyes, hang down from her fringe. The back of her hair is also longer, typically tied into a ponytail hanging down her back or towards her left side, it reaches as far down as her knees. A pair of decorations sit on the inside of her hair, made up of a set of golden orbs with red tassels. She has very thin eyebrows that form a sharp right angle as they come to an end. She has soft and rounded eyes that are slightly larger than the rest of her facial features, her irises are indigo in colour. A deep scar runs across her eyes however, rendering Icía blind. She covers this malady with a lavender cloth that is used as a blindfold of sorts. She has a very small but sharp pointed nose and thin lips. Her skin is of a pale tan quality. She dons a very non-standard variation of the Shinigami Shihakushō consisting of a short sleeveless kimono, that cuts off at her upper thighs, it is black in colour and a white sleeveless shitagi is worn underneath. She adorns detached sleeves that are white in colour for the portion that covers her forearms but fade into a light purple shade for the long cloth sleeves that cover and extend beyond her hands. She also wears a pleated skirt that stops just before her knees in a similar purple colour. She wears a pair of black heeled sandals and white tabi.
Personality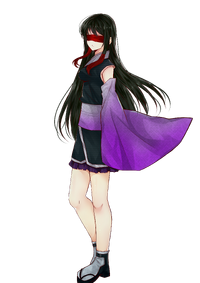 Icía is a woman who enjoys playing on the assumptions of others, with a relatively high-born seeming name and the looks to project an air of frailty, she pretends to sit in the role of a high class noble maiden, the vulnerable flower that others just can't help but feel they need to protect. She plays the part well, capable of feigning all sorts of emotion and action like a triple-A actress. She uses formal speech and the kind of tone expected of nobility. It is a relatively harmless trick that she enjoys far too much, doing it out of the fact that she can and for little reason else. She never allows the game to go too far however, and knows better than to lead a poor soul on for too long. On occassion she'll even "turn" on the victim of her prank, suddenly becoming a ruthless thief that steals whatever her tricked suitor happens to be carrying. She is quick to return the items later, as a show of good faith if nothing else. Her antics nonetheless gain her no shortage of ire from Shinigami and Souls in the Rukongai alike.
Though she maintains the formal manner of speaking, she is generally much more laid back when not donning her false persona. She is friendly and carefree, taking very little seriously. She isn't one to hold a grudge, given her penchant for tricking others for entertainment. She brims with energy, never sticking with one thing for over long, instead, Icía prefers to sample a great many things at a time, gravitating from one to the next over increasingly short time spans. Energy is in no short supply for her, boundless stamina serving only to further her hunt for more to do. Some think that she's on a permanent sensory high for what amounts to life itself as a result. While grudges aren't in her nature, she does have trouble getting along with what amounts to cynicism, pessimism, or fatalistic mind sets. To her life is pointless if you spend it worrying about the end result, or bemoaning ones failures and regrets, she believes in grabbing hold of the situation and wringing it for every ounce of enjoyment you can possibly get. Thus she considers herself an optimist, even if its blind optimism.
Despite her oddities, she is a rather insightful individual and more than one Shinigami relies on her for advice or just as someone they feel they can trust with things they have trouble getting out. She is great at keeping her lips shut when it comes to the personal matters of others, and she usually has a few choice words to apply to any given situation, even if they only serve to lighten the mood rather than provide some kind of proper assistance. She can also be quite serious if a situation calls for it, dropping her roundabout and overly playful habits in exchange for an intensely built up focus and straightforward approach, she is quieter when pulling the serious route, preferring to get the job done and then get out, as serious situations are rarely fun. She also has traces of arrogance, often walking into battle with a sash that she promptly uses as a blindfold before entering combat with another. She uses a fighting style that is full of flashy and complicated movements for little other reason than because she can.
While she moves from one thing to the next constantly, she does have a few persistent hobbies to her liking that never get old, in particular acrobatics, a key part of her fighting style and a favoured way to pass the time, she is responsible for an acrobatic show that the 9th Division hosts in their barracks once a month. Occasionally doing shows for the people of the Rukongai as well. She also has a clear fondness for the orchestra, seeing the massive collaborations as inherently exciting. Her favourite dish is polbo á feira, a boiled octopus dish sprinkled with salt, paprika, and olive oil. She also enjoys onigiri a great deal. She is also fond of winding up fellow Captains Eskengai Segomari and Tiberius Regulus Armiger, when not doing that she can often be found in Seia Tulia Honoria's company, taking trips to the World of the Living, where the pair compare their favourite locales before deciding which of them would be best to get drunk in.
History
BULLETPOINTS NOOOOO!:
Born in 176 BC somewhere in Gallician Iberia (Spain).
Skilled fighter among her people, known for her dance-like movements.
Is slain in the conflict and passes on to Soul Society at the ripe old age of 39.
Becomes a travelling swordsman and dancer, gaining some popularity in the Rukongai.
The Balancers fail to recruit her.
Genryūsai doesn't.
She is trained under Satō Shingen, Ichibē Hyōsube, and, Ōetsu Nimaiya, alongside the other members of the original Gotei 13.
Using the Jinzen Gutaikatō, she awakens her Zanpakutō.
The newly formed Gotei do battle with the Marshals of the Balancers of Souls.
Sworn in as the first Captain of the 9th Division.
Is part of the counteroffensive against the Hollows of Las Días in 872.
Is also part of the first war with the Wandenreich, where she faces the Sternritter O of that generation.
Together with Seia Tulia Honoria and Johnny Law, Icía confronts Genryūsai leading to reforms for the Shinigami.
Icía is part of the detachment sent to the Human World under Eskengai's command.
She gets to fight Itaidōshin.
Powers & Abilities
Natural Abilities
Keen Hearing:
Shinigami Powers & Abilities
Jinzen (刃禅, Blade Zen): The only method taught in Shinō Academy, by which a Shinigami can properly speak to their Zanpakutō. By placing their sword atop their lap and seating themselves in a meditative pose and entering their Inner World where they can then manifest the true form of their Zanpakutō. Jinzen is a basic, but profound technique, it is the primary means by which a Shinigami learns how to use their Zanpakutō, learning techniques through engaging them in interaction; be it in battle or other means. However a Shinigami can learn these techniques through brute force if need by, a brutal method of applying raw force until the Zanpakutō Spirit capitulates and grants their wielder access to its abilities, though this creates a rift between the spirit and its wielder as a result. This manner of attaining strength is how Icía began her relationship with her Zanpakutō. Though it made things initially difficult, Icía considered it a crucial part on coming to understand Kokuten. Icía has spent a great deal of time using Jinzen, going so far as to spend even years at a time within her Inner World, relying only on her spiritual energy for sustenance in order to better connect with Kokuten. Through these long sessions she has come to regard Kokuten in a myriad of different forms, at first a stranger, then a teacher and friend, even a sister or partner. She learned a great deal from these sessions as well. Far from techniques and the abilities of her Zanpakutō, but gifts obtained by simply losing herself in Jinzen, by allowing Kokuten to bleed into Icía, as it were, the latter gained new strengths as a result.
Mitanren (鍛錬, Spirit Tempering): Jinzen is only the first step on the path to truly forging a bond with a Zanpakutō. As it is, one could forego the process almost entirely and simply draw out the abilities they seek with sheer force of will. Dominating the Zanpakutō Spirit in other words. Jinzen is meant as an alternative to this, allowing a Shinigami to engage their Zanpakutō as equals, but it is meant only as a beginning, a way to initiate a life-long process. At its core, Jinzen works by forcing the mind of the Shinigami and the Zanpakutō to become one and as such still bypasses the will of the Zanpakutō Spirit to gain a confrontation. Mitanren is a means of connecting with a Zanpakutō Spirit through mutuality, not by force. It is the second step and can only be taught by the spirit. The process begins in much the same way as Jinzen, the user enters a state of meditation while resting their sword atop their lap. Instead of pulling the two minds together, the user creates an echo through their soul which is felt by the Zanpakutō Spirit. It is an invitation, an act of treating the Zanpakutō as an equal. Should the invitation be accepted, then both minds are pulled into the Inner World where they may interact in a secluded part of the soul known as Atsukyūgai (熱扱界, Heat Treating Realm). This is where Icía truly learned about her Zanpakutō. Through this meeting Icía and Kokuten were able to truly share their experiences with one another, to connect and bond. To debate, confide, fight, and console one another. The final step was to realize and accept, that though Kokuten existed as a separate being, that they were still an embodiment of Icía herself: a very piece of the same person. Understanding this led Icía to cast aside that which she had learned under Genryūsai Shigekuni Yamamoto and the Royal Guard about Zanjutsu and Zanpakutō in favour of relearning it all through her interactions with Kokuten. In effect, reforging that which she knew.
Master Swordsman: Swordsmanship exists as a great many things to a great many people, it is at once a form of combat, a discipline, a philosophy and an art form. A singular style can be likened to a dance, and a school an entire way of life for some. To Zanpakutō it encompasses their entire existence and is integral to understanding them. It is a great misdemeanour for a Shinigami to consider swordsmanship only as a means of engaging a foe, though that is a sadly common occurrence. Even Icía was guilty of this fact. It seemed natural to her, as her training in swordsmanship began well before her time as a Shinigami. As a Human there were no Zanpakutō Spirits to contend with and so she treated her blade as a tool. This practice would only change once Icía had experienced death and rebirth and having already served a long tenure as a Shinigami. In the War of Days she lost her eyesight and Jinzen served as distraction from what she saw as a crucial loss. Though she was eventually proven wrong and through continued meditation began walking a different path.
Icía never enters battle alone, instead she is always guided by her partner, Kokuten. Each stroke of the sword is measured and carries momentum, each strike is exact; released only when the time is right. One manner of accomplishing this would be to allow Kokuten to take control, to give herself over to the Zanpakutō Spirit and let her be the guide of each action in the truest sense. But they are only truly at their best when they fight together, and Icía's method is that of a consensus. Each action is the deliberate choice of both participants. The blade does not move if the body is unwilling; and the body would not move if the blade is unwilling. It is a harmony between Icía and Kokuten that affords them greater strength, as each motion is made together, there is never any doubt to weaken the momentum, no fear to cloud the force. They act for the betterment of each other.
Thus swordsmanship is an expression of the bond that has grown over millennia between these two. Their true might brought to the fore, Icía and Kokuten are a considerable force to be reckoned with. Icía enacts each motion with incredible speed, her own energy enhanced by that of Kokuten, her cuts are precise and powerful as Kokuten directs her even in the depths of blindness. Her fighting style seems otherworldly at times, leaving no obvious blind spots and even allowing her the means to react to attacks that would have seemed impossible, for evading Icía does not mean they have escaped Kokuten's illuminating gaze. Her swordsmanship is visibly inhuman and at their fullest a single slash can rend tremendous displays of light and dark through the air as attacks and effects. A rare feat that those of similar skill can perceive is a transparent silhouette of Kokuten's true form overlaid on top of Icía during battle.

Shirasaya — Gazōjin (白鞘—画像刃, White Scabbard — Image of a Blade): Though a versatile tool the sword has several notable flaws that are necessary to their function as weapons. These flaws have led to their abandonment as frontline weapons in the Human World in favour of guns, and while spiritual beings still prefer them, the problems that surround them are only further exacerbated by the existence of Shunpo and Kidō and abilities like them. A blade is a melee weapon, requiring that one close the distance in order to attack, and its form is obvious, though you may thrust or slash and attack from multiple directions, the dimensions of the sword remain noticeable and avoidable. Kokuten is a being that approaches everything with caution, and does not allow Icía to leave anything to chance, such a divine being allowing her charge to come to harm would be a sin as she sees it. Thus, under her scrutiny the two came to create a method to which they may overcome some of these drawbacks. They become the blade. Icía imagines herself as the sword, and Kokuten's power constructs a reality of it. The disparate wills within all Reishi are collected and driven towards that idea and it is then made real. Icía needs only to draw her hand into a grasp, as if she was wielding a sword in order to conjure an invisible image of one in her hand. It is capable of cutting as if it were real, but it cannot be seen and cannot be touched.
But that leaves the motion. A master of Kidō may discard the incantation of their spells, interlace them with others, and some may even abandon the need for hand signals or motions as a means of confusing their opponents. A master of Shunpo may leave behind after images or disguise their movements. A Swordsman may make one maneuver only to switch into another, create one motion to obfuscate a different one but an opponent can always follow the body and the arc of the sword. It has limited reach and limited range of movement. Furthering their attempt to overcome this weakness Icía and Kokuten may work together to form a unique "stance". Icía gives her very body over to Kokuten, abandoning the function in her arms to give Kokuten a physical impact in the outside world. The spirit remains largely invisible, except to those on a similar level, and thus Icía appears to engage in battle without even moving. Her arms remain still, but a blade is swung. It is the opposite of creating an invisible blade where Kokuten gave reality to Icía's will, in this case Icía gives reality to Kokuten's. Combined it is the ultimate expression of their working in tandem. Their power feeds each other and they present that on the battlefield as a united front.

Azamukidō-Shōmōdō Style Swordsmanship: Icía began her swordsmanship focused on speed, whatever drew a battle to its end fastest, whatever dealt the right amount of damage in the least amount of time. Battles in the Human World could be settled in a single blow with relative ease, one cut of the sword in the right place could end or cripple someone immediately. This approach to combat is far less effective in the spiritual realm, however, as a great many more layers are involved in the dimensions between one Soul and the next. As time passed in Soul Society, Icía found herself drifting from that approach and more into battle centered around deception. A natural prankster and habitual, if lighthearted, liar as well as being quick on her feet, deceptive swordplay, Azamukidō, came easy to her. She fights with an unusual stance, tried and true but full of holes, as if taken up by an amateur. These weaknesses in her form are intentional and known to Icía, instead acting as traps for those foolish enough to try and take advantage. Alongside that she employs numerous feints and false tactics, all to goad her opponents into her web before she takes them down.
But there is a second layer to her style of fighting, weaved at Kokuten's request. The Sun is a constant warmth, a soothing presence that calms those within its embrace. At the same time, it is also a constant source of suffering. The eyes burn as they absorb the light, dulling their perception. The skin burns and the body is worked up. It is negligible in a normal sense, taking years upon years to have any real effect. But it is a method that can be taken and placed into practice. Shōmōdō. Icía's natural fighting style creates a defense, allowing her to be cautious and giving her the means to defend against attacks by predicting and navigating them where she needs. Shōmōdō is then her source of offense. Light cuts, disarming measures and other strikes meant to deal minor damage. Her attacks come across as casual and demeaning, even taunting, intended to annoy an opponent so that they forget that a sword cut, no matter its depth can still be dangerous, and to push them further into her hands. Icía fights on two fronts in this manner, and her style employs a great number of techniques from numerous schools of Zanjutsu, varied up to suit her purposes.
Immense Spiritual Power: Her Reiatsu is cool gray in colour.
Zanpakutō
Kokuten (黒点, Dark/Sunspot) is the name belonging to Icía's Zanpakutō. It takes shape as an extravagant kodachi with a total length of 48cm (18.8 inches). It follows the standards of the weapon with some slight variations, namely its white hilt encased in a silver border and the white rope tassel hanging from the pommel. It has a ring shaped tsuba with a circular hole pressed into it on one side. The scabbard is of a similar but inverted colouration to the hilt and is wrapped in a thick black cloth, so thick in fact that no light passes through the apparent gaps in the knitting. This cloth covers most of the scabbard and is held together by being tied through the hole in the Zanpakutō's tsuba, this also signifies an intent on Icía's part to not draw her sword, though it was at Kokuten's behest. This is because Kokuten believes that her form as a Zanpakutō is little more than a container, though she full well understands her origins, she proudly declares that she is not something so meager as a spirit in a sword-styled cage. Instead she is the embodiment of the sun and the moon, and all the stars in the heavens. The Zanpakutō is simply the medium in which she chooses to interact with her prized "instrument": Icía.
Shikai: Due to the bond between Icía and Kokuten, the Shinigami is able to release her Zanpakutō with just a thought, though she refrains from doing so out of respect for Kokuten's wishes. The Zanpakutō Spirit is a prideful and extravagant being, and as such, something so important as the awakening of its Shikai should not be allowed to go without ceremony. Fitting this behaviour, its release command is "Gaze" (注視, chūshi). The activation is started by the act of drawing Kokuten, first by removing the cloth that binds it and then removing it from its sheath. As this is done, a massive inward pulse draws in a massive wind towards Icía as if daring those in the vicinity to look upon the transformation. She then connects the sheath to the sword, placing its hilt inside of it whilst the removed cloth, seemingly moving on its own, stretches to encapsulate the two, wrapping around the entirety of the sheath, sword, and Icía's hand. A massive explosion of light then renders the entire area blind for a moment to complete the change. The blade widens and curves in multiple places, taking the shape of an exaggerated dao. Four holes emerge on the blade close to its centre with the uppermost hole being larger than the others and the lowermost one being smaller. The scabbard transforms into a long hilt, almost as long as the blade effectively turning the Zanpakutō into a glaive. Icía's hand morphs to match the material of the hilt, and is effectively merged to her sword. The cloth now turned into a pair of long flowing tassels that emerge from the hilt stretch up to coil around Icía's arm.
Shikai Special Ability: Kokuten wields an ability referred to as Inyō Koden (古伝陰陽, Myth of the Sun and Moon). It is a power with great versatility, something that has only grown over the years. Originally it was an ability focused on manipulating light exclusively, but after subsuming the powers that had been dedicated to her Shinuchi, Icía and Kokuten gained the ability to control not only the light but the darkness, its absence, as well. Rather than the manipulation of two separate abilities, Icía defines Kokuten's ability as having simply broadened its definition. Nonetheless, Inyō Koden is an ability of extraordinary power and incredible application. Almost everything in the world is covered in a blanket of light emanating from the Sun, and that which is able to hide from it, however briefly, is instead shrouded in darkness. As such, nothing is ever free from Kokuten's power, something that could be said to encapsulate everything in its grip. It is the ability to manipulate all forms of light, no matter the source, be it natural, artificial, or even fantastical. Its enormous power is such that in order to use it at all, it must be focused and devoted through the use of "declarations" (宣言, Sengen), a form of calligraphical art that is etched into the air with Icía's own spiritual power to form seals that correspond to Kokuten's abilities. If these seals are not formed, then any attempt to use Kokuten's power will prove fruitless, because the sheer scope of what Kokuten has access can be catastrophic if even the slightest mistake is made. Declaring an ability gives a semblance of sentience to its function and purpose, allowing it to be directed more easily. On top of that this also localizes the ability to an extent so that Icía could warp an entire city's perception of light and dark without altering anything outside of it.

Akeshoku (明け食, Daylight/Eclipse): Activated by writing the Chinese character Tí (提, Chinese for "Raise"). This is the most fundamental ability of Kokuten's Shikai, the most basic of the effects it can achieve, and a largely supplemental one at that. Even so, this ability alone has considerable power and may even sway entire battles with a single use. It is the ability to change day into night and vice versa. After writing the correct character in the air, it explodes causing a blinding light, or an impenetrable darkness, to shoot outwards to envelope the area. The radius enveloped by this mass of light or dark is considerable, capable of stretching out to 305 square mile (790 km2) radius allowing it to encapsulate entire cities within its effects. Though it might appear to be an optical illusion, Akeshoku is actually an incredibly powerful barrier and its limits cannot be internally breached. Meaning one may enter into the barrier but they cannot leave. Those who attempt to do so are sent back to the centre of the affected area effectively creating an infinitely-looping maze. Attempting to break through the barrier with force also proves to be ineffective as attacks will simply pass through it harmlessly. Otherwise the bounded field is completely invisible to outsiders as are those currently trapped within it. The effects, whether the field emits an immensely blinding light or drowns everything in darkness is determined by Kokuten's status. That is whether it is sheathed or revealed, the former reflecting the dark and the latter being the light. This not only selects what the barrier projects when it is first activated but can also be changed at will by Icía through the simple act of sheathing or unsheathing her sword.

Onmyōsaya (陰陽鞘, Dark-Bright Scabbard): As the scabbard of Icía's Zanpakutō is fused into its body as part of the transition into Shikai, it lacks one to be used as part of the mechanics of Akeshoku. To circumvent this, Icía is capable of forging a scabbard out of her own Reiatsu together with Kokuten's own. This is done by first molding their Reiatsu into the correct shape, and then creating layers on top of it to grant the shape solidity and material presence. The scabbard looks as if it was crafted from pure light, and constitutes enough brightness to hide the Zanpakutō sheathed in it, but is not powerful enough to prove blinding. In addition, though a sheath serves to effectively blunt the sword stored within, the nature of Icía's Reiatsu-forged sword actually greatly increases the amount of physical power drawn out with each swing, allowing her to do more damage. The sheath is also incredibly hot, despite its relatively dim glow, effectively replacing the ability to cut with the ability to burn. Icía notes that any proper covering would work to act as an impromptu scabbard for the effects of Akeshoku, but Kokuten would only accept something that she would consider as grandiose as herself. Icía uses this technique instead of easier methods as in the past, Kokuten outright deactivated the ability in a fit of protest when subjected to something of perceived lesser quality.
Trivia
Icía is the Spanish name equivalent of Cecilia. Cabaleiro do Val means "Knight of the Valley".
The colour associated with Icía is Wisteria, a shade of lavender which in itself is a shade of violet which is a mixture of blue and purple which, in Japanese colour culture, represents peace, life, rationality and, insight, decadence, celebration, respectively.
In Japanese, Icía would speak of herself with the watchi (わっち) pronoun, an old word used by geisha and oiran during the Edo period.
Her birthday coincides with the day that the Yinqueshan Han Tombs were discovered. This also marks her as an Aries.
Icía's theme, as decided by her author, is New Dimension Overlord Flow from the Gundam Build Fighters Try OST.
Images on this article were drawn by Daikazoku63, and, Luminent-Soul on DeviantArt on commission from the author.
Appearances
References
Community content is available under
CC-BY-SA
unless otherwise noted.