This article, Girado Riendo Mariposa, is property of Zf6hellion
"The average being is defined by a goal, a dream, aspirations. What defines me? Hmph, I wouldn't know. I seek out things on a whim, like a butterfly, I am content simply to move from flower to flower, blessed by the array of colours each plant brings. I am presented with infinite opportunities to test the limits of this realm of existence, what kind of Hollow would I be if I didn't push them to the very end?"

—
Girado Riendo Mariposa -
Bleach: Days on End
"The curiosity carried on the wings of madness."
—Character tag
Girado Riendo Mariposa (ジラド・リンド・マリポサ, Jirado Rindo Mariposa) is an ancient Hollow that has been active for millennia, claiming to have been around as far back as 9500 BC. He has plodded his way through the evolutionary ranks of his kind, having been a Básillian, Gillian, and an Adjuchas, though he claims to have discovered the means by which one could become Vasto Lorde, he did not enter into the evolution himself, instead choosing to become an Arrancar, one of the first to have done so by natural means. Through experimentation on himself, he has achieved a further "evolution" of the Arrancar form, a transformation he has named Tal Vez.
He began as a rumour in Hueco Mundo and only entered the public eye for the first time in 872 AD when he acted as an advisor to the Hollows of Las Días during their war with the Gotei 13. He was nowhere to be seen when the Hollow army was defeated, having left before the last battles could begin in earnest. He would be sought out by Satō Shingen, under the guise of Black Hood, some years later to again serve as an advisor for the growing Shoka, bestowing upon them his scientific expertise as well as information. His contribution to the War of Days was great, with his creation of Black and infusing Satō with the means to undergo Hollowfication without succumbing to Soul Suicide. He even managed to seal away the Captain of the Sixth Division Regulus Armiger, a feat that has since proved impossible to undo. Again, he escaped the conflict but the Gotei were now aware of him and had him marked as a high priority threat.
He did not resurface until 2001 AD when Sōsuke Aizen revealed himself as an enemy of Soul Society and began his creation of an Arrancar army using the Hōgyoku. Girado was one of the earliest to stand with him, serving as the Decimonoveno (19th) Números, he was given the task of experimenting on his own kind while also serving as a recruiter as Girado knew the desert and its rumour mill better than Aizen. Through his work at Las Noches he managed to bring Charra Chavarría, Emya Kolliohart and Zankken Javan in to his employ. His part in assisting Aizen went unnoticed by the Shinigami at large and he left during the Gotei's assault on Las Noches, escaping yet another conflict unscathed. As the balance of another realm began to collapse, Girado found himself pulled into it on the cusp of the Wandenreich war with Soul Society where he was "recruited" by the Jagdarmee once they found his laboratory in Sabio Islas. With their ousting of the Gotei 13, he was assigned to the Einsicht in order to assist in fixing the rapidly decaying balance of souls.
He eventually found a way back to his original realm, but experimentation on his discovery flung him into yet another dimension. One where Hueco Mundo was on the cusp of change as Grimmjow Jaegerjaquez became the next king of the land of Hollows. Seeing opportunity in that, Girado offered his services to the newly reformed Espada.
Appearance
Girado is a lanky and androgynous Arrancar carried atop a spindly form and a somewhat malnourished visage which is made alien by his clear white skin. His face is entirely obscured by the fragments of his hollow mask which takes shape as a full helmet, unlike that of most other Arrancar. It is ovular in shape and possesses very little in the way of details, apart from a single line running down the center of it. There are three holes in the mask, two taking the shape of angular eyes and the third resting on the forehead, it bears a lozenge shape and is outlined with a purple estigma. The left eye hole appears to be empty, presenting little more than an empty blackness to those looking at it. The right presents his only visible eye which has a black sclera, golden irides and a black slit shaped pupil not unlike that of a cat. Two long and lightly curved horns rise up from the crown of his head and flow into a large opulent fur-like mane of indigo hair which stretches out a fair ways down his back ending in a small tail that is tied by a violet band. His body is a strange amalgam of musculature and sleek bodywork, the most obvious part being the protrusions on the end of his elbows.
Unlike previous forms Girado now opts to be fully clothed and bears a considerable resemblance to his second form's released state. His neck is covered by a dual-layered metallic colour, below that he adorns a white jacket with black outlines similar to those worn by the Espada. It runs the full length of his upper body before splitting into two parts over his waist. Above that he adorns an indigo breastplate made up of twin rows of ribbed slates, it has a low collar exposing the top of the jacket beneath. A single black line runs down the center of the breastplate, with a rectangular space in the middle of it allowing another look at the jacket underneath. The breastplate feeds into a grey rope-like sash that is wrapped around Girado's waist numerous times. He dons a white sleeveless haori that has a pair of prominent indigo lapels that lay over his clavicles. The haori runs down the entire length of Girado's body and beyond it, terminating in a set of pointed coat tails that are black in colouration. His upper arms are adorned with purple hourglass-shaped decorations and lead into the sleek tekkō that cover his forearms. They are made up of a single white plate on either arm that are strapped in by a series of purple cloth straps. Beyond that his hands are completely black and each digit is sharpened into a claw. There is a long extending cord that is attached beneath his wrists and run the length between his arms to attach to the back of his haori. Hanging across the cords are a number of light purple ribbons. His lower body is covered by a simple white hakama that is attached to a set of metal braces that cover his ankle and foot while remaining open enough to expose his black tabi.
Though not immediately visible, Girado's Hollow hole occupies much, if not all, of his head. Given his place among Grimmjow's revived Espada it is likely that he also possesses a tattoo that denotes his place, though its placement and number are unknown at current.
As an Adjuchas-class Hollow, Girado largely resembled a centipede. His body was long and serpentine, reaching an upwards of 100 meters in total length. His body was made up of several segments, each of which consisted of a black underbelly adorned by a purple armour plate over the top and several chitinous legs. The furthest back segment ended in two inward curving spikes with a gold colouration that was segmented at two points by a zig-zagging pattern of lines. The front, his head lacked legs and was instead adorned by several holes from which several light blue tendrils could emerge to act as appendages for him. His Hollow hole was in the center of that segment, going through the top and bottom. His head was largely covered by a Hollow mask, a large white bone-like plate sitting over the top of his skull like a helmet. It was smooth and curved at the top with two horns rising out of the top to face behind him. There were two diamond shaped eye holes on the mask, each underscored by several purple lines. The mask cut off at Girado's mouth which was black like the rest of his flesh, two black appendages jutted out of either side of his mouth stretching into two large mandibles in the form of blades resembling scissors. His mouth was lined by golden pyramid-shaped teeth.
Personality
As an extremely long lived Hollow, any remnants of his original Human existence have long since been cast aside, apart from those with the most profound effect on him. That which sits at the core of his identity. For Girado this is a state known as Ataraxia (アタラクシア), Atarakushia; Greek for "Tranquility"), as he is a being that exists without worry or doubt. This has had the effect of creating a distastefully cheerful persona, he speaks to everyone with some degree of familiarity and friendliness whilst at the same time casually belittling them. He is never angry or annoyed, reacting with simple and polite jests even when injured and in danger. He exudes an extreme degree of self-confidence in his abilities, seeing himself as magnificent and awe-inspiring while the skills of others would come across as haphazard, though, oddly, he does not consider himself infallible. To him, he sees no doubt in his own capabilities, but he cannot predict everything around him, as such he is still capable of overwhelming success or dismal failure due to interference from elsewhere. Even so, such things do not register negatively within him, simply brushing off a lack of success and moving on to other things. Further, he appears to lack fear on an instinctual level, stimuli meant to evoke such an effect proves useless on him with even the threat of death doing nothing to provoke a response.
Girado is exaggerative, professing a love for the flamboyant and ostentatious. He tends to overact and perform with regards to everything, happy to wave his arms around and use them as an instrument to provide examples through during an explanation of something. He would go so far as to setup a scene resembling an interrogation in order to ask a simple set of questions. Another aspect of this is his speech pattern, often long winded and flattering, either of himself or the party he is referring to, even whilst simultaneously insulting them. He also happens to be rather fickle with little in the way of lasting attachments to either interests or factions. He has served under Shinigami and Quincy with little regard for their opinions on each other and no real loyalty to the parties themselves, easily severing his ties with Shoka and Sōsuke Aizen as he saw fit. He is easily interested in unusual phenomena and unique abilities and objects, but his obsessions quickly peter out whether or not his experimentations on them have finished. Girado can also be quite petty with regards to experimentation, despite modifying himself in such a manner as to successfully erase his ability to perceive a specific spiritual spectrum, he would deem it a failure simply because he saw the world around him afterward with a slight shade of grey. Though his interests some times pick up again, as has been the case with his study of the Mod-Soul copy of Gin Ichimaru, a creation of his that he deemed a failure because of his inability to wield the original's Bankai. Though he cut him loose and allowed him to go and do as he saw fit, Girado has occasionally sought him out in order to pester him and seek out just why the artificial being lacks the full power of his original.
There are a few fields that continue to keep his interest with them. Study of Hollows, the inner workings of souls, and the Shinigami art of Kidō being the most notable. As Hollows are a largely uncovered field, Girado took it upon himself to uncover all of the secrets of his kind and to document it. At the same time, he would push and test the limits of them, with each new discovery came with it new ways to experiment on the potential that Hollows presented. Through millennia of study, Girado has become, perhaps, the greatest mind on Hollows and Arrancar, both pseudo and natural with a great deal of information on their evolution, powers, and other traits. For a time, the study of Kidō had fully enraptured him, where it became the only means of trading with him. Though it has died down with his own growing mastery over the art and deviation from the Shinigami method, those who stand on a similar level as himself or wielding particularly unique Kidō are still capable of piquing his interest. He largely dislikes doing things that he considers wasteful, and to him, science is largely refined through streamlining a process. He refused to create more of the Hiperenlace because of the rarity of High-Spec Humans and the alternative requiring several Human souls, which he deemed an unsustainable resource.
Apart from his overconfidence and egotism, Girado exhibits little in the way of traits common amongst fellow Hollows or even Arrancar. He is neither driven by a need to devour the souls of other beings, nor a lust to increase his own power. Though he has expressed that the desire to feed on souls exists within him, he claims to have quelled it, rather easily, through his own strength of will. He does not actively seek out any kind of growth in power as most other Hollows would, largely because he cares little for his own standing in any perceived natural order, instead preferring the role of an observer. Despite his great age, and because of the unique manner in which his original Hollow consciousness surfaced, Girado is able to recall a great deal of his past, both as a Hollow and as a Human in spite of the onset of madness that accompanies the transformation into a Gillian and the surfacing of a new consciousness that follows ones evolution into an Adjuchas. These memories are not viewed as his own, as he was never a singular being before becoming a Hollow, instead his memories are seen through the eyes of someone watching from the outside, which he regards as one possible explanation for his own preference of such a role. It is familiar to him.
Girado does not embody an aspect of death as is common among Arrancar, especially those of the Espada, but instead embodies an aspect of motivation, the concept of "Development" holds a great deal of meaning for him, as it is the idea that he rallied all of the separate existences within himself towards triggering a transformation into a Vasto Lorde.
History
Girado originates from a village that resided in Northern Spain during the time of the Azilian industry around 9500 BC. Not as a singular being from among its populace, however, but as the entirety of that community. The village had been suffering from a slow death in the midst of an increasing food shortage, a death that was rapidly accelerated when one of the deceased villagers transformed into a Hollow. A wild and mentally fractured thing, the circumstances of its death and subsequent spiritual shift caused it to lash out and devour those in the village that still remained. In the aftermath of its consumption a true consciousness formed, pooled together from all of the community that now made up that singular being which adopted the name: Bonespire (ボワンスパイア, Bowansupaia). From the beginning Bonespire was unique in that it did not have a singular consciousness, but instead both realized and accepted that all of those souls that made up its being, there was no true dominant personality and as the years went by this community grew and grew each time the Hollow fed, assimilating others of its kind into it, adding more souls to the vast consciousness that had been created.
They were one of the few Hollow that did not reside within the Forest of Menos, instead it managed to make its territory on the surface within a series of rock formations that would come to be known as Sabio Islas (島五点 (サビョ・エースラッス), Sabyo Ēsurassu; Spanish for "Sage Isles"; Japanese for "Island of the Five Points"). While ordinarily an exceedingly risky endeavour due to the scarcity of prey in Hueco Mundo's desert, Sabio Islas rested over one of the entrances to the Forest of Menos, allowing Bonespire countless opportunities to attack other Hollows, both among those newly arrived in the spiritual realm and those attempting to eke out a new living outside of the Forest. By the time he had consumed enough Hollows to trigger the evolution into a Gillian, this routine of waiting out prey had become ingrained enough that even in mindless insanity, it was able to stick to its pattern. Word eventually passed into the Forest of a Menos Grande living on the outskirts of the Forest entrances as the subject of tales and rumour, it was passed around as a story, something for those bored of the equilibrium within the Forest to seek out and battle. The name they attributed this tale was Girado (ジラド, Jirado; Spanish for "Deranged").
Eventually an Adjuchas decided to hunt him down, an easy enough task as the mindless Gillian attacked as soon as it sensed the other Hollow's presence. The battle was almost wholly one-sided, what Bonespire held in destructive power, the Adjuchas had three times over. What the Adjuchas had in mental acumen, Bonespire did not. The Gillian was saved only by a stroke of luck, while within the edges of the cave that lead into the Forest of Menos, Bonespire unleashed a Cero that dealt enough damage to the environment as to cause a collapse, a cave-in, right on top of the two. Bonespire fled out, back into the desert, and the Adjuchas fled deeper into the cave towards the Forest. With no easy means of clearing a truly great deal of rubble, the Adjuchas settled for a false victory. He would return to boast that he had cut down the Girado whilst no one thought to challenge his claims, only minor suspicions ever arose about the caved in entrance. Bonespire, and the rumours about it, and even Sabio Islas all vanished from the public eye, though those few Hollows that stumbled upon the area never made it out alive.
Inventions
Spiritual Research: Girado has spent a great deal of time in the company of other spiritual beings, leading to a subsequent interest in them and what makes them tick. To that end he has taken it upon himself to study to the utmost possible detail he can, encompassing a great deal of knowledge on almost all of the modern races that inhabit the spiritual realms.
Time & Space Research:
Mod-Soul Specialization: Through study of a captured Gigai, Girado came to an understanding on how they worked and how to devise his own. He dove into a foray of his own, creating his own methodology that is completely separate from that of the Gotei 13, but ultimately achieving the same thing. The creation of artificial bodies and artificial souls to inhabit them. His skill with regards to artificial beings is great and easily apparent, as he had been able to recreate Gin Ichimaru, both body and soul, from residual Reiryoku and Reiatsu left behind by his conflict with Aizen in the Fake Karakura Town. This Gin was recreated as a modified soul and given a Reigai (霊骸, Spirit Body). He had all of the man's skills, memories, and abilities with one singular flaw: his Bankai was missing. Though a perfect duplicate in every other manner, Girado deemed the clone a failure and decided to let him go and do as he saw fit. His methods have since been revised and retested during his attempts to facilitate the process to create artificial Hollows with one success in Reyessa Elianna Eguzkiñe, a recreation of Odiarra, a Vasto Lorde-class Hollow.
Hiperenlace (境融合球 (ヒペレンレース), Hiperenrēsu; Spanish for "Hyperlink"; Japanese for "Boundary-Fusing Orb"): Following his ideas on how to cause Hollowfication in Shinigami without the effect of Soul Suicide taking place, and the subsequent thought that most participants would be of the unwilling kind, Girado devised a device that would act as a middleman-of-sorts. Initially, it appears as little more than an orb whilst in its inert state. It takes on a faint glimmer of light once it is embedded into a host, most likely a Shinigami. From there the orb will "grow", spreading out to some degree and fusing with its hosts nerves and veins in the surrounding area. It can then be used to capture the soul that would be taking part in the fusion (Most likely a Hollow). The Hiperenlace works by slowly coalescing the souls into one while keeping them from destroying each other, thus the Hiperenlace is constructed from the spiritual power of Humans and Quincy. Girado has ever only created one of these orbs, as spiritually powerful Humans have been a rare find for him and he views the act of consuming Human souls to create them as a deficiency.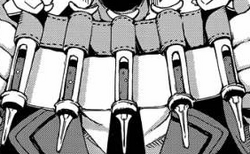 Vida Sopa (若返り活力 (ビダ・ソパ), Bida Sopa; Spanish for "Life Soup"; Japanese for "Rejuvenation of Energy"): A great many items exist with which to heal and mend the injuries of others, though just as many are restricted on who they can be used on and how they are used. To remedy this, Girado decided he would create a medicine that would mend the injuries of anyone, regardless of their race and powers. Thus Vida Sopa came into being. It is a blue liquid that is typically injected into the user via syringe. It operates by providing a burst of spiritual energy to its users, which is then geared into increasing their natural healing factors exponentially, allowing them to recover from their injuries within moments, even regrowing lost limbs. The excess energy that remains once the healing is done is retained by the users body, allowing the drug to also serve as a supplemental boost to those who have exhausted themselves. Girado claims that the primary ingredient used to create Vida Sopa is found within the core of Soul Society and the Human World though the truth is far less complex, instead the source he uses is found within two lakes, one in each realm of existence that is best in tune with the world.
Resplandor (悲鳴 (レスプランドル), Resupuranudoru; Spanish for "Blaze/Radiance"; Japanese for "Shriek"): Girado has constructed an odd precautionary measure, given his strangely positive nature. A unique stun grenade that operates on a specific spiritual frequency in both the sound and light spectrum, it is capable of blinding even the most spiritually powerful beings and rendering them blind and without balance for an upwards of eight seconds. Due to modifications made to his own body, the frequency used is ineffective on Girado as he has removed them from himself in order to better ensure its success. It is also naturally useless on those who cannot perceive the spiritual world such as the average Human. Girado's left horn is fake, the bomb taking its form and placed atop. Activation requires a specific degree of exertion of his own Reiatsu in order for it to detonate.
Atravesar (永遠歩く (アトラベサ), Atorabesa; Spanish for "To Pierce"; Japanese for "Walk Eternally"): One of Girado's most recent inventions, it is a device that capitalizes on the Hollow's knowledge of spiritual frequencies in order to disrupt a Shinigami's ability to utilize Shunpo beyond a certain point. The device works by projecting a barrier across a wide area, anyone may enter of exit the barrier but once inside they can no longer use movement abilities beyond a certain limit without experiencing extremely potent, mind numbing headaches that attempt to subconsciously force them to stay within the parameters set by the device. It does not stop the use of movement techniques altogether so that Arrancar within the field may still use Sonído without too much trouble. Those beings who have as much control over their spiritual power as Girado does, and share his knowledge on spiritual frequencies can set their Reiatsu to a specific point enabling them to ignore the machine's effects altogether. The device itself is not particularly large but is physically distinct, resembling an antenna constructed from modern-day technology from the Human World and biotechnology from Soul Society. Girado affectionately refers to the device as Hohō Away™(歩法離商標, Hohō-ri Shōhyō).
Powers & Abilities
Natural Abilities
Genius Intellect: Girado possesses an astounding degree of intelligence within him, something rarely exhibited amongst the scores of Hollow and Arrancar. His acumen is repeatedly proven with regards to sciences and the unstated laws that govern the spiritual realms, as shown in many of the inventions and experiments he has undertaken. Soul Society recognizes him as an extreme threat, going so far as to catalogue any information they can find on him or his machinations and placing a rather large bounty for his elimination by the Gotei 13, he has also been sought after as a valuable asset to several factions especially for his knowledge on his own kind. Limited information on his inventions had been enough to peak the interest of Taiga Jinkō, a Captain of the Twelfth Division and fellow intellectual, who would later seek out Girado. He has a keen perception of others and can easily deduce certain qualities just from looking at them, which he often displays in offhand negative comments towards those in question. Within the purview of battle, Girado is capable of controlling the tides of a conflict such as how he brought down a Captain of the Sixth Division single handed whilst still an Adjuchas. He also proved capable of doing the same with a monster on the scale of Black, utilizing the skills of those accompanying him in order to slay the collosus without a single casualty on his side.[2][3] He is skilled enough to assess the capabilities of his allies without having actively fought with them, such that he could pick out that Xodus were the weakest link of Shoka and adjusted his actions to suit this assessment. He is an able bodied teacher, devising and overseeing the process by which Arthur Callaghan attained Fullbring Embodiment in a single week, he would be able to further streamline the process to two days with regards to his protégé.
Master Scientist & Inventor: Girado is a highly accomplished scientist and perhaps the greatest present in Hueco Mundo. His skill in development easily matched Szayelaporro Granz during their time together as members of Aizen's army, though Girado's focus was an all encompassing view compared to Szayelaporro's more militaristic ventures. His inventions are inherently complex and often created directly to fulfill some kind of immediate desire of his. Though he acts on a whim, all of his resulting creations are powerful and master works of the craft. Through his own efforts, he has been able to create a device that can harmonize the souls of a Shinigami and Hollow into a singular form, preceding the existence of the Hōgyoku and its powers of wish fulfillment. He has obtained a great deal of knowledge on the powers of Resurrección, such that he can make several keen observations on its mechanical workings and even reveal details of other Arrancar's powers through supposedly superficial aspects of their weapons. He is also highly adept at reworking the inventions of Soul Society through his own processes, emulating the creation of Gigai and Reigai as well as Artificial Souls and Mod-Souls in order to create his own variation that could give birth to artificial Hollow. Through this process he even "revived" Gin Ichimaru with a Reigai.
Body Modification Expert: Girado has an immense degree of knowledge on the bodies of other beings and how to modify them. Through this knowledge he has repeatedly experimented on himself in manners both perverse and pervasive that has led to a variety of unique alterations that easily bring him apart from the standard Arrancar. He is also skilled in providing modifications to other people, having created a technique that allows him to convert a Human body made of Kishi into Reishi without outside assistance.
Hollow Mask Reconfiguration: Girado has been able to alter the shape and form of the Hollow mask fragments of his Arrancar body as he sees fit. The process of doing so involves altering the remnants of his Desechar contained within his Zanpakutō. Through it, he has fully recreated his mask in order to cover up the rather inconvenient placement of his Hollow hole and convert his left horn into a specialized bomb.
Bushi/Buin (無視/無音, Null Sight/Null Sound): Girado has modified his perceptions on a rather profound level, modifying himself so that he is incapable of perceiving a single spiritual spectrum in both sound and sight. A set of rarely noticed spectrums known as Otowa (音和, Sound Harmony) and Shiwa (視和, Sight Harmony), most beings do not realize they exist and it is not naturally perceivable by those without spiritual power such as Humans. He considers the modification a failure as the world around him is now a shade duller, or so he states.
Augmented Strength: Girado is capable of tremendous feats of physical strength despite his apparent lack of any outwardly strong physical characteristics. There are several sources that help him attain such physical might, the first being his natural power as an Arrancar and spiritual being which exhibit not only higher physical limits than those of the Human World but usually a higher baseline as well, on top of that he is extremely spiritually powerful which he typically uses to increase his strength to accomplish feats that would be beyond even the Gatekeepers of the Seireitei. He has also been known to experiment in modifications that enhance select traits within himself, one such being his strength.
Swordsman: Though he carries a sword like other Arrancar, Girado considers himself a novice in its use for combat. He has some degree of skill in the field, particularly regarding defensive motions, preparing weighted counter strikes to repel an opponent's attack by predicting their movements through what he can perceive of them. Outside of this he knows little of the field and has deliberately left his training unhoned as he prefers to use his Zanpakutō as a springboard for his other skills or rely on the powers it contains.
Utajin (打た神, God Struck): A deceptively simple technique where the user attempts a rising swing on their opponent only to change their grip at the last possible moment and switch their attack into a powerful thrust meant to pierce straight through their target. It is a predicted movement relying on self-control and the assumption that one's opponent will attempt to avoid in a specific way.
Transcendent Spiritual Power: Girado's spiritual power is extraordinary in nature, having reached such a height that it seems alien even among his own kind, the Arrancar. Quantifying his spiritual power is an impossible affair due to the nature of it and the sheer degree of control that he maintains over it. Having become an Arrancar whilst also on the precipice of transforming into a Vasto Lorde his power appears to exist in both realms, thus it visibly fluctuates between a multitude of different levels that aspire to each of the forms he has had and maintained through out his millennia of life. These levels range from something as weak as the average Human to the power of the average Vasto Lorde or Arrancar. In truth, his power does not actually fluctuate but is instead hidden behind a curtain of falsehoods that make it look as if it does. Highly perceptive individuals are capable of seeing through this natural ruse but a second layer exists, maintained by Girado himself. A discovery of his own making is the existence of "spiritual frequencies", a format that a soul can be made to "echo" through expressions of Reiryoku and Reiatsu. As the discoverer of this trait, Girado can only be satisfied by pushing it to its limit; whatever that may be. Thus his Reiryoku exists in a constant flux, eternally being rearranged into numerous frequencies and patterns which make it imperceptible to others. Reiryoku is typically maintained in the body, channeled and then given form before it is released into the outside world, to exert Reiryoku on its own, not as Reiatsu is typically a futile notion as that energy would simply be devoured by the ambient Reishi in the air. Girado's control over his own energies is such that he can prevent this through nothing more than an exertion of his will. Casting his Reiryoku outward allows him a greater degree of versatility, allowing him to form spells such as Kidō or attacks like Cero without a single physical motion. Though it is hidden from prying eyes, the quantity of energy he possesses is positively enormous, allowing him to cast innumerable high level Kidō spells without incantation and all to devastating effect, maintaining their greatest degrees of power with no visible degree of exertion of his own. Since achieving the third form of Tal Vez, Girado is noted to have entered a new level entirely.
In its newest state, most beings are no longer capable of perceiving his energy, including Shinigami, Humans, and, Hollows, though he has stated that Hollow-Shinigami hybrids or Arrancar can still perceive his energy due to their similar origins. Those on his level, regardless of their racial origins may still see his energy for what it is as well. Girado's Reiryoku carries very real weight to it and Zankken Javan has commented that it feels as if "the skies and earth collided" as if his energy's mere existence attempted to crush the other Arrancar. It is thought that this is Girado's will exerting itself on the physical plane, attempting to bring his desires to reality through nothing more than thought and will. It is noted to feel only barely like spiritual energy, as if it was only tangentially related to it in some manner. To feel Girado's power is to be totally immersed in it. Those who feel it find themselves utterly surrounded by millions of shadowy silhouettes, which represent the numerous souls that Girado has consumed over his long lifespan. Each of these beings remain preserved within him and represent the bottomless depths of his power, each individual is a will and energy that has been subsumed and directed, coalesced into a single ambition that is "development". Just as his Reiryoku has weight to it, it also has a physical presence and influence on the environment. It is not a negative effect, and instead further promotes that singular drive. Trees that would take years upon years to grow are brought to maturity in moments in Girado's presence, it can also be used on other sentient beings to further growth in them both natural, or metaphorical. In a sense, acting as a means of unlocking the gateway to a person's potential. His energy is of such enormity that it can create life, the most minimal of exertions bringing creatures to life around him. These creatures that are born of him typically take the form of small butterflies, thought to be the ideal that he sees for them in his mind.
Despite its positive impacts, Girado's power should still be considered a threat. To be caught in its presence is a very real danger, as weaker beings such as Humans will simply be eradicated by it without any input from Girado himself. It is a natural reaction as the soul of the average Human is far too weak to withstand the strain of someone like Girado. His power has reached such an extent that merely touching someone of Lieutenant level would cause their body to unravel at the molecular level, seemingly disintegrating from the contact. His power does not feel natural, it is at odds with the universe around him and should not be allowed to exist, thus the energies of others attempt to oppose it and are extinguished when they are overcome. He explains that, though the "world" itself could topple him if it measured all of existence against him, its current state, spread thin across every being and everything means that it only musters disparate parts against him where he will always triumph. Gauging his power is pointless and futile and those attempting to do so are led into picturing the universe, his own energy paints the image for them, showing them that he has been elevated to a height where there is no ceiling. His soul is akin to a waterfall flowing eternally, and his body, its container, is a bottomless lake capable of harnessing a fathomless degree of Reiryoku.
Flawless Reiatsu Control: Just as his control over his Reiryoku is great, Girado's control over his Reiatsu is also unprecedented. Needless to say, his Reiatsu, as a physical extension of his Reiryoku, is massive, but the truth of its capabilities lie in his mastery of it. Typical exertion of Reiatsu is a simple matter of exuding raw force in an attempt to overpower the competition, an assertion of one's dominance. For Girado it is a natural but complex network that he has mastered and exhibits a perfect understanding of how to manipulate it to his own ends. Exerting it with such a degree of finesse that he can refine it to unique layers that leave no trace outside of that which he explicitly desires to affect. This way he can pattern devices, and even techniques to react to a specific output of his own spiritual pressure, allowing him an even greater level of control over the world around him without ever having to lift a finger. This control is an extended refinement of his own willpower and a strengthening of his body such that it allows him to dispel spells that would otherwise trap him and remove the effects of other techniques. This control over his own body has rendered him almost entirely immune to conventional toxins and poisons. The shaping of Reiatsu is a difficult affair, often requiring preformed structures to mould the pressure on top of to get the correct shape. At Girado's level, manipulating the form of his Reiatsu is a simple task and affords him the same freedoms he has when utilizing Reiryoku-based techniques, thus just as he can launch a Cero with no warning, he could just the same unleash an onslaught of Bala. Girado's spiritual pressure is not a stifling presence, but it is evident to those within its grasp. It surrounds individuals and permeates every open space, attempting to discern the qualities of everything within its expanse like a curious child. With just a thought it can be turned into a terrifying force that extinguishes lesser souls and can actively be deployed as a dense barrier to hamper the movements of opponents and flat out impede others. His control over this simple expression of Reiryoku is without flaw and has no holes in its construction, thus techniques like NaNaNa Najahkoop's The Underbelly are rendered useless against him. When exerted at a high enough intensity, his spiritual power takes shape as a spiral patterned cocoon surrounding Girado. It is indigo in colour.

Flight — Reiatsu Wings: Girado's anatomy is somewhat unique compared to other Arrancar. While physical differences are not uncommon, especially between those within the evolutionary chain of Hollows, the general anatomy of Arrancar is usually the same from one being to the next. Girado is alone in that he possesses a pair of Reiatsu vents atop the inferior region of the trapezius muscles. The flow of his Reiatsu is concentrated here and thus allows for easier manipulation of it around this point. Taking advantage of this, Girado has been known to forge a pair of wings made out of solidified Reiatsu that gave him access to true flight. Since entering the third evolution of Tal Vez, a second set of Reiatsu vents have been opened up across this point allowing him to spawn a total of four wings. These wings are a testament to his proficiency in controlling his Reiatsu, manipulating them with such deftness that they appear to be natural appendages.
Kidō Proficiency
Kidō Master: One of the four central parts of the Zankensoki, the Shinigami art of spellcraft, centered around the manipulation of ones Reiryoku as powerful, complex and versatile spells. It is a style of battle achieved by channeling ones spiritual energy, giving it shape and function through the birth of a name and then empowered by an incantation. Through this fact, Kidō is perhaps the greatest expression of the idea of "Words of Power" (霊語, Ryōgo) a concept that professes that words and utterance of them is enough to give birth to real power in the physical world to those with the means to understand its mechanics. The arcane skill set is both mechanically enticing and emotionally expressive, it is, after all, still an art form. Many Shinigami that study the realms of science also dabble in the arts, and those who specialize in Hakuda and Zanjutsu may also take it up as a means of expressing the intent behind their respective fields. It is best known for its sheer scope and versatility as a result, encompassing a myriad of schools of offensive, defensive, support and utility magics. A master among the ranks of the Gotei 13 likely possesses knowledge in any of its several broad classifications, but the true masters are the elusive beings that comprise the ranks of the Kidō Corps. In the eyes of Girado, Kidō is a mountain. He is an outsider, as a Hollow. This ancient and profound field of study and discovery is withheld from him, but he has peered in and will stop at nothing until he climbs its peak.
It is the ultimate test for him and one that he has spent no small amount of devotion on, a large part of his millennia long lifespan has been spent in search of the knowledge the Shinigami so jealously guard. Things always slip through the cracks, and what he could happen upon in scattered scripts, ancient tomes and encounters with others have served as a foundation for what has grown into a not-inconsiderable understanding of Kidō. As of the modern day he has become a self-proclaimed master of the art and his existence is a great shame for those of the Gotei 13 as his sheer capacity and uptake of Kidō even with his limited access to it has allowed him to outshine many Shinigami. He is, of course, not referred to as a master in official circles, in fact he is a topic that is only spoken of behind closed doors in the realm of the Seireitei. Though not an explicit enemy of the Soul Society, his mere existence is touted as an immediate threat for what he has come to understand and his elimination is priority for both the Kidō Corps and the Onmitsukidō. What Girado presents to the field of magic is dangerous and unknown. For while many beings have come to learn Kidō, be they Yuki-Onna, Dragons or something else, they learn this under the auspices of the Shinigami, often as Shinigami themselves. Girado comes with a unique perspective, that of the void-stricken Hollows. His greatest threat, and his greatest contribution is the simple fact that he exists outside of the hierarchy.
With more than 10,000 years spent delving into the arts of magic, both known and forgotten, Girado has accrued a great deal in terms of knowledge and skill. He has come to and past beyond the threshold of a simple caster of spells and allowed Kidō to become a central part of his existence, it is no longer a means of projecting his Reiryoku outside of his body but has become an extension of his self, a means to perceive the world around him, to interact with it and to enforce his will upon it. The world is a blank canvas and its energies are an endless flow of ink and paint, Girado is a painter free to utilize this energy to express himself as he sees fit. This understanding and utilization of the magic in his possession is a direct result of his nature, as a Hollow Girado is empty, a being to which nothing has been given and everything must be taken lest he perish. Kidō is a font of endless possibility and is quite possibly the only means that Girado could find of becoming "whole". The scarcity of its teachings and the trial and error he has been pressed into to forge his own understanding may impede his progress but also impart a unique lesson. That of scrutiny.
It was a rarity that Girado would encounter more than one spell at any one time, it was even rarer that he would discover the instructions of one. Thus much of his learning has been informal and taken from the position of the opposition. A great deal of trial and error existed in how he learned his first spells and their scarcity left him with little to do but practice them, or delve into the heart of them. Each spell is broken down to its very foundation, its basic components are stripped bare and probed at. He would come to know the very essence of every single spell that fell into his grasp, first out of necessity and then as habit. This serves to make him both more knowledgeable and to feed to his growth. His eye for discerning the mechanics and composition of a spell has been tempered by examining those spells that he practiced with, thus giving him the means to identify and replicate the spells of others, rapidly expanding his means as time has gone on. Just the same as he can copy those spells, he can identify the weaknesses and flaws of an opponent's spellcraft and seize upon that to give himself an advantage, to topple the Shinigami in their own domain.
There is not a single spell that Girado has uncovered that can be considered useless. All spells exist with a purpose in mind, and though some may prove inferior to others and one may be less convenient to use than another, with such an intimate understanding of each spell that has crossed his path it is only natural to expect that he maintains the ability to manipulate and refine every aspect of those spells, to make them far more than they would be ordinarily. That is, the average spell is cast and then forgotten. It fulfills a singular role and purpose and is thereafter ignored. Under Girado's care each spell should be considered an archetype, not the entirety of the spell, but a concept of what is to come. Though he may cast a spell that would evoke the image of a fireball in the mind of most Shinigami, he could all the same manifest its energy as an ocean of flame, a towering blaze or a gargantuan and complex construct of weaving fires. With him they are not merely spells, but an expression of his willpower and ideals. The way Girado employs his magic, he could be likened to a powerful battery, a limitless supply that feeds the existence of great phenomena. He breathes life into spells without a thought or need for incantations or motions. His spiritual energy flows around him like a serene river within which the spells are nourished to their completion and then cast out into the world. This control can be used for far more than simply weaving spells though, he is just as capable of exerting his mastery on himself and his opponents to provide great boons or to remove them.
It cannot be said that Girado truly exists in a realm where battle is worth fighting. He is more comparable to a force of nature at this point than a magician or crafter of spells. To fight him is to invite needless disaster when he can muster a cataclysm of fire and earth like a volcano, or rend the sea and sky like a powerful storm. These occurrences are not fought but weathered, and the same approach should be taken with this particular Arrancar. The ease with which he can dissect and create spells, the finesse he has in their control and refinement. They are the hallmarks of a mastery that lives in infamy as one of the Soul Society's gravest shames. Recognizing him as a threat and not an equal still gives credence to the sheer scope of his skill which is, in and of itself, worthy of praise.
Naiten Eishō (名典詠唱, Name Script Incantation): The greatest weakness of Kidō is its reliance on incantations. Each spell is able to be performed alongside a chant, these words, though seemingly meaningless and, at times, utter gibberish impart a great deal of power onto a spell, allowing it to reach its full potential when cast. However, uttering the incantation is time consuming and open to abuse by an opponent, risking the loss of a spell as one tries to wield it to its fullest. There exists several means to overcome this deficiency but each of them incur problems of their own. The gravest of which is Eishōhaki (詠唱破棄, Incantation Abandonment). It is the utter abandonment of the incantation in favour of powering a spell entirely on ones own. This weakens the spell, and forces that user to compensate with their own energy otherwise they are faced with something lesser than intended. While those with a great deal of skill in Kidō may overcome this limitation, some even being able to minimize the drain this should have on their own Reiryoku, it is not a true means of circumventing the flaw. The spell does not reach its own potential, it is simply boosted to a false point. The gap between a spell with incantation versus one without is then always obvious. A spell is only truly as powerful as its name and the chant that serves to represent it. To overcome this, Girado breaks down all of his spells to their foundations and rebuilds them to be used in a different manner. To him they exist as archetypes, Hadō #4. Byakurai is lightning to him, its form is fluid and malleable and may take a great many shapes and roles based on how he decides to conjure it. He does not call its name or incantation, rather he imagines it in his mind and utters a single word that encapsulates the ideal that he seeks to bring forth into the world. Thus stating "Pierce" could bring forth a powerful bolt to puncture barriers whilst saying "Rack" could manifest an electrical charge meant to continually shock a foe over time. It is at once a means of getting rid of a name and incantation whilst also embodying their greatest aspects: as concepts. It is a means of expressing the idea of "Words of Power" to its fullest, imparting the greatest potential to every spell as they embody supernatural forces of nature and express the will of their caster.
Shō (衝, Thrust): The most basic of offensive Shinigami spells, it is fittingly denoted as Hadō #1. Energy is gathered at the tip of the finger and then expelled as pure kinetic force. It is a winding blow, a spell meant to disorient and rebuff an attacker so that the caster may gain the upper hand. It is then much more a supportive tool than a directly offensive one. The spell is broken down in Girado's capable hands and reforged into something else entirely. To him it exists as an expression of force and he reworks the spell such that it becomes an embodiment of this concept. As with all of his "archetypes", it is not a singular spell but an entire arsenal derived from one concept. Each expression of Shō is manifested instantly, his Reiryoku and will combined to conjure them in the same moment that he utters each command. Push (押す, osu) is the most basic of these and tantamount to transforming Shō into little more than raw power. It conjures a wall of kinetic energy that rams into an opponent in order to knock them back. Burst (切れる, kireru) alters it in such a way as to become a grenade of concussive energy, deployed and then detonated as a sudden blast to hammer an opponent. Repulse (拒絶, kyozetsu) creates a massive dome that rapidly expands before exploding in order to force back an attacker or several and even deflect enemy attacks away from Girado. These are more overt uses, intended to clearly expand on the reach of the spell but Girado can just as easily refine it for other purposes, such as with Puncture (穿刺, senshi) the spell is thinned to the greatest possible degree and the force is sharpened such that it is no longer just a shot of kinetic energy, but a dagger empowered by momentum and intended to pierce through an enemy's defenses. Pressure (押し, oshi) is to transform it into a descending force that lands on top of a foe and attempts to outright crush them underfoot, an invisible and intense weight that can be further ebbed or grown at Girado's whim, it has an alternative in Crush (挫く, kujiku) where, instead of pressing down on them with Shō, Girado conjures it around them and encases them within its power before attempting to squish them into a pile of oozing gore.

Tenran (闐嵐, Orchid Sky): Hadō #58. is a spell used to conjure a powerful wind in the form of a tornado that is directed by the user. It is performed by focusing energy around their Zanpakutō (Or using a hand as a substitute), levitating and then spinning the sword in place, eventually taking hold of it to halt it after it passes a certain number of revolutions and allowing the spell to manifest its form in front of the sword. To Girado it is an extension of Shō which expresses force. Tenran is that force given purpose and life, to become wind. The air exists in many forms and to limit in such a fashion as Tenran does is a grave sin in need to rectifying. The most basic expression is Forward (順方向, junōkō) which casts a massive gust of air that sweeps through the area, it is easily mistaken for a stronger version of Push but comes with the same variety as its variant in Shō. A light breeze, a hurricane that rips out trees and topples buildings both extremes and anything in between are possible and available to Girado as needed. Air permeates everything with few exceptions, and is a major necessity of most living creatures. Recede (退く, shirizoku; lit. "step back") is a manipulation of this fact, allowing Girado to pull the air out of a living being and hold it back essentially forcing them to suffocate, it is limited by the specificity of its purpose and is therefore one of the weaker commands he may utter but is nonetheless valuable for its effects. He can just as easily summon more overt and obvious displays of his command of the sky such as with Rend (引き裂く, hikisaku) which manifests as a powerful tornado that crashes down in an instant, meant to quickly overwhelm and rip a target to pieces in seconds. Scar (傷, kizu) likewise allows him to cause great harm by intensifying the speed of the wind until it becomes a fine cutting edge to slash at his enemies.

Byakurai (白雷, Pale Lightning): Hadō #4. Byakurai is a great quantity spiritual energy gathered in the hands or on the tip of the fingers and then expelled as a powerful bolt of lightning, capable of burning through other spiritual beings with surprising ease. As has been stated, it is what Girado considers the expression of lightning. It is more than a single condensed beam, it is the entire force of a storm, a conduit of destruction and intensity. Byakurai is malleable and easy to manipulate, such that many of Girado's commands are understated visually but grant a clear enough difference in practice. The most obvious case is Pierce (刺す, sasu) where the beam is thinned though not overly so and is used to identify and exploit a weakness in the defense of the enemy. It burns through holes and flaws, shattering barriers and walls by wiping out a structural hard point. Lance (槍, yari; lit. "spear") is similar in appearance, but the bolt is further condensed and more structurally stable, this grants the strike of lightning a degree of permanence. It is launched at a target and embeds itself in a wound, dealing damage on the initial strike and remaining in place to become a hindrance and its removal is none too easy given that the opposition is forced to physically remove a spear of electricity. Barrage (弾幕, danmaku) is an explicit onslaught of thunder and lightning, conjuring several hundred bolts at once to perforate an opponent from head to toe. More than simply conjuring more separate bolts, Girado is free to alter the form of Byakurai in profound ways. Fence (柵, saku) is to transform it from a condensed beam into an outstretched curtain to impede the advance of attackers or to hit them with a wall of electricity, it can be expanded to block someone in with the use of Cage (檻, ori) forming several more surrounding walls of electrical energy to trap someone. Quicken (速める, hayameru) allows Girado to use it on himself, a concentrated charge that bolsters his speed and reflexes by reinforcing the electrical signals that move through out his body.

Tsuzuri Raiden (綴雷電, Bound Lightning): Hadō #11. Tsuzuri Raiden is a spell which manifests an electrical current around an object in the caster's hands, it is then able to course through other objects and cause harm to anything within the vicinity of what it travels through. For Girado it is an extension of Byakurai which embodies the lightning, as he considers it a more restrained version of the spell, at least naturally, it is safe enough to consider that Tsuzuri Raiden embodies electricity, the more mundane form of the heaven rippling bolts. No longer requiring a medium with which to cast it through, Girado can manifest the electrical current wherever he pleases within reach of his expansive Reiatsu, the perfect example of which is Rack (拷問, gōmon) whereby he summons the electricity to spawn on his target, a powerful current ripples through their body causing them intense pain. A less sadistic expression of this idea is Stun (夢中, muchū; lit. "daze") where the strength of the attack is greatly lessened and gains a new found purpose in targeting the nerves of the victim, deadening them and rendering the target helpless. Perhaps the most overt use of this spell from him is to have it become a medium of its own, forging literal shackles of electricity to bind and leash an opponent, this is appropriately known as Shackle (足かせ, ashikase). Even though it no longer needs a medium of its own in his hands, it can still be used upon them to great effect. Intensify (深める, fukameru) is one such example. Coursing the current through an object whilst greatly amping up the power of it causes those same objects to rapidly gain in temperature, superheating them to such an extent that weaker metals would melt from it and others would become white hot, preventing them from being wielded by those wishing to avoid serious burns.
Raikōhō (雷吼炮, Thunder Roar Sear): Hadō #63. Raikōhō is a massive concentration of energy, generated in the palm of the user's hand and then unleashed as a powerful blast reminiscent of a lightning strike. It is an advancement of Girado expression of Byakurai, embodying the ferocity and power of the storm. Scattering his Reiryoku into the air and the earth, Raikōhō is a testament to the range Girado possesses as shown with Downpour (土砂降り, doshaburi) which allows him to call down a massive lightning storm with each strike directed by his will and intent, ensuring that the strikes are a work of guided precision than spray-and-pray. Likewise he may also perform this feat from beneath the earth through Uproar (騒動, sōdō) to summon a storm of ground lightning to strike at targets from below, both as magnificent bolts and as a perforating flow of electrical energy. Obliterate (消し去る, keshisaru) is to focus his Reiryoku into Raikōhō's form as a beam, solidifying it and transforming it into a powerful hammer. Four of these mighty beams attack an opponent from all sides in an attempt to atomize them. Explode (爆発, bakuhatsu) is to alter the form and transfer it elsewhere. Girado's energy is dispersed and recollected within the body of his enemy and left to gather until reaching a critical point where it detonates to destroy its victim from the inside out. Flash (閃く, hirameku) is to use Raikōhō for support, focusing upon its appearance and greatly intensifying its form as a beam of light until it becomes a gigantic blinding aura that would sear the eyes of anyone foolish enough to stare it.

Shisō Kekkai (四葬結界, Quad Burial Barrier): Bakudō #72. Shisō Kekkai is a powerful sealing spell that relies on a set of four halberds to bind a target's hands and legs. When done properly, the victim is surrounded by a golden ring of energy and triggers the manifestation of a deep black coffin to incarcerate the target before being skewered by each of the halberds, completing the seal. Girado's use of it is far more segmented and disparate than usual, instead of relying on a set of existing blades, he uses his own spiritual energy to forge them as needed, summoning as immediate catalysts. It is a decidedly Quincy-like use of the spell, not unlike the construction of Spirit Weapons. This allows him to forego the spell's primary purpose as a complicated seal, in fact he can use the seal itself, the black coffin, freely with or without the conjured halberds. As such, it could be seen as several entirely different spells all its own to an extent greater than Girado's usual breaking down of his magic. He claims the spell to be an expression of justice, oddly enough. Block (障害物, shōgai-mono; lit. "obstacle") is to manifest a set of halberds and manipulate them through thought making them levitate and appear to move as if by a will of their own. They defend Girado from attacks in a typical manner, deflecting fists and sword with their own body. Anything that hits them is subject to their binding, enveloping them in a golden light and holding them back so as to hinder them in battle. Skewer (串, kushi) is to manipulate Shishō Kekkai's natural procession, with the halberds impaling an opponent and the black coffin manifesting to seal them afterward rather than the other way around. It is a gruesome attack but effective in ensuring that Girado wounds a victim and prevents them from escaping to heal their injuries. Manacle (手錠, tejō) is to manifest a compartmentalized version of the coffin as two blocks that attempt to clamp around the hands of the target and seal them together. Fetter (足枷, ashikase) does the same thing, only to the legs and Leash (束縛, sokubaku; lit. "bondage") is to do both at once by firing four halberds in an attempt to catch all of a target's limbs and bind them.
Shakkahō (赤火砲, Red Fire Cannon): Hadō #31. Shakkahō is a spell that utilizes the generation of flames at an exceedingly high temperature, such that they appear as pure energy. It is one of the basic spells taught in the Shinō Academy and is fairly commonly manipulated for various purposes and strengths as an expression of just how extensive Kidō can be. Of course, Girado takes this one step further and uses the spell in such a way as to make it seem completely unlike its source. It is the embodiment of fire. Incinerate (焼却, shokyaku; lit. "destroy by fire") is to consume the target in flames, this is done by manifesting a normal Shakkahō spell only to apparently break it down, it is then scattered as a series of tiny embers that surround a target before recombining as an encapsulating blaze intent on turning a victim into ashes in an instant. Boil (沸く, waku) is to redirect the focus of the spell not on the flames themselves but the heat coming from them, the temperature is massively increased and it is then used to boil and melt nearby objects, even other living beings if they are foolhardy enough to be caught in its grasp. Roar (咆哮, hōkō) is to continue this idea but with a shift in focus towards the pressure that is exuded. The orb is greatly condensed and appears to shrink, but in exchange emits a great deal of physical pressure such as to inflict a great deal of damage through force alone, perhaps the greatest example of its effect is the ability to shatter a Dankū spell as if it was a sheet of glass. Cremate (火葬, kasō) is to fire it as a crashing wave, intent on scorching and destroying a target in a single sweeping blaze. Pyre (薪, maki; lit. "firewood") is to expand that wave and surround a foe in its intensity, preventing them from escaping. The flames are dense enough to choke the air around the victim, threatening to suffocate them alongside the already clear threat of smoke and fire damage. Sever (断つ, tatsu; lit. "cut off") is a further condensing of the wave caused by Cremate, turning it into an incredibly thin beam of energy capable of instantly bisecting whatever it cuts.

Kongōbaku (金剛爆, Adamantine Blast): Hadō #34. Kongōbaku is a large fireball, manifested with such strength that heat visibly streams from its form, it is similar in strength to Sōkatsui and is easily capable of widespread destruction. Girado uses it as an extension of Shakkahō, whilst that spell is the embodiment of fire, it is intended to express its form as energy thus Kongōbaku is separate as an expression of the destructive and purifying power of the flames themselves which he refers to as representing "true fire". Swathe (包帯, hōtai; lit. "bandage") is a mighty tempest, a sea of fire that twists and coils, burning everything in its path and redoubling its efforts to entirely eradicate whatever suffers through its torturous blaze. Melt (溶かす, tokasu) strengthens and solidifies the flames to transform it into a wave of molten magma intent on swallowing anything it can reach so that it can break them down in liquid fire. Crash (衝撃, shōgeki) is a grandiose display of firepower, greatly expanding the mass of the spell and deploying it as if it were a meteor, descending from the Heavens to erase whatever obstacle is in Girado's way and anything else along with it. Rain (雨, ame) consumes a battlefield in a grand firestorm, bombs of fire crashing down en masse upon unsuspecting victims. Purge (清める, kiyomeru) is a cleansing fire, it destroys with precision in order to erase a negative effect such as a Bakudō spell trapping Girado or an ally, just as well it could burn away ailments for him to excise a tumor or erase harmful toxins. Much the same way, he can cast these flames on his foes to destroy wards or positive effects, incinerating their defenses with a blazing ceremony.

Yururyū (緩流, Gentle Stream): One of the Shosuikukan Kadō spells, Yururyū is utilized by performing a set of hand motions that mimic the strokes of the 水 (water, mizu) kanji. A torrent of water is then expelled from the user's palms. It is a very basic spell that is intended to serve a support role at least by conventional definition. Girado has reforged the spell to better fit an embodiment of all water, in his hands its power is nothing short of ferocious and the oceans he can conjure utterly dwarfs any common practitioners usage of the spell. Flood (洪水, kōzui) is the most obvious expression of this, freely altering the form of his own Reiryoku and manifesting it as a raging sea, it appears to simply burst into existence all around Girado and consume everything in its wake. Its power is not sufficient enough to harm most spiritual beings, but it does provide a great defense against those reliant on speed techniques as they are forced to battle with the resistance of an entire ocean fighting against them. Pressurize (加圧する, Kātsusuru) is to force the water to become both drill and hammer, unleashed as a powerful torrent that carries enough power to shatter bone on impact and just as easily bore through rock as if to simply wash it away from existence. Cloud (雲, kumo) allows Girado to convert the water into steam or fog, the latter is a supportive measure to hide him and friends alike and is so permeated with his own spiritual energy that it renders spiritual senses useless. The former is an attack disguised as a defense, greatly increasing the temperature so that it inflicts burns on those who mistakenly enter its purview. Imprison (投獄, tōgoku) forms a massive orb of water to trap a victim within, it hampers movement and the spell acts of its own accord in order to prevent its captive from escaping, moving as they do or creating its own current to prevent movement at all, it also maintains the potential of drowning its target should they remain within for too long. Rapid (急速, kyōsoku) is a giant whirlpool that forms around Girado to protect him, the current keeps an incredible pace to knock back attackers and prevent them from reaching him. Water is known for its beneficial properties, and through Heal (癒す, iyasu) Girado can push this to its limit, soaking himself or others in a form of healing liquid that greatly accelerates the natural healing process.
Dankū (斷空, Splitting Void): Bakudō #81. Dankū is a large rectangular barrier meant specifically for defending against Kidō-based attacks, alone it is powerful enough to prevent anything up to Hadō #88. In the hands of someone like Girado, it can be pushed far higher than that, blocking spells and techniques that go beyond that of the 99-numbered spells. To him it is the embodiment neutrality, as its purpose is to stop the offense of an opponent, returning a battle to a neutral state, where neither combatant is on the offensive or defensive. Revolve (回る, mawaru) is a gathering of Dankū walls that rotate around Girado forming several defensive layers to protect against any spell casters, destroying one barrier would leave the rest intact and require a protracted engagement to actually reach him. Encase (包む, tsutsumu; lit. "wrap") envelopes Girado in a severely altered Dankū, projected in a manner similar to his Hierro, it is an invisible layer of defense on top of his body like an outline that serves to mitigate attacks that would otherwise have broken his other defenses. Distort (歪ま, yugama) breaks down the Dankū into a more fluid forming, that of a coiling rope that is cast out to intercept an enemy attack, lashing around it the spell's form is forcibly altered such that it collapses before reaching Girado. Primarily a Dankū spell acts as a wall, it impedes the advance of an attack and simply weathers its assault until the other spell gives out and vanishes, Ricochet (跳飛, hanetō) alters its function so that it actually reflects the enemy spells, causing them to bounce from its surface. This can also be used by Girado as a springboard, firing a spell at it only to have it bounce off in a different direction helps to confuse and surprise enemies after all. Neutralize (中和, chūwa) is a formation of four Dankū embedded in the earth on each of the cardinal directions within a certain radius, spells formed within are negated and repulsed preventing them from coming anywhere near their caster. Who is afflicted by this effect is completely under Girado's control, meaning he can block someone else's spells while allowing his own to function as normal.
Jikanteishi (時間停止, Temporal Stasis): Bakudō #97. Jikanteishi is a powerful and forbidden spell, and perhaps the rarest spell to have found its way into Girado's arsenal. Its effect is profound and incredibly dangerous, allowing its caster to freeze the entirety of a space within a given area, essentially halting time in a specific area. Deconstructing this particular spell has gifted Girado with a potent control over the flow of time itself and the freedom to manipulated an isolated space as decided by himself. Halt (立ち止まる, tachidomaru) is how Girado brings forth the spell's typical power, halting time in an area within a radius as large as his Reiatsu. Advance (前進, zenshin) allows him to greatly speed up the flow of time around him, and to use Accelerate (加速, kasoku) is to utilize that effect on a single individual. This allows him to greatly speed up the abilities of himself or someone else, augmenting select parts of them according to his whims. It can be used on enemies as well, enhancing their speed to a degree that they're unprepared for to cause them self-harm or to simply overshoot a technique. Reverse (逆, gyaku) is the opposite, greatly slowing down the flow of time without outright stopping in it. Decelerate (減速, gensoku) is to focus that effect upon a single individual which can have positive effects alongside the expected negative ones, more than simply slowing someone down it is an alteration of space. For all intents and purposes that person is still moving at their original pace and building up a far greater momentum as a result of their perceived slowness. With effective usage of both Accelerate and Decelerate, Girado can greatly empower an ally to transform them into a seeming physical powerhouse. But Jikanteishi is about more than controlling time, it is an alteration of a localized space, a disturbance of reality itself more than it is of that lone concept. Amass (築く, kizuku) greatly increases the density of the space, creating an intensely strong gravitational field to slow, imbalance or outright flatten those incapable of withstanding it. Alter (変え, kae; lit. "change") is to affect the space in select ways, altering the gravity of a select point while the rest of it remains normal or affecting the perception of a particular area in a different way from the rest to cause greater confusion, this way Girado can control an entire area according to his whims, the very world around him succumbing to the power of his spellcraft.
Millón Escudo (ミジョン・エスクド ,Mijon Esukudo; Spanish for "Million Shield"): A spell invented by Sōsuke Aizen and recently implemented by the Kidō Corps as Bakudō #71. Millón Escudo is a powerful defensive shield that is applied as a precautionary measure, it takes the form of a shield that resembles its counterpart El Escudo though significantly smaller. It is placed over a specific point where it then fades away only to re-appear if that specific point is attacked where it bursts out to prevent the opposition from reaching the targeted location. Thus it quite clearly embodies defense for Girado. Protect (守る, mamoru) causes the spell to envelope Girado, protecting him from harm on all fronts, it is perhaps the most simple of the commands for its use. Rebound (勢, zei) manipulates the flow of the shield in such a way that it does not disperse the enemy technique, but instead keeps it intact and returns it to them, in effect turning an opponent's own abilities against them. Consume (剿, toru; lit. "exterminate") allows Millón Escudo to outright devour the enemy attack, butchering it and adding its power to its own, strengthening the shield for any other attacks unleashed against it. Ward (撃退, gekitai) is a simple command that forms innumerable layers of the shield in order to protect Girado's entire body from attack. Each individual Millón Escudo is localized and separate from the others, thus preventing Girado's defenses from collapsing should a single shield be overcome. Eject (吐出さ, hakidasa; lit. "discharged") overloads an already formed shield with Reiryoku to a point that causes the shield to distort and collapse in on itself, this shield is then cast away as an attack where it is promptly detonated in an attempt to harm unsuspecting enemies.
Arrancar Powers & Abilities
Bala (虚弾 (バラ), Bara; Spanish for "Bullet"; Japanese for "Hollow Bullet"): Reiatsu hardened into the shape of a projectile and then fired at enemies, the Bala is the tactical cousin of the Cero. While the Cero is the embodiment of raw destruction as a beam of energy, the Bala sacrifices its strength to become a faster alternative. An attack of purely concussive force, it is akin to throwing a powerful punch at a distance. A sort of projected melee attack. Its focus is laid upon its speed, however. Specialized towards this aspect so much so that it is an incredible twenty times faster than a Cero. It is an ability meant to hamper an opponent, to catch them off guard and disorient them or to halt their advance in order to allow an Arrancar to prepare a more powerful response. For Arrancar it is a simple task to solidify their own Reiatsu, to mold it into shape is a more difficult task and thus most Arrancar form theirs over a predefined structure, such as their own arms in order to get them into proper shape easier. Some, such as Findorr Calius and the Hollowfied Muramasa can do so without this limitation, allowing them to form far more Bala as needed. Girado falls into this latter category, able to form an entire wall of Bala at a moment's notice to be flung at his foes. He has expressed an outstanding degree of control over them than is average, turning a single Bala into a massive dome that explodes outward, battering his opponents in order to stagger them. This extends to every bullet he fires, allowing him to configure them to his needs individually, such that he can transform one Bala into a drilling shot to pierce a defense while hardening the others in order to pelt a foe once their defenses have fallen. He maintains control over these projectiles after firing them, directing them as if they were his arms and legs with nothing more than his own thoughts. Bala employed by Girado have a veronica purple shade to them.
Cero (虚閃 (セロ), Sero; Spanish for "Zero"; Japanese for "Hollow Flash"): An ability that concentrates a large amount of spiritual power into an orb that is then fired as a beam. It is the main weapon of Gillian-class Hollows and can be utilized by all of the forms above it. Having achieved an Arrancar form, Girado has had extensive use of the ability and its power has grown with each evolution and a growing understanding of how to manipulate it. When he was an Adjuchas, his Cero was the standard red colouration, and would be formed between his two blade-like mandibles. Its power at this level was considerable, capable of cancelling out Hadō #63. Raikōhō in a direct clash, it could provide a great deal of damage to anyone hit with it though was easily crushed under the 6th Division Captain's Bankai. Since then, Girado has made immense strides in its usage. His current Cero, an indigo-coloured beam, takes advantage of the Arrancar's great knowledge and control over his own Reiryoku in order to mimic Coyote Starrk's ability to fire the technique without any kind of posture. His spiritual power is let loose outside of his body then formed into an attack and unleashed without warning. His Cero form incredibly quickly, a feat born of practice and repetition and each is capable of great destruction, seemingly pummeling anything it hits into nonexistence, a true expression of raw power given a focus. His Cero tend to appear highly compact in form, not much wider than the average human finger but all its shortcomings in width are made up for by its lethality. In his hands it is a weapon of pure precision, capable of piercing through most any defense be it mystical or mundane with the sheer magnitude that is welled up in the beam. Of course, his ability to manipulate it allows him to change up the speed and width of the attack through innumerable factors, such as slowing up its charge or even the swiftness of the blast itself in order to confuse opponents. Though he has no need of postures, he does prefer them from time-to-time, occasionally manifesting the technique from the tip of his Zanpakutō or from the lozenge symbol on his forehead.[4][2]
Gran Rey Cero (王虚の閃光 (グラン・レイ・セロ), Guran Rei Sero; Spanish for "Grand King Zero"; Japanese for "Royal Hollow Flash"): An advanced form of the Cero, meant to be used exclusively by the Espada under Sōsuke Aizen, Girado found the means to unlock the powerful technique even before joining Grimmjow's reformed Espada. Those means are engraved in the blood of a potential wielder, which is necessary for forming the Gran Rey Cero by acting as a catalyst. As such the user mixes their own blood, through a new or previously opened wound, with a Cero to transform it into its more powerful counterpart. It is many magnitudes stronger than its original form, distorting the very fabric of space around it as its formed. Girado's does so with clear visibility, the world appearing to contort and undulate around his Gran Rey Cero. A typical Gran Rey Cero is so condensed, so utterly twisted with power that the blast compresses and decompresses whilst in motion because of how difficult that degree of energy is to control. Though it requires palpable effort on his part, Girado is able to control this aspect of the Gran Rey Cero as he would his normal one, maintaining its form as per his will in order to ensure that its power doesn't spiral out of control. The Gran Rey Cero was forbidden from use within Las Noches under Aizen because it could destroy the massive complex; with Girado's there is no doubt. To unleash this technique is to commit himself to battle, a resounding warhorn that leaves no imagination as to his intent for his opponents. The colour of Girado's Gran Rey Cero is violet.
Fragor (フラゴール, Furagōru; Spanish for "Din/Clamor"): According to Girado, Fragor is the ultimate expression of the Cero and its raw destructive power. It is an incredibly powerful ability and its manifestation with Sōsuke Aizen was one of many indicators that his fusion with the Hōgyoku had allowed him to transcend the barriers between souls. It is a small bluish-purple orb that is thrown by the caster whereupon it collides with its target and explodes with catastrophic effect. It results in a truly gigantic explosion and just the shockwave from the sheer force of the technique is able to ring out for a distance of several, if not hundreds of miles, toppling and decimating the surrounding landscape with terrifying ease. Its size, and its true function, are misleading factors however. Despite its small orb shaped form, the energy contained within the orb is many thousand times that used to construct even a Gran Rey Cero, and is condensed over and over again so that it may manifest in the smallest possible form. Though it is the greatest expression of raw power, its effect is far more complex than a mere detonation of energy. When the orb explodes, it ripples into numerous destructive swathes so powerful that they are capable of carving through the fabric of reality; gutting open the very barriers between worlds. Though the barrier remains broken for only a split moment, the outer dimension still sweeps in briefly and causes untold catastrophic damage upon the world which can only be realized in the form of an apocalyptic detonation of energy, obliterating both Kishi and Reishi in its might. Though Girado can perform the rare feat of firing multiple Ceros at once, and even fire two Gran Rey Ceros when given ample time, the sheer weight of the Fragor demands his undivided attention, meaning he can only ever manifest a single one at a time. As with any of his other energy techniques, he is able to form the Fragor around himself without warning, but it is incredibly time consuming as well as taxing to do so. As such he is most often seen to deploy this devastating weapon from his right index finger.
Hierro (鋼皮 (イエロ), Iero; Spanish for "Iron", Japanese for "Steel Skin"): Condensed Reiryoku formed over the body to create an invisible and protective shell for the user, it is a natural trait of all Arrancar though the strength of it depends on the power of each individual. Girado's is dense and hard to crack though it is not a result of raw power. Instead it is the result of dedicated craftsmanship. Girado considers the instinctual protection to be shoddy at best and personally refines his own protection so that it is not only stronger but more cost effective in the long run. He would compare his Hierro to a suit of armour in the hands of a master craftsman, refined and impregnable. He can withstand a great deal of attacks through his second skin though it does have its limits as shown with the battle against Black in Hell with the gigantic Hollow being able to pierce through his body with extreme ease.[2] He is acutely aware of the inherent flaw in a Hierro's protection and has gone to serious lengths in order to overcome it.[5] With his refined control over his Reiatsu he is able to move it through specific "frequencies" and has made a conscious habit of doing so with his overall Reiatsu in an attempt to stave off others from adapting to his.
Locura (獣の志 (ロクラ), Rokura; Spanish for "Madness"; Japanese for "Motive of the Beast"): A technique that was created, by Girado himself no less, to combat the effectiveness of the Shinigami's Kidō. While Girado could defend himself with Kidō of his own, others of his kind are not so fortunate. Thus he devised a method by which Hollows could repel binding spells on their own, and spread that knowledge to others through manipulation of Hueco Mundo's unique rumour mill. The technique is performed by ripping into the Reishi that composes an Arrancar's very body in order to rid themselves of detrimental effects, or to remove beneficial effects from their enemies. Girado likens this to a butterfly shedding its cocoon, having become something stronger than its previous form, the pitiable caterpillar. As its creator, Girado is greatly skilled in using Locura, his technique refined to match all of the other tools in his arsenal.
Sonído Expert: As an Arrancar, Girado possess the instinctual means to use Sonído as well as a high level of capability and understanding of its applications. He can outpace a catastrophic explosion in only a few uses of the ability, despite having been at its center when the explosion went off. All of his efforts with Sonído fall under what Girado calls the Reiterado Método (超高速 (レイテイラド・メトド), Reiteirado Metodo; Spanish for "Reiterated Method"; Japanese for "Ultra-high Speed"), a simple system whereby he will always make two movements with Sonído against his opponent. Whether it to be to attack, to evade, or simply to move around, he makes use of it in this manner knowing the sound that the ability emits so that he might use it against his opponent in order to throw them off.
Enhanced Speed & Reflexes: After studying Roshan Bamshad's use of the Quincy movement technique known as Hirenkyaku, Girado began experimenting with the timing and strength of Sonído in order to better refine his use of it. By cutting it down into something akin to a faint "push", Girado can use Sonído to augment his own natural speed and physical reflexes in order to make himself a more efficient combatant without being forced to rely on constant and overt uses of the ability. With it he is able to react quicker to his opponents, keeping up with those who would be naturally be beyond him and better keep up the pressure when he goes on the offensive.
High-Speed Regeneration (超速再生, Chōsoku Saisei; lit. "Ultra-Fast Regeneration"): An inherent trait of all Hollows is the ability to regenerate from almost any injury in an exceedingly short length of time. It is capable of closing up wounds and regrowing entire limbs as necessary for the user, excluding the brain and internal organs. Girado is exceedingly proud of this ability and believes that the scores of Hollows who seal it away in return for more power are complete fools. His regenerative power manifests in the form of silk threads that appear out of his wounds and slowly tie them shut like stitches. In the case of more overt injuries, his body encases the damaged area in a silk cocoon until it can regenerate. The process is near instantaneous, taking no more than two seconds to fully heal a missing limb. Its weakness lies in the construction of the silken threads which itself is a slow and plodding process that Girado cannot alter of his own will.
Pesquisa (探査回路 (ペスキス), Pesukisu; Spanish for "Inquiry", Japanese for "Probe Circuit"): An Arrancar ability used to locate spiritual presences or garner information from being's in the vicinity. Girado is capable of using the technique to magnificent effect, through its most overt usage he can cover a 525 metre wide radius to hunt the spiritual pressure of other lifeforms. To those in his presence, he can accurately discern the quality of someone's Reiatsu and how much Reiryoku they possess with only a single look from his eye.
Descorrer (解空 (デスコレール), Desukorēru; Japanese for "Loosed Void", Spanish for "Drawing Back/Opening"): An Arrancar technique that allows its users to open a Garganta between the Human World and Hueco Mundo. Girado possesses knowledge of rarely heard of passageways that allow him to form Garganta into Soul Society as well.
Tal Vez Transformations
Tal Vez (変形白民 (タル・ベス), Taru Besu; Spanish for "Perchance"; Japanese for "Metamorphosis of the White Beings"): An experiment into the transformative qualities of Hollows. Girado had discovered the means by which a Hollow could ascend into the ranks of the Vasto Lorde, by somehow bringing all of the minds contained within a Hollow's body towards a single purpose, the embodiment of a concept. He drove the minds within him towards the idea of "Development" and with the consumption of several thousand Hollow in his lifetime, the onset of the transformation began, only for him to forcefully quell it. He performed a myriad of tests on himself before proceeding on an alternate path, that of Arrancarification. He removed his Hollow mask in order to be bestowed with the powers of a Shinigami, sealing his own powers into the form of a blade and taking on a far more humanoid form, not unlike that of a Vasto Lorde. An unforseen complication of his self experimentation is what he calls Tal Vez. His body is capable of further "evolving" but only under a specific catalyst that changes with each transformation and is something he remains unaware of and must simply stumble around for. The benefits of these further changes an increase in spiritual power and a further strengthening and growth of his Hollow powers, causing his Zanpakutō to be changed each time he is. At this point, he has shed two of these forms. Girado considers the experiment a failure and largely an inconvenience to himself.
First Evolution (第1の発展): Referred to as the Larval Stage by Girado, it is the first transformation that he gained access following his experimentation on the Hollow transformative process. The catalyst for this stage of his so-called evolution was the simultaneous achievement of the Vasto Lorde and Arrancar forms. Whilst his body was still transformed, it did not lock itself into a form befitting either of these beings, but rather, a combination of the two with some divergence as fitting this third path he'd found for himself. This is best seen in Girado's appearance as, no matter his form, he always appears distinctly Hollow which stands at odds with the more overtly Human traits that both Vasto Lorde and Arrancar exhibit. In this particular form, Girado's body transitioned from that of a labyrinthine centipede into the body of a gargantuan humanoid being. The left side of his face was covered by his mask fragments, an oval-shaped face plate that ran from his forehead down to his chin, the edges towards the left were smooth whilst the right side was made up of ridged cracks as if broken in half. Clasps were attached across the right side and on top to a veil that hid the right side of his face. Beneath the left eye hole was a set of three purple horizontal lines forming Girado's estigma. Long, straight black hair could be seen hanging down his back in this form. His body was covered in muscles with chitinous plates in places. His right elbow is formed into a spiked protrusion while his entire left arm was skeletal in appearance, both hands possessed only three digits each.

Zanpakutō: Hozardor (王族炎蛾 (ホザドル), Hozadoru; Spanish for "Sickle Zeal; Japanese for "Royal Flame Moth") takes the form of an espada ropera with a relatively simple design. It is designed in the vain of a thin longsword, with a 1.3 inch wide, 40 inch long blade. It is double edged and marked by a simple bar-like crossguard that then swirls out into two points, creating a spherical guard around the handguard that stop along the left side. The hilt is a simple black topped off by a spherical pommel at the bottom. Though he obtained a Zanpakutō and it serves to act as a container for his true Hollow powers like an Arrancar, Girado was incapable of performing Resurrección.
Enhanced Strength & Durability: Girado has always been particularly fragile for a Hollow, though this trend stopped dead with his achievement of Tal Vez. With its powerful augmentations Girado quickly grew to be capable of inhuman feats of physical power. He could create powerful shockwaves with each swing of his sword, such that any fight with him ensured massive amounts of property damage, as was more than evident in his battle with Seia Tulia Honoria which saw entire rooms of Las Noches destroyed. This was to say nothing of his defenses which also experienced a great boost through Tal Vez. Though he had obtained the Arrancar ability Hierro, he was also privy to a second layer of protection in his own hardened flesh which his opponents would liken to feeling like steel when they clashed against it. These enhancements led Girado to theorize that some part of the Tal Vez transformation was conscious and that it actively sought out to correct whatever it perceived as a flaw in the body of those it was evolving.
Enhanced Reiryoku: Girado's spiritual power was inflated by his transformation.
Second Evolution (第2の発展): The catalyst for its achievement was the absorption of the latent spiritual energy of a being encompassing multiple races, in this case, Girado had absorbed spiritual energy left behind in several wounds he had sustained in a protracted battle with Seia Tulia Honoria, who's soul reflects the powers of a Fullbringer and Shinigami. Girado refers to this form as the "Cocoon Stage" of Tal Vez. His form is now that of a spindly, malnourished humanoid. Much of his head is obscured by an unbroken Hollow mask that acts more like a helmet as it covers both his face and the back of his head. It is rounded at the top, becoming more angular as it rounds towards the bottom of its frame. Two horns protrude from either side of the mask, with slight jagged cuts appearing on both horns pushing the upper portion towards the right of him. The mask lacks accentuation for a mouth or nose but retains two angular and curving eye holes as well as a third diamond-shaped hole on the forehead. In addition his mask is marked by estigma, a pair of purple lines running down the length of the mask, starting from just inside where the horns lie, and across the eye holes. A smaller, less visible part of the estigma wraps around the frame of the diamond shaped hole on the forehead. Each of the holes in his mask present an empty blackness, excluding the right which shows his only visible eye with a black pupil and yellow iris. The left portion of his face is actually where his Hollow hole resides, with the mask being largely artificial to hide it. His upper body is covered exclusively by a simple white lab coat, though he is prone to going without any upper wear at all, exposing the prominent mounds of flesh that mimic collarbones across his chest, the blocky endings to his elbows, or the musculature across his stomach. Also visible are the purple markings across his upper body which cover a large part of his chest, ending in flame-like streaks as they go lower. His hands are a lighter shade of purple than the markings on his chest, and each of his fingers have multiple visible joints across their frame before ending in pointed tips. Girado's lower body, unlike the top is almost always covered, with his preferred dress being a white hakama, black tabi and white zōri in the same style as the uniforms worn by the Arrancar that served Sōsuke Aizen.

Zanpakutō: Embriaguez (美霧蝶 (エムブラヤゲズ), Emuburaiagezu; Spanish for "Intoxication"; Japanese for "Beautiful Mist Butterfly") appears to be a a chokutō, with a pure white sheath and matching hilt. Both of which are wrapped in indigo bindings. The sword itself is a double-edged straight blade with an ornate look to it.

Resurrección: Its release command is Moult (換羽, kan'u). Whilst uttering this command Girado raises his sword in front of himself before letting go, where upon it proceeds to levitate in front of him. His body becomes bathed in an aura of spiritual energy, with energy flowing into his back. His sword shatters into a series of metal shards that pierce every section of his body prompting the emergence of six curved blades from out of his back, rising up to stand over his shoulders. His mask seals itself up, removing the eye holes and estigma from it entirely but leaving behind the diamond hole on his forehead as well as drawing a single vertical line down the center of the mask. His body becomes hidden in clothing, unlike his sealed form, with a series of purple carapace plates forming a chest piece and a long white overcoat. Beneath the chestplate is the standard Arrancar jacket that flows out below his waist which is tied in a grey sash. A white hakama covers his lower body with a pair of black tabi and purple zōri with armoured shin plates act as footwear in this form. His upper arms are adorned with a purple plate attached to their sleeves and tied around by black thread, they reach down to a pair of white and purple forearm gauntlets and black sharp-tip gloves. The gauntlets are also attached to the overcoat by way of strong threads on the wrist that connect to the back of the coat. Small purple charms hang across the length of the string.

Resurrección Special Ability: Girado is granted several abilities by his released state.

Adormecedor (アドメセド), Adōmesedō; Spanish for "Numbing"): Each swing of Girado's Zanpakutō generates a thick pink mist from the blade that can quickly engulf an entire area, anyone who inhales air containing a portion of this gas becomes automatically subject to the effects of the ability. Through it their perception of reality is altered and their current thoughts regarding the battle are made manifest. If a target fears being struck a certain way, then that attack will occur without them being able to prevent it. If they think of attacking a certain way they are led to believe that they have done so and that it was immediately successful. While trapped under this effect, the target's pain receptors are dramatically dulled, allowing Girado to attack them freely without the target noticing. Essentially he traps his opponents within their own mind and the only way to break free is to catch on to the fact that the attacks happening before them are false by focusing on the subtle tinge of pain when they are attacked for real.
Reflejo (レフレジョ), Refurejo; Spanish for "Reflexion"): Girado slams his spread out fingers into the ground, flooding it with spiritual energy. It pours out, transforming the ground into lines of reflective glass, eventually coming together to form a large mirror. The size of this mirror depends on the intended victim, able to become large enough to fully reflect something as enormous as Black. The target reflected in the mirror is brought to life, emerging through it to combat their other self. As a reflection would, they mirror every action that the target takes, copying attacks and even special abilities with perfect detail. The illusion inflicts no physical damage upon the target but causes the target's pain receptors to react as if it had been properly struck, inflicting intense pain on the victim. If the victim attempts to attack Girado, the attack is reflected and instead they will only damage themselves, though this trait effects Girado as well preventing him directly harming his target. To break free of this ability one must inflict a great deal of damage to themselves in order to shatter the illusion, as it is the one thing it cannot reflect.
Dividir (ヂビダー), Dibidā; Spanish for "Partition"): By stabbing himself with his Zanpakutō, Girado is able to transform his entire body into Reiatsu. Becoming a living field of spiritual pressure, he is incapable of being dealt damage through normal means in this state just as it would be impossible for one to "harm" the wind around them. At the same time he cannot render harm unto anyone else with no physical form of his own. He can be destroyed however if confronted with a spiritual power far stronger than his own, as he indicated during the conflict with Black in Hell once it had bolstered its own spiritual power.[3]. There is a several minute delay before he can return to his normal form, doing so before waiting it out would cause severe degradation of his physical form. Whilst in this state he is capable of several unique feats.

Possession: He is able to possess other beings by flooding their bodies with his Reiatsu, overtaking their consciousness with his own in the process. Though he can outright control someone if he feels like it, he can also leave them in control of their body in a more supportive role, bolstering their own spiritual power in the process and imparting some of his own powers onto them. When used on Haiiro Hoshi and Kaede Kiseki he was able to heal many of the minor injuries they had suffered by accelerating their natural healing processes.

Third Evolution (第3の発展):
Former Powers & Abilities
Hollow Powers
Tentacles: He could utilize hundreds of tentacles hidden within the frontmost segment of his body as appendages, both for mundane tasks and combat. They were strong enough to be able to resist attacks from a Zanpakutō in the hands of a lower Seated Officer of the Gotei 13, but were easily severed by stronger opponents. They could be used to restrict opponents by tying their limbs, though his preferred usage was to have them act as substitutes for hands whilst utilizing Kidō spells.
Scissor Teeth (シザー・ティース, Shizā Tīsu): Girado's blade-like mandibles were able to be used as powerful weapons, allowing him to clash blades with Shinigami both unseated and Captains alike with ease. Though his mandibles lacked versatility in movement, their curved edge was extremely sharp and ended in a point giving him the use of slashing and thrusting attacks. The inner edge was blunt, but his mandibles carried a great deal of strength in them, allowing him to crush an opponent unlucky enough to be caught between them. He could form a Cero between them, though severing either of his mandibles causes the attack to lose its form and explode.
Obsolete Kidō
Ryūdō (流道, Flowing Way): A principle realized by Girado after witnessing Coyote Starrk's and Black's unique uses of Cero combined with the guiding method on how to construct Kidō. Kidō spells are formed by focusing Reiryoku to a specific point, giving it form and function, and releasing it as an attack. A Cero is similiar in that it is spiritual energy focused at a point before being unleashed as a concentrated burst of energy, though it is made unique in that it is much easier to project Hollow Reiryoku outside of one's body. By unifying these ideas, Girado has created a methodology by which to emulate those beings and their usage of Cero on a greater scale. Through it he is capable of forming a Cero where ever he chooses around himself, as well as with Kidō spells, foregoing the need of hand motions or gestures that could be taken as a sign of warning.
Jigoku no Kidō (地獄鬼道, Hell Kidō): When activated, a bright blue charm appears in the shape of two concentric diamonds. The insignia snakes down the caster's arms with a golden hue, and then creates an impact on the intended target of the spell. This envelops them within a blue hue, causing the target to forcibly eject itself from Hell. This process would normally be impossible without breaking the Gates of Hell.[6] The spell is rare and usually only granted by the Captain-Commander of the Gotei to those on special missions into Hell.[7] Girado happened upon this spell whilst assisting with the Wandenreich's hunt for a way into and out of Hell at the onset of the Balancer incursion and would later make use of it in order to return himself and several others to Soul Society after a conflict with Black.[8][3]
Hachijūshichidōro Ishirokyōtai (八十七道路・石炉筐体, Eighty-Seven Roads Stone-Forged Enclosure): A powerful Kidō seal developed by Girado. It is first setup by forming eighty orbs of spiritual energy that are planted across a wide area so that their energy can suffuse into the earth. It is activated by reciting its name to the intended target. From there, a multitude of walls rapidly emerge around them to create a gigantic labyrinth. That labyrinth then closes in on the target, each part of it compartmentalizing a moment before they hit the victim, causing them to latch on as small slates. They continue to do so, forming several layers of thick stone to trap the target before a shimmer of light crosses over the body of stone to freeze it solid with the victim inside. It is one of Girado's spell utilizing his Eishō Naiten method and is extremely powerful, Jaromira Dragan, the foremost expert over Kidō during her time could not undo the spell once it had sealed away the current 6th Division Captain. That man would remain trapped under the spell for thousands of years, as the Gotei 13 continually failed to find a method to remove the seal.
Statistics
| | | |
| --- | --- | --- |
| Offence | | 100/100 |
| Defence | | 90/100 |
| Mobility | | 100/100 |
| Reiryoku | | 100/100 |
| Intelligence | | 100/100 |
| Strength | | 60/100 |
| Total | | 550/600 |
Fracción & Creations
Girado has several of his fellow Arrancar in his employ, gathered over the period of time he spent in Sōsuke Aizen's employ. Originally they were appointed as Fracción, despite Girado having never claimed the rank, but their appointment has since been made official under Grimmjow's reformed Espada. Girado generally treats his subordinates as if they were assistants in his experiments, having them supply him with hard-to-procure materials or using them as test subjects. In addition to his subordinates, Girado is responsible for the creation of several living beings as a result of his experimentation on Souls and Shinigami Gigai technology. Their relationships with him are dependent on the individual with Girado viewing them as their own beings, with no moral obligations towards him that need fulfilling.
Black (ブラック, Burakku) is the first living being that Girado has ever created. Constructed while still an Adjuchas, Black was forged from a fragment of Girado's very own soul. Following his discovery that a Hollow's mask played a part in the power they had, he attempted to create one such being that could maximize the potential of such a strength which resulted in Black. At first it was little more than a small reptilian Hollow with a mask, but quickly grew up in the Reishi saturated environment of Hueco Mundo to become a herculean colossus covered in bone-white armour plating. It would play a role akin to a war machine for Shoka during the War of Days as part of an attempt to wipe out Shinigami resistance in the Human World. It would eventually be felled by a combined effort of the Gotei 13's Captains, including Captain-Commander Genryūsai Shigekuni Yamamoto. A powerful Kidō spell trapped the beast in the lowermost reaches of Hell where it would be felled again for the second and last time some hundreds of years later by a Tsumikami, Girado himself, and several Sternritter.
Charra Chavarría (シャアラ・シアバリア, Shyāra Shabaria) is the Nonagésimo (90th) Arrancar in Sōsuke Aizen's army. She was discovered by Girado during his assessment of a Hollow colony on Hueco Mundo's desert sands that had been wiped out. She had latched onto him and demanded that he feed her. Unable to get the Hollow to leave him alone, Girado eventually took her in and had her undergo Arrancarification at Aizen's behest. She abandoned Aizen's forces when the Espada remaining in Las Noches were defeated, following Girado as he left to seek out his old laboratory.
Emya Kolliohart (エミア・コレオハト, Emia Koreohato), also known as Niut (ニウト, Niuto), is the Cuarenta Octavo (48th) Arrancar of Sōsuke Aizen's army. She was recruited after rumours of her healing powers reached Aizen's ears, having sent Girado to procure her for his cause. Following the battle of Fake Karakura Town, and Aizen's demise, she decided to follow Girado alongside Zankken Javan.
Gin Ichimaru (市丸ギン, Ichimaru Gin) is the name of the former Third Division Captain, a traitor to the Gotei 13, and ally of Sōsuke Aizen. It is also the name of a specific Mod-Soul inhabiting a Reigai. Through his service to Aizen, Girado was able to pick the brains of three very powerful Shinigami which opened a great many doors to the Arrancar through which he could replicate the works of the Gotei 13. One particular item he found particularly interesting was their work on artificial souls and the creature sought to recreate that work through his own methods. The conclusion was the same, but the route was unique, something only a Hollow would think of. He put it to the test in creating simple lifeforms and gradually worked himself up until it came time for the ultimate test, recreating someone who had already existed, someone powerful. The battle of Fake Karakura Town presented him with a great deal of these beings. Gin had betrayed Aizen at a sudden point, though he was unsuccessful in killing the man due to his fusion with the Hōgyoku. Using residual Reiryoku and Reiatsu left behind by the Shinigami's battle with Ichigo Kurosaki, and that which remained from the destruction of his body, Girado was able to create a complete replica of the man in both body and soul. There was only one complication that arose, he could not wield his Bankai. Girado declared the experiment a failure and cut his new creation loose, allowing him to leave and do as he pleased.
Reyessa Elianna Eguzkiñe (レイエサ・エリアナ・エグズカイン, Reiesa Eriana Eguzukain) is name taken by a Mod-Soul created in the likeness of Odiarra, a powerful Vasto Lorde-class Hollow who had achieved Arrancarification shortly before her final moments. Reyessa is the second Mod-Soul created by Girado, a direct result of his refinements in the face of his experiences with the copy of Gin Ichimaru. Odiarra's spiritual power was enormous and very difficult for the world to dilute and dissipate naturally, such that traces of her energy remained concentrated in the ruins of Las Torres long after her death. Capturing this essence, Girado used it to the create the first artificial soul of Hollow origins. Inhabiting a Reigai, she is everything that Odiarra was in life though she had taken to referring to herself as someone different, perhaps as a result of her Arrancar form. Unlike past creations, Reyessa has taken to following Girado as a pseudo-member of his Fracción.
Zankken Javan (ザンケン・ジャバン, Zanken Jaban) is the Centésimo Sexto (106th) Arrancar in Sōsuke Aizen's army. He was one of the first Hollows to undergo Arrancarification under Aizen, prior to his obtaining the Hōgyoku. He was also one of the first generation Espada, as the Quinto (5th) member. He joined Girado following a battle between the two to decide who was stronger, though both had been injured at the time, Girado claimed a victory and Zankken offered up his service.
Trivia
Girado's name is a set of Spanish words that mean "deranged" (girado), "laughing" (riendo) and "butterfly" (mariposa).
Girado is themed after insects, with a particular focus on butterflies and insects of similar make up. His Adjuchas form is designed after a centipede whilst each of his Arrancar and Tal Vez forms have butterfly or moth traits. In addition his Zanpakutō are all named after them in one way or another.
Girado's theme, as chosen by his author is Six Times the Passion of Ordinary Flamenco from the Gundam Build Fighters OST.
Appearances
References
Community content is available under
CC-BY-SA
unless otherwise noted.