This article, Cataclysm (book), is property of Kenji-Taichō. Permission is required to alter its content.
Cataclysm (破局 (はきょく), Hakyoku) is an accompanying data-book detailing various facts regarding the Collapse which took place immediately prior to the beginning of Part IV of Bleach (Kenji Hiroshi), which is titled Bleach: Cataclysm (漂白剤: 破局, hyouhakuzai: hakyoku). The guide was published November 10th 2014 by Kenji-Taichō.
Events
Peri-Collapse
Kurokawa initiates the Collapse, resulting in the creation of a new spiritual realm: the Reikai.
Kenji attempts to save Horiwari's residents from the destruction brought about by Kurokawa forcefully slamming Horiwari, Soul Society and Heiksekai into Kohai Tochi, but fails.
Kentaro escapes with his sister Kay Hiroshi and Akiye but is forced to abandon Hotaru and Akira to their deaths in the process.
Meian managed to ensure the survival of Naoko Izuru and Yori Hisagi by using Forbidden Kidō, but died due to restricted mobility resulting from his earlier removal of Hakyoku.
Due to the sacrifice made by the staff of the Yuengiri Academy, Shiju Shūdō and a number of students were able to escape the destruction. However, the majority of the academy is little more than rubble now.
Kei Yume ensures the survival of his three daughters, Manami Yume, Mizuko Hoshiko-Yume, and Chihaya Yume with a forbidden Kenmei Kōsaku. Due to the restrictions of the Kenmei Kōsaku, Kei fails to save the majority of the Third Division and his sister, Rei Yume. Kei disappears under mysterious circumstances.
Kiyoko Takara receives a last communication from her husband before he disappears. Her Densoumamori breaks.
Erika Fujibayashi, intent on remaining with her troops, is instead sent to the World of the Living by Gawain and Altair Tori, who die in the attempt.
Amagai manages to escape the destruction via Kidō and takes Tōshirō and Eikichirō Saidō to safety with him.
Hotaru Takahashi and Tsubaki Kori, among various others, were protected by their division Captains: Tadashi Kori and Teysa Simmah, thus managing to survive the destruction albeit at the cost of their lives.
Rosuto and Akira Nakamura join their powers in order to create one powerful barrier, which saves themselves, Tomoko and Kaede Saitou, as well as many nobles of Heisekai. The Royal Palace is untouched.
Due to the close connection Tougenkyou shared with Soul Society, Horiwari, and Heisekai via numerous "Spirit Roads", it was partially affected by the Collapse. The dimensional fabric of Eden beings to tear as a result. The Three Maidens and The Legendary Maidens combine their powers to prevent Eden from collapsing unto itself. The Sansōzoku use this opportunity to escape to the World of the Living.
Hailing from another time, using the Maiden's ritual to break through the fabric between worlds, an alternate version of Kentaro arrives in Eden, heavily injured.
During the mayhem going in the other realms, Jiraiya assassinates the siblings Yukiko and Rui Matsukaze, signalling his betrayal.
Jiraiya assaults Morgiana in a brutal sexual manner, leaving her in a catatonic state.
Unable to find his Captain, Izaya tracks down Kakyoku in order to save her, being transported to the Kasumioji Clan Manor by Yuuma Amaterasu on the orders of Van. 
Yuuma teleports Tenma, Ekatarina Satonaka, and Medaka Rosenkrantz to Hama Town, resulting in Yuuma going intoa a coma due to the strain.
Members of both the 6th and 9th Division, forced their Captains into the 13th Division barracks, gave up their lives in the process by pushing their Spiritual Power to the limit in a futile attempt to hold back the Collapse.
Suzume Naomasa saves Ginchiyo Tachibana, who tried to go back, and vanishes in a flash of light with the help of 13th Division Captain Teysa Simmah's device, although the scientist herself doesn't make it in time.
Captain Commander Madoka Mizuki welcomes death as she views herself as a failure for letting so many atrocities happen under her watch. Embracing her lieutenant, Kasuga Yuki, they both perish seconds after realizing their feelings.
Van Satonaka seemingly vanishes from existence, leaving only a note for the The Rogues to track down Kei Yume. Kenji, through his eyes and ears throughout the realms, realizes what Van is doing and comes to a similar conclusion, resolving to drop off the grid himself.
Shinrei Kurosaki suffers genuine amnesia and embraces the "Ries Nohr" persona, and becomes a friend and ally of Garrett Sheppard. He does not realize he inhabits a Gigai, nor is he aware of the larger conflict that eventually encompasses the new Reikai.
Post-Collapse
Kohai Tochi and her inhabitants are unharmed due to Kurokawa's machinations. This includes Kensei and Shūhei, whom Knji had sent to investigate rumours pertaining to the Imawashī.
Fericul Kohai, mysteriously reappears after many millennia of "non-existence".
Kenji goes into self-imposed exile somewhere in the World of the Living, essentially falling off the grid. Although his son made several attempts to locate him the closest he ever came to finding him was a voice, telling him to "Beware the snake of Hueco Mundo" and "Not to make deals with the devil."
Kusaka travels to Hueco Mundo to vent his frustrations, fighting a titanic battle with Averian that destroyed the Forest of Menos. Kentaro then finds that he, like Kenji, has disappeared as well, having survived his fight with Averian. Sōjirō Kusaka witnessed their battle.
Averian, after fleeing from Kusaka, escapes with Sōjirō and forces Hollowfication upon him. Sōjirō begins to act as Averian's primary agent and helps him assemble a new group of Espada.
Sōjirō is presented to Blake Shihōin as the newest member if the Kikkashō by Averian, and is told by the latter to "use his new weapon wisely". Sōjirō, whose mind and personality has been splintered, is given the momentous task of assassinating Kentaro Hiroshi and Itazura Kori as well as the groups both created: the Six Directions and Blades of Night's Veil. He momentarily recognises Hitsugaya and smiles ominously in response.
Kentaro, Akiye and Kay return to aid the survivors of Horiwari. They bring in food and medical supplies from Hama Town in the World of the Living.
Sanada returns to find his home and friends dead and pledges his service to Kentaro as he had once done with Kenji.
Ryan, Miria and Blake are found by Amagai who explains what has transpired.
Kentaro organizes the survivors of Horiwari into the Six Directions and is named Commander-in-Chief.
Ryan organizes the survivors of the Gotei 13 and is voted in as Head-Captain.
Sōritsu dies "to keep Ryan strong", but in the process Ryan is altered, becoming far harder than before and unforgiving of failure, ruling as a tyrant.
Kaede, with the Shūten in ruins, focuses on rebuilding the Jōren with Rosuto, Akira, Fujimoto, Hiei and Shiro as leading members.
In tribute to their missing father, Manami Yume, Chihaya Yume, and Mizuko Yume join the Gotei Remnant. However, the three note their reluctance to join and Ryan's changed demeanor.
Still feeling the effects of the Collapse, Kami-sama prohibits travel to and from Eden and seals the dimension, fearing an attack from outside forces. This effectively prevents any Kenmeiotome and Tenshi the ability to return to their homeland, specifically those found in Hama Town. Consequently, Kami-sama is weakened by the Collapse and enters a deep sleep.
Yuu Hoshiko regains consciousness and returns to lead Eden for the time being. Kiyoko Takara resumes her post as Vice-Leader of Eden. Other than losing communication with her husband, Kiyoko is unaware of Kei's disappearance.
Itazura and Mariko, although alive, suffer from grievous injuries and begin a slow road to recovery. Also, due to The One sealing Eden in the wake of the Collapse, the duo are essentially stranded. The same is true of Kentaro's alternate self.
Haruki returns and learns of Jiraiya's betrayal, the Matsukaze siblings' death, and Morgiana's catatonic state. Haruki and leaves the Hama Alliance in search of revenge. Kentaro also learns of Haruki's survival.
Haruki forms Xodus and begins tracking down Jiraiya.
Anna Satonaka organizes relief efforts to help those who have been hurt by the collapse, offering haven in Hama Town to those that need a home. Kentaro approaches her for supplies to help those in Horiwari, which Anna accepts.
Dastan Shiba regained his Zanpakutō which had been sealed away in Horiwari by Kenji, as the Collapse shattered the seal, but not that placed upon his Bankai. He then joined the Imawashī.
Kurokawa sends the restored Imawashī to war.
List of Dead and Unaccounted
Missing in Action
Ryū Order
Gotei 13
Shūten & others
Confirmed Dead
Ryū Order
Gotei 13
Shūten
Techniques
Sōjirō Kusaka's techniques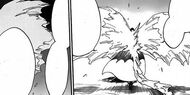 Bankai: Daiguren Hyōrinmaru (大紅蓮 氷輪丸, Grand Crimson Lotus Ice Ring): Sōjirō hadn't achieved the Bankai state of his Zanpakutō by the time he sought the Ōin. He later managed to perform the release, albeit the incomplete version as noted by Hitsugaya. Ice covers his shoulders, feet and right-arm with ice, with large ice-wings sprouting from his back, in addition to a large tail made completely from ice. Three large ice-flowers also float in the air behind him.
Tensō Jūrin (天相従臨, Subjugation of the Heavens): the aspect of Hyōrinmaru's power that deals with controlling the weather, specifically the water in the surrounding atmosphere. It is this power that extends over the seven-square-mile radius. Hitsugaya felt he could not control who or what he killed if he should use it whilst in Bankai during the Winter War, but Sōjirō demonstrated none of his old friends reluctance. It essentially provides Sōjirō with an endless supply of water to utilize his more advanced abilities, though the quantity is reduced whilst in Shikai, being comparatively small compared to the quantity available whilst in Bankai.
Hyōten Hyakkasō (氷天百華葬, Frozen Heaven Hundred Flower Funeral): an extension of Sōjirō's Tensō Jūrin, usable during Bankai, that opens a hole in the sky which rains snow down upon an opponent. Anyone touched by the snow is encased in a towering pillar of ice, with numerous flowers sprouting all over their bodies. Sōjirō claims that, with the blooming of one-hundred flowers, the victims life is forfeit.
Shihyosen (支配予饌): an offensive extension of Sōjiro's Tensō Jūrin, usable during Shikai and Bankai, that assaults a large area with a countless barrage of ice blades. One blade is enough to completely and forcibly freeze an individual solid.
Zanhyō Ningyō (残氷人形, Lingering Ice Puppet): a clone technique which involves Sōjirō shaping a large amount of ice into his exact likeness, which even possesses the ability to bleed. It is often only valid for one use.
Ryūsenka (竜霰花, Dragon Hail Flower): an often one-shot technique which occurs at the instant of Sōjirō's attack. It encases an opponent in ice which Sōjirō then forcibly shatters.
Sennen Hyōrō (千年氷牢, Thousand Years' Ice Prison): Sōjirō creates a large number of ice pillars which slowly encircle his opposition. He then turns his Zanpakutō counter-clockwise, which causes the pillars to encase and crush his opposition. Although considerably powerful it takes a long time to prepare.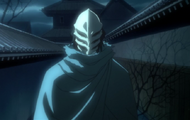 Hollowfication: Sōjirō underwent involuntary Hollowfication at the hands of Averian following the latter's defeat and subsequent escape from Kusaka Kori in the immediate aftermath of The Collapse. Coincidentally Sōjirō's Hollow mask appears identical to the identity-concealing mask he donned during the Ōin crisis years before; a vaguely skull-shaped design with a prominent nose-ridge and six equal spaces located near the eyes, cheeks and mouth.
Cero: Sōjirō is fit to expel an expansive and destructive purple-coloured blast of concentrated spiritual power from the tip of his fingers, with a degree of charge-time rivalled only by Averian's Espada. In addition he is fit to create a stronger and more far-reaching wave-like attack by cupping both hands and firing.
Hollow Summoning: Sōjirō, like Averian before him, can influence the Hollow within Hueco Mundo and direct them to attack his opposition with swarm tactics. He can summon anything from lesser Hollows of various appearance and fighting ability to the more developed and powerful Menos-class Hollows.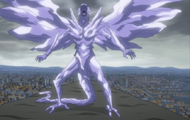 Hollowfied Bankai: A twisted transformation of Sōjirō's Bankai brought about through the Hollowfication process forced upon him by Averian sometime before The Collapse. The mere conscious act of donning his Hollow mask initiates the form and transforms Sōjirō into a menacing purple-coloured ice dragon several times the size of a normal person. Hitsugaya noted with shock that the reiatsu of this form closely resembled the Hollowfied form he took himself during the Blood War through ingestion of the Shin'eiyaku.
Hanamoyōjūji (花模様十字, Floral Pattern Cross): Sōjirō, extending his arm out before him at his foe, encases his opposition in a massive cross-shaped ice-tomb, which he states is Hyōrinmaru's emblem. Unlike Hitsugaya's version, which simply entombs a target to inflict massive and lingering damage, Sōjirō's version is deemed a sure-kill technique. Once entombed he closes his fist, causing the ice and anything trapped within to violently shatter.
Clad-type Techniques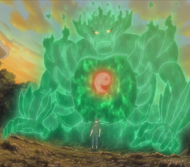 Reīgaisō (霊外装 (れいがいそう), Soul Cladding): a technique Hawke developed from reading the Mitsuhide's research into the Kori clan. It clads the user in the Reīssen in a manner mimicking Shunkō and Dōdōjōshō to increase one's physical parameters, though the aura is much larger, appearing as a large green warrior-like apparition of spiritual power. Hawke remarks that this technique is purely defensive though he has successfully merged it with certain Kidō to enable a variety of attacks.
Reīgaisō Harinezumi (霊外装針鼠 (れいがいそう はりねずみ), Soul Clad Hedgehog): Hawke stabilizes the Reīssen around him to dramatically increase his defensive abilities.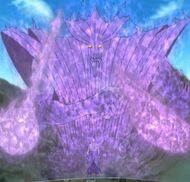 Dōdōjōshō (堂々上昇, Majestic Rise): part of the Nigendō style of Kidō developed by Kenji and Van. Kentaro likens this technique to a forced Shunkō and admits that his utilization of it is a twisted, incomplete form that overtaxes his body at present and prevents him using it to its fullest potential. Regardless he has combined the summoned "armor" with various types of Kidō, his most noteworthy being fire-based spells to create a searing apparition that burns all on-contact. Unlike Kenji's version which had many bladed arms Kentaro's has only two arms, one armed with a shield and the other with a sword.
Zanjutsu
Niten (二天:風道, Two Heavens): a specialized and offensively-focused style of Zanjutsu envisioned by Kenji, Meian and Kentaro, and only truly mastered by the latter. It includes a series of wind-based attacks and complex sequences of attacks to "cut through it all", which Kentaro thoroughly mastered prior to the Collapse.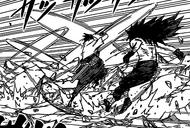 Kamikaze (神風, Divine Wind): the core of the Niten style. This coats the blade in an oscillating wind current which lends the blade excessive cutting ability. When striking the sound created is reminiscent of thousands of birds chirping all at once, which led to its second name: Chidori (千鳥, One Thousand Birds). Even should the initial strike not connect the opponent risks being struck by the wind coat, giving it range beyond its appearance.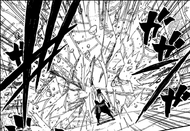 Kabe no Kamikaze (壁の神風, Barrier of Divine Wind): a derivative of Kentaro's own invention, created prior to the Collapse. By releasing concentrated blasts of wind upon swinging his sword Kentaro creates an oscillating wall that can shred incoming targets before they reach him, staying true to its offensive nature even in defence. Hawke notes it to be very effective against long-range attacks such as Kidō.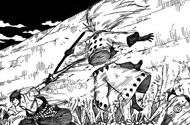 Ippatsu (一発, One-shot): an assassination-style technique that emphasizes the extreme cutting power of the Niten style. A two-strike technique aimed at the throat and waist respectively; successful execution results in a simultaneous beheading and bisection of the target. Kentaro demonstrated successful use of this technique against Nakajima.
Quincy Techniques
Quincy: Letzt Stil (滅却師最終形態(クインシー・レツトシュティール), Kuinshī Retsutoshutīru; German for "Last Style", Japanese for "Destruction Sage: Final Form"; Viz: "Letz Stile"): an outdated technique made viable by Kenji upon reading the detailed notes left behind by David's uncle, who was one of the Quincy who supported the ideas of Sōken Ishida. Using a modified Sanrei Glove, Kenji eliminated the risks involved completely, which he gave to David.
Quincy: Kampfstil (滅却師一戦型 (クインシーいっせんかた) German for Battle style; Japanese for Monk of Destruction: Battle style): an enhancement created by Kenji and taught to David by him, that is different from both the Letzt Stil and Vollständig, being stronger than the former and equal to the latter. David assumes this form using his Renkei bracelet, which was again developed by Kenji.
Kidō spells
Kūsōka (空想家, Visionary): an obscure spell originally developed jointly by Kentaro and his mother Ino, which enables the practitioner to temporarily augment their visual prowess through precise channelling of Kidō spell-craft. Kentaro perfected the spell sometime prior to the Collapse. Overuse, however, comes with almost crippling migraines, forcing the practitioner to use it sparingly.
Kaizō Kūsōka (改造空想家, Modified Visionary) -- a modified version of Kūsōka developed by Kentaro, which enables the practitioner to fire Kidō spells from their eyes using nothing but line-of-sight. Overuse, however, comes with almost crippling migraines, as well as bleeding of the eyes.
Author's notes
Behind the Scenes
Cataclysm was originally created with the sole intention of giving readers a thorough listing of all character deaths per the beginning of Part IV.
Tribulations is another data book intended to give readers further understanding regarding the mythos of the Bleach Universe established by Kenji and APS.
Trivia
A book, written by Kenji Hiroshi, is also known as The Cataclysm. This version of Kenji resides in the same universe as the site's Fanon Canon, and the book is portrayed as a popular ongoing fictional work published in the Seireitei News Magazine. A companion piece, known as Data-book Tribulations, was also featured as a history book and reference guide. Issues featuring The Cataclysm and accompanying works sell for 600 Kan.
Community content is available under
CC-BY-SA
unless otherwise noted.