This article, Camaleón (spirit), is property of Ash9876.
Template:Property (ZechtShinja)
Camaleón
Characteristics
Race
Zanpakuto-Inner Hollow Hybrid
Gender
Male
Bankai
Yonmen no Camaleón
Professional Status
First Appearance
Voices
Camaleón (カメレオン Kamereon Lit:Spanish/Japanese, Chameleon) is the name of Dirzyn Sangrienta's Zanpakutō in it's materialized state. However, Camaleón is an unusual being, as it is a perfect combination of one's Inner Hollow and Zanpakutō Spirit. Due to Dirzyn's very early hollowfication, there was no battle with an inner being, but rather, the inner being became an equal part of Dirzyn's soul, thus fusing with Dirzyn's original zanpakutō, Gisō (偽装 Camouflage) and the reason for it's change of name and appearance.
Character Outline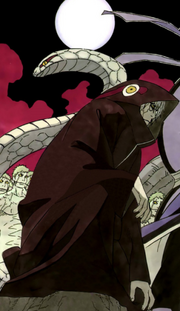 History
Synopsis
Powers and Abilities
Hollow Abilities
Zanpakutō
Trivia
Behind the Scenes
Community content is available under
CC-BY-SA
unless otherwise noted.