This article, Bleach (Kenji Hiroshi), is property of Kenji-Taichō. Permission is required to alter its content.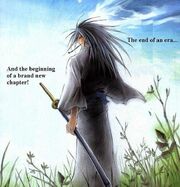 Bleach (ブリーチ, Burīchi; romanized as BLEACH in Japan) is an ongoing manga series authored by Tite Kubo that has appeared in Weekly Shonen Jump magazine since August 2001.
This particular fanon spin-off, authored by Kenji Taichō, along with regular appearances from fellow authors Razo and APS, as well as Ashy, follow the trials, tribulations and overall adventures of Kenji Hiroshi, Van Satonaka, Kei Yume, Shiju Shūdō, Kentaro Hiroshi, and many other supporting characters.
Events occurring in this rendition of Bleach take place in three eras, which come together to create Parts I through V. Bleach: Sun and Moon Chronicles deal strictly with Part I and focuses primarily on establishing the main characters and explaining their origins. Bleach: War of the Worlds deal strictly with Parts II & III and serves to introduce the next generation before introducing the main cast of villains. Bleach: Cataclysm deals solely with Part IV and follows the now older cast introduced in Parts II and III and how they -- after an unspecified disaster -- rebuild their world. Part V has yet to be announced.
Characters
The characters of Bleach (Kenji Hiroshi) are varied and diverse, and can be found here:
Specials
One shots
Easter
Halloween
Christmas
Omakes
Author's notes
Behind the Scenes
Trivia
Community content is available under
CC-BY-SA
unless otherwise noted.