This article is property of Perchan, and as such, no user may edit this article without explicit permission from the aforementioned creator. If you wanna use this article in any way, please ask me first~

This article, Bleach: Rasenhiden is the property of Darkrai.
It may not be used by anyone but the author or the co-author's in question.
"
Start from a new beginning...
"

—Series tagline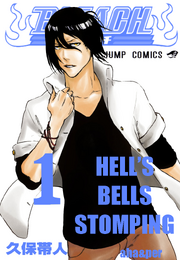 Bleach (ブリーチ, Burīchi; romanized as BLEACH in Japan) is an ongoing manga series authored by Tite Kubo that has appeared in Weekly Shonen Jump magazine since August 2001. This particular spin-off, known as Bleach: Rasenhiden (ブリーチ 螺旋日伝 Burīchi Rasenhiden, literally meaning "Bleach Spiral Flame Chronicles"), follows the adventures of Ahatake Kurosaki, a Fullbringing High School Student who fights ghosts, and the friends he gathers over the course of the series. The story is co-authored by Darkrai and Perchan.
Bleach: Rasenhiden is a currently ongoing series, planned to debut before the end of 2012 It serves as a replacement series from Bleach: Second Rising, Darkrai and Perchan's first series together, which will be left discontinued due to the story getting out of hand, and Rasenhiden will be their new focus.
Due to Per's lack of interest, Rasenhiden is currently on indefinite hiatus.
Rasenhiden Characters
Main Characters
Minor Characters
Saotome (早乙女 Saotome): A classmate of Ahatake and Kayla's. Outgoing and very friendly, Saotome isn't the smartest person in Yasuraka Highschool, noticeably less intelligent than most of underclassmen. This, however, is because he cares very little for academics, preferring to relax with enjoy himself. Due to his rather chipper attitude, he is quick to jump to the wrong conclusion, automatically assuming Ahatake, Kayla, and the new transfer student Harumi were in a three-some relationship. Despite his mainly comic-relief nature to the series, he's noted as a good guy to have as a friend.
Rasenhiden Arcs
Substitute In Flames Arc
Soul Society Arc