"Fear is necessary for evolution. The fear that one could be destroyed at any moment. Thank you, Gin. Thanks to your efforts, I have finally risen to an existence that surpasses both Shinigami and Hollow."


This article, Altajin, is currently under active construction by the author(s) of whom this article's property falls under.
Template:Shinigami infobox (Snakes)
"
Warrior first, human second." -
Snakes
"All I ask for is efficiency. You checked your heart at the door when you joined my division."
— Altajin
Altajin(黄金色, Ōgonshoku) is a Shinigami of Mongolian descent and a current Co-Captain of the 2nd Division. In his human life he was a Mongol warrior during Ghenis Khan's time, and continued his warrior heritage in his afterlife. Originally a member of the 11th Division, Altajin joined the 2nd on recommendation from Captain Tachibana Jun. He became the captain of Division 2 following Jun's retirement during the Second Quincy War, and has been in that position since. Along with being a captain, Altajin is the head of the Executive Militia.
Appearance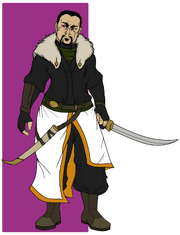 Personality
History
Under construction
Equipment
Powers & Abilities
Natural Abilities
Zanpakuto
Spirit:
Shikai special ability:
Bankai: 
Bankai Special Ability:
Quotes
Trivia
Community content is available under
CC-BY-SA
unless otherwise noted.